UPDATE: Why Is Joe Biden Risking War with Russia Over Ukraine?
Verse of the Day
Luke 21:9 But when ye shall hear of wars and commotions, be not terrified: for these things must first come to pass; but the end is not by and by. (10) Then said he unto them, Nation shall rise against nation, and kingdom against kingdom: (11) And great earthquakes shall be in divers places, and famines, and pestilences; and fearful sights and great signs shall there be from heaven.
Commentary
I believe the NWO wants Russia destroyed because the nation will not submit to it, just as President Trump was America first!
I think these criminals are crazed enough with sinful minds to risk a nuclear war with Russia. What if Putin is NOT bluffing, but will use nuclear weapons? What is crazed Joe Biden or his handlers doing talking tough to Putin!
Remember, President Trump had no trouble with Putin about the Ukraine or anything else, but Biden is in power for JUST three months and there is talk about nuclear war!
URGENT: WAR: RUSSIA VS UKRAINE/USA
"It is bad enough when the United States incurs grave risks to defend even indisputably democratic allies, if those countries lack sufficient importance to America's economic and security interests. Too many U.S. allies, such as the Baltic republics, fail that crucial risk-benefit calculation. However, it is even worse when the United States incurs excessive risks on behalf of undemocratic allies or clients that have little intrinsic importance. And yet, Washington is making precisely that blunder with respect to Ukraine.
The United States has no treaty obligation to defend Ukraine from an adversary. Indeed, the notion that Ukraine should be an important U.S. ally is a rather recent phenomenon. Until the end of 1991, Ukraine merely was part of the Soviet Union, and before that, the Russian empire, and no credible American ever argued that the territory was a significant U.S. interest. That attitude began to change during George W. Bush's presidency, but Ukraine still remained outside Washington's geostrategic orbit."
WORLD WAR 3: USA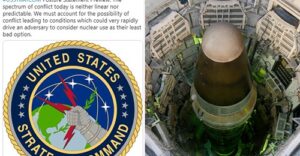 "NUKE ALERT US must prepare for nuclear war as unpredictable conflicts could escalate 'rapidly,' Strategic Command warns"
Notice the detailed information comes from Great Britain.
"THE United States must prepare for nuclear war as current conflicts could escalate "very rapidly," according to a stark warning from the US Strategic Command on Monday.
It came ahead of the agency speaking to Congress on Tuesday morning where they warned that the US is currently facing "two nuclear-capable, strategic peer adversaries at the same time" from Russia and China."
WORLD WAR 3: RUSSIA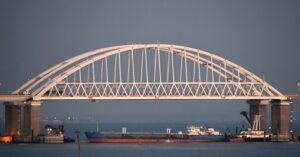 "US, NATO Slam Russian Plan to Block Parts of Black Sea"
The navy blockade of Ukraine is real.
"The United States and NATO accused Russia of again ramping up tensions, criticizing Moscow's plans to limit access to the Black Sea and the Kerch Strait for most of the next six months due to military exercises.
The U.S. Defense Department said Friday the Kremlin's decision is "just the latest example" of Russian aggression in the Black Sea and insisted it would have no impact on U.S. plans."
URGENT/URGENT: WORLD WAR 3: RUSSIA VS UKRAINE/USA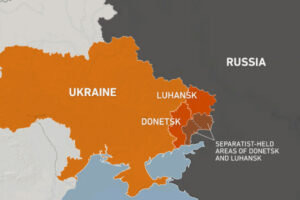 "Nuclear War Possible Within Days as Russia-Ukraine situation escalates out of control"
The MSM has little to say about what is happening with Ukraine until now. I've been keeping you on the cutting edge about these events. There is a REAL chance of war breaking out. Russia said if NATO or the USA moves to defend Ukraine the war could go nuclear as all options are open!
We have no reason to defend the Ukraine. There is no treaty, and it is not part of NATO, while NATO has no right because the Ukraine is not part of NATO.
Notice exactly 3 months of Usurper Biden was put in office, the USA could get involved ina war with Russia! This was planned, and this is what would have happened if Hillary had won. The war would be the NWO vs Russia.
"United States Strategic Command (USSTRATCOM) has issued a Posture Review pointing out that an adversary may choose to use NUCLEAR WEAPONS first rather than wait until they are losing a war.Their precise language "Posture Statement Preview: The spectrum of conflict today is neither linear nor predictable. We must account for the possibility of conflict leading to conditions which could very rapidly drive an adversary to consider nuclear use as their least bad option."
WORLD WAR 3: RUSSIA VS UKRAINE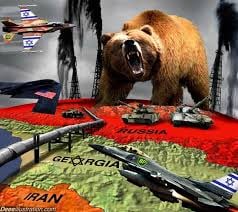 "Russian military build-up near Ukraine numbers more than 150,000 troops, EU's Borrell says"
Just an update to what is happening as Russia is sending the world a huge warning about war with Ukraine.
"Russia has concentrated more than 150,000 troops on Ukraine's border and in annexed Crimea, the EU's top diplomat Josep Borrell said on Monday after EU foreign ministers were briefed by Ukraine's foreign minister.
"It is more than 150,000 Russian troops massing on the Ukrainian borders and in Crimea. The risk of further escalation is evident," Borrell said, declining to give a source for the figure.

He said no new economic sanctions or expulsions of Russian diplomats were planned for the time being, despite saying that the military build-up on Ukraine's borders was the largest ever."
WORLD WAR 3: USA AND JAPAN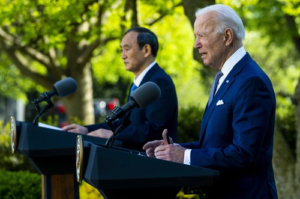 "China Outraged At Joint US-Japan Statement Which Invokes 'Nuclear Defense" Just like Russia talking about war in Europe and using nuclear weapons, so Biden is now talking about nukes in Asia. This is real serious because a war could quickly escalate into the use of nukes.
"

And further on Taiwan specifically the statement added, "We underscore the importance of peace and stability across the Taiwan Strait and encourage the peaceful resolution of cross-Strait issues."
The Friday statement also said, "The United States restated its unwavering support for Japan's defense under the U.S.-Japan Treaty of Mutual Cooperation and Security, using its full range of capabilities, including nuclear."

"Japan resolved to bolster its own national defense capabilities… The United States restated its unwavering support for Japan's defense… using its full range of capabilities, including nuclear," it underscored.

As expected this has riled Beijing, which responded with fierce rhetoric of its own, with China's embassy in the United States saying in the end both Japan and the US will end up "harming themselves"…

The remarks have "completely gone beyond the scope of the normal development of bilateral relations", harming the interests of third parties as well as peace and stability in the Asia-Pacific, the embassy said. The move was an attempt to split the region that "will inevitably proceed with the purpose of harming others and end in harming themselves", it added."
WORLD WAR 3: RUSSIA VS UKRAINE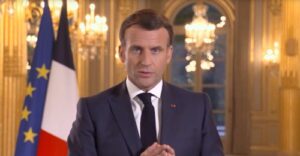 "French President Emmanuel Macron says international community must draw "clear red lines" with Russia"
Putin is a real "bad guy", real bad, but he understands the NWO and what they were attempting to do in the Ukraine. They were attempting to use the Ukraine as a forward base against Russia and overthrowing the elected government with a EU, USA puppet. Senator John McCain with involved with this overthrow!
Notice how the trouble with Russia started immediately after the Usurper Biden took office! The NWO was back in power, and Putin was ready for them and showing he was ready for war with nuclear teeth. Putin is NOT allowing the NWO to "play games" with Russia.

This is a very dangerous situation because Putin will fight the NWO.
"The international community must draw "clear red lines" with Russia, French President Emmanuel Macron said, including implementing sanctions after any "unacceptable behavior" by Russian President Vladimir Putin. He said, however, that sanctions alone are not sufficient.
In an interview with "Face The Nation" moderator Margaret Brennan, Macron said he "fully" shares Mr. Biden's desire to open dialogue with Russia. However, he said it was important to be clear with Putin "when we are not aligned." "This is the only way to be credible. I think that sanctions are not sufficient in itself, in themselves, but sanctions are part of the package. I do prefer constructive dialogue, but to have a constructive and efficient dialogue, you need credibility," Macron said."
WORLD WAR 3: USA VS RUSSIA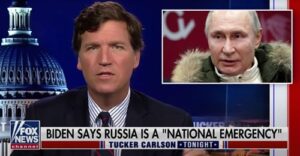 "Tucker Carlson: 'We Are Moving Toward Some Kind of Larger Confrontation with Russia — Why Are We Doing That?'"
It appears the USA and EU are going to test Putin over the Ukraine and this is very dangerous because Putin does not Bluff.
""We are doing all of those things. But the question is why are we doing them? That is the part that nobody ever explains. But they don't really need to because Vladimir Putin is so unbelievably historically monstrously evil, you don't need a justification to go a war against him."
"This is a head of state who has like over a thousand nuclear weapons aimed at us. Why is our President talking about Russia this way?" Carlson asked rhetorically."Well, it is obvious. Clearly, we are moving toward some kind of larger confrontation with Russia. Why are we doing that? And what would it look like?"
If you like our ministry, please consider making a donation to keep us going. May the Holy God of Israel bless you!
Revelation 22:20 He which testifieth these things saith, Surely I come quickly. Amen. Even so, come, Lord Jesus.