URGENT! Entire Senate being called to White House for North Korea briefing
Verse of the Day
Psalm 68:1  Let God arise, let his enemies be scattered: let them also that hate him flee before him.

Commentary
I never have heard of a meeting like this. The events developing in NK must be very serious to call this meeting. Kim Jong Un has threatened to attack the arriving aircraft carrier battle group, which means war. He also is talking about launching missiles and testing a nuclear weapon, which also could mean war. This is very tense right now and a lot of prayer is needed.
May the Holy God of Israel bless and protect you.
1 Thessalonians 5:23 And the very God of peace sanctify you wholly; and I pray God your whole spirit and soul and body be preserved blameless unto the coming of our Lord Jesus Christ.
World War 3/ North Korea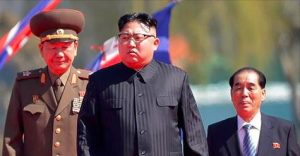 Entire Senate being called to White House for North Korea briefing 04/24/17
"The entire U.S. Senate has been invited to the White House for a briefing Wednesday on the North Korea situation, amid escalating tensions over the country's missile tests and bellicose rhetoric.It is rare for the entire Senate to be invited to such a briefing.
Secretary of State Rex Tillerson, Secretary of Defense Jim Mattis, Chairman of the Joint Chiefs of Staff Gen. Joseph Dunford and Director of National Intelligence Dan Coats plan to provide the update to lawmakers.
Trump and Abe agreed to urge North Korea to refrain from provocative actions.
Meanwhile, U.S. commercial satellite images indicated increased activity around North Korea's nuclear test site, while Kim has said that the country's preparation for an ICBM launch is in its "final stage."
South Korea's Defense Ministry has said the North appears ready to conduct such "strategic provocations" at any time. South Korean Acting Prime Minister Hwang Kyo-ahn has instructed his military to strengthen its "immediate response posture" in case North Korea does something significant on the April 25 anniversary of its military. North Korea often marks significant dates by displaying military capability."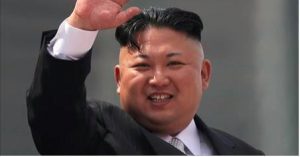 North Korea reportedly holds live-fire drill as US nuclear-powered sub approaches 04/25/17
"North Korea on Tuesday reportedly conducted a huge live-fire drill that involved up to 400 artillery pieces, which may have been supervised by the country's leader, Kim Jong Un, as the U.S. added a nuclear-powered submarine to its fleet of vessels powering toward the region.
Pyongyang apparently deployed long-range artillery units in the coastal region of Wonsan, an unnamed government source told South Korea's Yonhap news agency. South Korea's military did not confirm the report, but told the news outlet it was "firmly maintaining readiness."
There was speculation that the North might carry out another nuclear or missile test.
News of the live-fire drill came after the USS Michigan, the nuclear-powered powered Ohio class submarine, pulled into the South Korean port of Busan for a hull check."
Hard Left/ Islam
Imam of 9/11-Linked Mosque Demands Open Borders 04/24/17  If you have any trouble understanding my concept of the mind meld, this video should clear it up. You will see the Hard Left of various stripes arm-and-arm with Imams for open borders. Whatever is against America they both flock to. God is melding them together.
"This event was a protest of a visit by Attorney General, Jeff Sessions and Homeland Security Secretary, General Kelley.
Taha Hassane is the imam of the Islamic Center of San Diego. The staff of this mosque aided two of the 9/11 hijackers financially, to find a place to hideout and to find a school for flight training. Al-Hazmi and al-Mihdhar were the two terrorists, who flew the plane into the Pentagon. This support of the terrorists by this mosque is detailed in the 28 secret pages of the 9/11 congressional report, which were released recently."
The Recent Discovery of Heinrich Himmler's Telegram of November 2, 1943, the Anniversary of the Balfour Declaration, to Amin al-Husseini, Mufti of Jerusalem 04/24/17  This is tremendous article showing the ideological link between Nazism and Islam. The same is developing today between the Hard Left in the West and Islam! There is a mind meld developing between the Hard Left and Islam. The Left seems to love Islam because it is against Christianity.
This is a very long article, but it is full of historical facts to show there was a mind meld between the Nazis and Muslims. Look at how these evil ideologies, in the end, merge together.
Proverbs 16:5  Every one that is proud in heart is an abomination to the LORD: though hand join in hand, he shall not be unpunished.

"Any discussion of Amin al-Husseini's ideological collaboration must also point out his remarkable claim that Nazism and Islam have a basic affinity. Examples of such shared values are the "Führer Principle," discipline, and obedience which, according to him, find clear expression in the Koran.17 Rubin and Schwanitz observe that "… Islamists did not need to take ideas from German Nazis or Italian fascists. As al-Husaini had argued in the 1930s and 1940s, they had a parallel yet symbiotic world view, drawn from their own societies' political traditions, history, and religion."18 Such views clearly indicate that the Mufti's commitment to the principles of National Socialism represented a form of unconditional ideological collaboration.
One should not overlook the essential fact that this ideological collaboration was reciprocal. The Nazi elite had a special respect and great admiration for Islam. Although these views have been documented, they have not yet been placed in context. In his recently published study, Islam and Germany's War, David Motadel describes the admiration of the Nazi elite for Islam, an admiration which frequently predicated the rejection of Christianity."
Islam
Battle in Canada over Islam, Wow 04/24/17  You MUST see this video and watch what happens when a woman calls Muhammad a "false prophet!" The woman was very upset but every word she said was truth. We need 1000's like her in America.
Proverbs 28:1  The wicked flee when no man pursueth: but the righteous are bold as a lion.
North Korea
North Korea's Darkest Secrets Documentary 2017 04/24/17  A very good look at the real North Korea by the PBS program, "Frontline." The NK government hates America, so maybe the real American-haters here should go to NK and live the Communist life.
"Take an inside look at the lives inside of North Korea, this is what Kim Jong-un does not want you to see!"
Health and Nutrition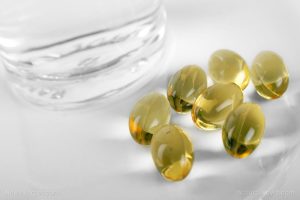 Vitamin D may be your best defense against respiratory infections, new science finds 04/24/17
"Vitamin D intake may help keep common colds and flu at bay, British researchers found. Various studies have previously established that vitamin D may help reduce the risk of respiratory infections, and the recent analysis further emphasizes the vitamin's role in boosting the immune system.
The research team found that vitamin D supplementation provided a modest protective effect against respiratory infections. Lead researcher Dr. Adrian Martineau said vitamin D supplements helped reduce the risk of developing respiratory illnesses such as colds and flu by 10 percent. Participants suffering vitamin D deficiency were shown to benefit more from supplementation."
Miscellaneous
The Greatest Play In Baseball – Rick Monday Saves U.S. Flag (Video)  I remember this incident, which took place on April 25, 1976. Even if you are not interested, please watch the video because it is very patriotic.
2 Samuel 22:35  He teacheth my hands to war; so that a bow of steel is broken by mine arms.