WORLD WAR 3: China's South Sea Aggression Unchecked
Verse of the Day
 James 4:1-2 From whence come wars and fightings among you? come they not hence, even of your lusts that war in your members? Ye lust, and have not: ye kill, and desire to have, and cannot obtain: ye fight and war, yet ye have not, because ye ask not.

Commentary
The buildup toward WW3 is nonstop. There is tremendous tension building in Europe between NATO and Russia, while in Asia it is between China and the rest of Asia, with the US added to this mix. The tensions are getting so high that any incident could trigger the war. Right now, the South China Sea is the real hot spot, as China is very aggressive and seems ready for the war.
It seems that America is sleep-walking into this. So few see what is happening, and the mainstream press is ignoring it.
I do see this war happening along the lines of WW1. There was a huge buildup of weaponry prior to the war, but there was no direct cause to start a war. In June 1914, the assassination of Arch Duke Ferdinand was the trigger. No one could see this coming, and WW3 might start the same way.
No matter what happens, we look to the coming of the Prince of Peace who will rapture us to heaven with him. We then will enjoy the marriage supper of the Lamb and return with him as Jesus Christ establishes his kingdom on earth. The place of his return and his capital will be Jerusalem. When Jesus Christ returns he will put an end to war.
May the Holy God of Israel bless you.
Isaiah 2:4 And he shall judge among the nations, and shall rebuke many people: and they shall beat their swords into plowshares, and their spears into pruninghooks: nation shall not lift up sword against nation, neither shall they learn war any more.
World War 3
China's South Sea Aggression Unchecked 07/17/16  Just as war was the only thing which would stop Hitler, today, only war will stop China. The Chinese military has reached the point where it feels it can defeat the US, and America is led by the weak Obama, which makes China even more aggressive.
Because of that, China is not going to ne amenable to diplomacy, but is going to advance until there is a military confrontation. The South China Sea could be the flashpoint for WW3.
"Neither the unanimous decision by the Permanent Court of Arbitration in The Hague, nor China's rejection of it, was surprising. The timing of it was, however, as serendipitous as China's rejection is ominous.

Coming as Republican delegates convene on Lake Erie's shore, the tribunal's opinion about the South China Sea underscores the current frivolousness of American politics, which is fixated on a fictitious wall that will never exist but silent about realities on and above the waters that now are the world's most dangerous cockpit of national rivalries.

China's "nine-dash line" aggression — asserting sovereignty over the South China Sea — is being steadily implemented by the manufacture and militarization of artificial "islands" far from China's mainland, and by increasingly reckless air and naval actions in the region.

China is attempting to intimidate the six nations (the Philippines, Taiwan, Vietnam, Brunei, Malaysia, and Indonesia) whose claims conflict with China's. China has threatened these nations', and others', freedom on the seas, fishing rights, oil exploration, and more."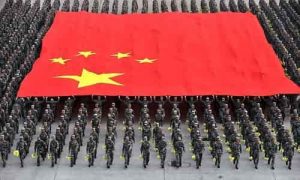 China's Looming Demographic Crisis: Guns or Canes? 07/16/16
This is a great article; please take the time to read it.
China's one child family policy has destroyed the demographic structure of the nation, leading to a rapidly aging population. There is no doubt that China will choose guns over canes.
"The demographic downturn is already having an impact in some unexpected places. Last year, China announced it was reducing its armed forces by 300,000 men. While the official spin was that it was part of its "peaceful intentions," the more "compelling explanation" was demographic: "With the number of working-age Chinese men already declining . . . labor is in short supply."
As French puts it, "The consequences [of this demographic downturn] for China's finances are profound." The downturn is already becoming a "drag on economic growth," and what it portends for China's future is really scary: by 2050, the number of Chinese over 65 is projected to rise to nearly 330 million from 100 million in 2005.
This will leave China with a choice, in the words of Mark L. Haas of Duquesne University, between "guns and canes." In other words, it can only pursue global centrality at the cost of ignoring its rapidly aging population or vice-versa. It will have to choose between avoiding social unrest at home or pursuing global influence.
This unenviable choice is a self-inflected wound. I'm referring, of course, to China's infamous "one-child policy." Nicholas Kristof, writing in the New York Review of Books, said that "Perhaps no government policy anywhere in the world affected more people in a more intimate and brutal way than China's one-child policy."
Anarchy – Civil War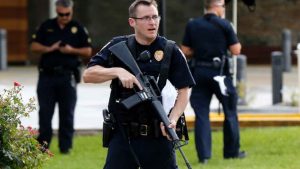 MASSACRE OF COPS IN BATON ROUGE: If you didn't believe Obama wanted a race war before, you better believe it now 07/18/16  I believe that Obama is a revolutionary that wants to destroy America, and he has done everything to start a war in America. Right now, he is openly fostering a war on the police.
I believe that he will use the federal government against the states in support of Black Lives Matter and other terrorist groups forming in America. What Obama is doing is actually helping to create a Hamas-type terrorist group in America. ISIS was his creation in Syria-Iraq and now he is doing the same in America. Along with Hillary, this man is PURE evil.
"Of course, murdering police officers has long been encouraged by activists with the Marxist, anti-American, revolutionary Black Lives Matter cult, with the support of the activist Left and financing from speculator George Soros.
A year ago Nation of Islam leader Louis Farrakhan, who openly advocates the mass murder of whites, called for "10,000 fearless men" to "rise up and kill those who kill us." Like many radicals, Farrakhan mischaracterizes Black Lives Matter as a rising civil rights movement.
President Barack Hussein Obama, who a decade ago promoted inter-racial warfare in Kenya, has long tried to provoke civil unrest here in the U.S. with his hateful anti-cop rhetoric and his relentless demonization of opponents. His goal is fundamental transformation of the United States.
A Red diaper baby who identifies violence-espousing communist Frantz Fanon as an intellectual influence, he has also steadfastly refused to condemn Black Lives Matter. In fact Obama has lavished attention on the movement's leaders and invited them to the White House over and over again."
Baton Rouge Shooter Gavin Eugene Long Was Nation Of Islam Member, Railed Against 'Crackers' On YouTube Channel  This article gives background on the killer who assassinated three police officers in Baton Rogue.
It looks like we are heading into a full scale war between Hard Left hate groups and the police. It also appears that they want to kill white people. This could develop into a full-scale race war. When I think of the current racial situation, I know it really is deteriorating because of Obama, Holder, Jesse Jackson and Al Sharpton.
"Videos on Long's account show that he was a former Nation of Islam member. He also railed against "crackers" and made references to Alton Sterling, the black man killed by police in Baton Rouge on July 5.
Other information about Long shows that the Kansas City native, who CBS reported was honorably discharged from the Marines in 2010, went by the name Cosmo Ausar Setepenra.
In one video filmed from Houston and posted to Long's Youtube account on July 12, the suspected guman discusses being in the Marines and reaching the rank of E-5.
Long, who was reportedly carrying a rifle and wearing all-black attire when he confronted police, posted several videos within recent weeks discussing various police-involved shootings."
Israel and the Middle East War
Israel no longer weak state seeking peace at any price 07/16/16  According to the Bible, as the Day of the Lord draws near, Israel will be a mighty power. No nation in the Middle East will be able to stand against Israel, and this is happening right now.
Zechariah 12:6 In that day will I make the governors of Judah like an hearth of fire among the wood, and like a torch of fire in a sheaf; and they shall devour all the people round about, on the right hand and on the left: and Jerusalem shall be inhabited again in her own place, even in Jerusalem.

"Israel is on the brink of a new modus operandi in foreign policy, one which will include more assertive Israeli behavior, as well as closer ties with regional powers like Egypt and Turkey.
That is the conclusion drawn by Dr. Efraim Arera, a leading Israeli scholar of Islam and the Middle East, who suggests Prime Minister Binyamin Netanyahu's recent trip to Africa – conspicously coinciding with a rare visit to Israel by Egypt's Foreign Minister – hint at a broad shift in Israeli policy.
"The foreign policy of Israel is a new policy," Dr. Arera told Arutz Sheva. "No more weak state seeking peace at any price, but a strong state that can deliver help to its neighbors."
While many Israelis saw the recent reconciliation deal signed with Turkey as a major concession on Israel's part, Dr. Arera notes it included unprecedented acceptance of Israeli interests in the region, not least of which is Turkey's recognition of Israel's right to maintain its military blockade of Hamas."
Israel
Theresa May spent eve of PM appointment dining with Chief Rabbi 07/16/16  I am bringing this to your attention because God is doing something special with Great Britain and Israel. Britain pulled out of the EU (which hates Israel) and all of a sudden Britain now has an Israeli-loving Prime Minister!
One hundred years ago Great Britain was greatly used by the Lord to set the foundation for the modern state of Israel, and now 100 years later the Lord may once again use Great Britain.
"New UK Prime Minister Theresa May officially took office yesterday (Wednesday) afternoon after an audience with the Queen, and following an extremely hectic few weeks in which the British public shockingly voted to exit the European Union, David Cameron resigned as Prime Minister, analysts' favorite for the job Boris Johnson withdrew from the running, and rival Andrea Leadsom decided to end her campaign so as not to drag the country through a long election process.
This unexpected series of events catapulted May into one of the most important political positions in Europe in an extraordinarily short period of time.
Yet, Prime Minister May still found the time to dine with UK Chief Rabbi Ephraim Mirvis and his family, on the night before she was installed in the office.
"Today, Theresa May becomes Prime Minister at a time of great political, social and economic uncertainty," the Chief Rabbi said in a statement, "Few people are more talented or better qualified to tackle these immense challenges.
I recall the speed and the sensitivity with which she reached out to the Jewish community following the terror attacks on Jewish targets in Europe last year. As she made clear then – 'Without its Jews, Britain would not be Britain'. She has proved herself to be a friend and champion of our community and of other faith communities who share her values of tolerance and understanding."
Great Britain Jews and Israel — 6 connections 07/17/16  Maybe the Lord is raising up Theresa May like he did to Harry Truman for the US. I sense that the Lord has a special plan for Prime Minister May, but only if we elect Trump and form a union with Britain for Israel. God might again bless America, despite all of the national sin.
2 Chronicles 29:1-2 Hezekiah began to reign when he was five and twenty years old, and he reigned nine and twenty years in Jerusalem…(2) And he did that which was right in the sight of the LORD, according to all that David his father had done.

"Britain's new prime minister, like her trailblazing female predecessor Margaret Thatcher, is a firm supporter of Israel, and of the Jewish community… and of a celebrity Israeli chef. As Theresa May prepares to succeed David Cameron, here are six Jewish or Israeli links, ranging from her mother's name to her cooking preferences.
Biblical echo: Thatcher was the famously driven daughter of a grocery store owner. May, too, comes from a relatively unprivileged background — both of her grandmothers were domestic servants. Her parents both died when she was in her mid-20s — her father in a car crash and her mother of multiple sclerosis.
Her father was a vicar, the Rev. Hubert Brasier. Her mother's first name was Zaidee, an unusual name reportedly chosen for its Old Testament echoes — Zaidee or the more common Sadie deriving from Sarah, wife of the biblical Abraham."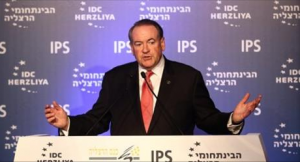 Huckabee: 'America looks in the mirror and sees Israel' 07/15/16  From the very beginning of America, the nation was extremely friendly to the Jewish people. This carried over to the creation of Israel, and now those that hate Israel also hate America.
Genesis 12:3 And I will bless them that bless thee, and curse him that curseth thee: and in thee shall all families of the earth be blessed.

"Every friend of Israel is a friend of the United States and every enemy of Israel is an Enemy of the United States," said Governor Michael "Mike" Dale Huckabee, 44th Governor of Arkansas and two-time GOP presidential hopeful. Speaking on Wednesday during the second day of the 16th annual Herzliya Conference, Governor Huckabee said "America is looking into the mirror and sees Israel."
Huckabee immediately noted that the greatest common foe facing the two countries and the free world is a "radical Islamic ideology that takes us back to the 7th century." He repeated, "We have a common enemy and that enemy is radical Islam that wishes to destroy civilization itself and wishes to turn the clock back to centuries ago."
The Coming Middle East War
Iran's Airbridge to Syria 07/17/16  During the 1930's both Chrysler and Ford helped to build up Hitler's war machine, and now it's Boeing's turn with Iran!
1 Timothy 6:10 For the love of money is the root of all evil: which while some coveted after, they have erred from the faith, and pierced themselves through with many sorrows.
"Boeing and Airbus are set to sell nearly 200 aircraft to Iran's state airline, Iran Air, despite indicators that Tehran is already using the airline's aircraft to support its efforts in Syria. Since June 2015, 31 airplanes belonging to Iran Air and the private airline Mahan Air have departed from airports in Iran and landed in Syria, according to public flight-tracking data from Flightrader24.com. Tehran appears to have developed an expansive network of repurposed commercial aircraft to supply its expanding war effort in Syria.

This airlift to Syria is crucial for Iran's operations in Syria and the rest of the Levant. Supply by sea is slow and vulnerable to interdiction by Western militaries. ISIS forces continue to control overland routes from Iraq into Assad-controlled Syria. Tehran would be unable to conduct this resupply effort without the use of commercial aircraft due to the Iranian Air Force's limited airlift capabilities."
2 Timothy 3:1

 

This know also, that in the last days perilous times shall come