World War 3 – Russia
Verse of the Day
Luke 21:9-10 But when ye shall hear of wars and commotions, be not terrified: for these things must first come to pass; but the end is not by and by. Then said he unto them, Nation shall rise against nation, and kingdom against kingdom:
Commentary
Just a short time ago there was a report of Putin moving very soon against the Ukraine and the US moving nuclear weapons to Romania! Right now Putin has 40,000 Russian soldiers massed on the Ukrainian border with tanks and artillery! This could be the real deal unless Putin backs down. If Putin moves into the Ukraine, this might very well be the trigger for WW3. With such a weak leader as Obama, this could a huge temptation for Putin to move.
I will keep you posted.
May the Holy God of Israel bless and protect you.
Micah 4:3 And he shall judge among many people, and rebuke strong nations afar off; and they shall beat their swords into plowshares, and their spears into pruninghooks: nation shall not lift up a sword against nation, neither shall they learn war any more.
World War 3
Nukes Closer to the Hands of ISIS 08/18/16  This is an important news report which discusses how close we may be to war with Russia, NATO's role in the situation and how ISIS may be the catalyst.
"The US is reportedly moving nukes from Turkey to Romania amid rising tensions in Ukraine – and after a recent report warned that ISIS could steal the nukes in Turkey."
The shock of a Russian base in Iran 08/18/16  There is an all-out Sunni/Shiite war coming for the control of Israel. Iran wants to resurrect the Persian Empire which means it will control Iraq, Syria and Lebanon. From this position, Iran will move to control all of the Arabian peninsular. Turkey, Egypt and Saudi Arabia cannot allow this and thus, all-out war is coming.
I still believe that the Sunnis are going to win and then form into a caliphate with the goal of destroying Israel and conquering Jerusalem. Their goal is Jerusalem!
God is going to break the back of Islam over Jerusalem. The Israelis will then be free to build the Third Temple. Islam is going to die a violent bloody death over Jerusalem.
Psalm 83:17-18  Let them be confounded and troubled for ever; yea, let them be put to shame, and perish: That men may know that thou, whose name alone is JEHOVAH, art the most high over all the earth.

"The deployment of Russian bombers at an Iranian base cuts the distance to targets in Syria by around 1,000 kilometers. This is not a massive distance, so it does not really enhance Russian military capabilities. When the Americans use their bases in Qatar and Turkey to conduct operations in Iraq and Syria, the distance to targets is cut by a massive 6,000 kilometers.
Nonetheless, the move is very significant in terms of developing Russian-Iranian ties. Arab and Western shock following Russia's announcement of its first military base in Iran reveals an underestimation of the nature, depth and intentions of ties between Tehran and Moscow.
For five years now, Washington has underestimated the threat of Iran's infiltration in Iraq, Syria, Yemen and Bahrain. It did not care about Russia's increased support to Tehran. Worse still is the belief that the Iranian regime has changed and is ready to become a peaceful and civil state that is friendly to the West.
Most of the agreements signed between Iran and the West serve the former, and enhance its economic and military alliance with Moscow."
Japan plans missile to test Chinese strategy in East China Sea 08/17/16  Japan is now getting ready for war with China. I think that it is too late for Japan to make long term plans as it seems the war is bearing down on us and there is not much time left.
"Japan is planning to develop a new tactical ballistic missile that would reset Chinese military strategy around disputed islands in the East China Sea.
Plans for the surface-to-ship weapon, which would be the longest-range missile ever built by Japan, have emerged after prolonged months of rancour between Tokyo and Beijing over rival territorial claims.
As tensions have persisted, Japan revealed last month that it scrambled fighter jets a record 199 times in the second quarter as Chinese military activities intensified around Japan's territorial waters and drew closer to the Senkakus — a chain of uninhabited islets known as the Diaoyu in China."
South Korea to conduct its largest-ever artillery drill near North Korea border amid tensions 08/18/16  South Korea is preparing for war with North Korea. Yet another country preparing for war.
"South Korea is set to conduct its largest-ever artillery drill near the border with North Korea amid nail-biting tensions in the Korean peninsula. The exercises are set to take place on Friday, 19 August.
The South Korean military said the event will establish its readiness to respond to any provocations from its northern neighbour.
A statement from the South Korean military read: "Some 300 artillery pieces from 49 artillery battalions are planning to take part in the live-fire exercise. The drill that will kick off at 5.04pm will involve the K-9 and K-55 self-propelled artillery pieces," according to Seoul's Yonhap news agency."
Hard Left in the Military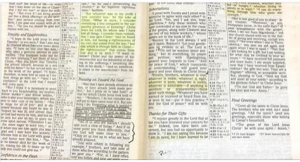 Air Force officer faces investigation over Bible on his desk 08/17/16  This shows how deep the hatred runs in the Hard Left for anything that is of God, The military has gone over the edge by pandering to these demands.
"The Military Religious Freedom Foundation is demanding an Air Force major be "aggressively punished" for having an open Bible on his desk at Peterson Air Force Base in Colorado Springs, Colo.
"It [the Bible] is very obviously a statement of Christian preference, Christian primacy," MRFF founder Mikey Weinstein told me. "Had that been the Book of Satan or the Koran there would be blood in the freaking streets."
He accused Maj. Steve Lewis, a supervisor at the Reserve National Security Space Institute, of "harboring and encouraging a truly abhorrent example of First Amendment civil rights violations…"
Col. Damon Feltman, the commander of the 310th Space Wing, told me they are reviewing the incident involving the Good Book.
"He has removed the Bible voluntarily because he didn't want this to cause attention or disruption to his unit," Col. Feltman said. "I've performed a walk-through of the office and everything seemed to be in compliance with Air Force regulation…"
Weinstein, who earns a paycheck by trying to eradicate Christianity from the Armed Forces, accused Maj. Lewis of committing a "repulsive violation of USAF regulations" as well as the U.S. Constitution.
"It's not his desk," he told me. "That desk belongs to the American people, to the U.S. military. If that desk was in his home or his car it would not be a problem."
American Politics
You Can't Always Get What You Want, but if you Try Sometimes, You Get What You Need (Trump's PA rally) 08/15/16 by Georgann Ryan 
"I attended his rally in Erie, Pennsylvania on Friday afternoon and despite the fact that it was 93 degrees, very humid and we had to hike a half mile from the parking place we finally found, it was well worth attending. He said what Middle America is thinking but afraid to say for fear of being harassed for political incorrectness…
There were nearly 10,000 people there on Friday and many more had to be turned away. The crowd was cheering, going ballistic at times over remarks about building a wall, about Muslim immigration and his story of "The Snake." [2] He talked about how NAFTA (passed during the Clinton Administration) had destroyed manufacturing in America, and specifically in Erie, and he had charts to show the crowd with graphs exemplifying the number of jobs lost – and it was a substantial number, more than 1/3 of all manufacturing jobs…
He spoke of how the media has become so biased that it's no longer just leaning toward liberal politicians; it's creating issues where there are none merely to try and influence voters against him. And not only is he right, but judging from the applause and the outcry, those voters have noticed also. He pointed out how everything he says is twisted to make him appear irresponsible, but noted how the media glorifies her. He referred to CNN as the "Clinton News Network" and asked, 'Why isn't it news that she hasn't had a press conference in 254 days?'
…He did note that recently she stated she was "short-circuiting" and asked what would happen if he'd made that statement about himself. He was tactful enough to stick mostly to policy issues, and didn't mention the 'Clinton Body Count' [5] although it's become big news again in the alternative media…
He spoke about Christians being killed by ISIS and how this administration bears responsibility for that. How many other candidates have made an issue of our brothers and sisters dying because of Islamic aggression, and our need to do something about it? Whether he knows the Lord or not, his eyes are focused correctly on what we should be concerned about as a nation….
He also spoke about why the Second Amendment was so crucial and must be protected, and how, if Hillary is elected and given the chance to appoint three or more Supreme Court justices, that Amendment will disappear for all practical purposes.
In short, he hit all of the issues that most Americans care deeply about, and he made the right statements about those issues. I haven't covered them all in this brief article, but you can see his speech for yourself on YouTube if you're interested. I watched that arena cheer and shout, "Trump, Trump, Trump…" and I understood their enthusiasm."
FNN: Donald Trump Reads "Snake" Poem  This is the same poem Trump read at the rally in Erie, PA (referred to in the article above). Unfortunately, the clip from the Erie rally has been removed from YouTube – but it's the same poem the crowd in Erie loved.
"Donald Trump reads "Snake" poem to a crowd of supporters in Cedar Falls Iowa on January 12, 2016."
Hard Left
America to hand off Internet in under two months 08/16/16  This is a big move on the part of globalists and their hard left puppets (in the Obama administration) to end the last home of free speech and to stop access to truthful information from alternative media. It also could impact ministries which already are censored or blocked in totalitarian countries; their internet access could be shut down if censorship becomes international due to this move.
"The Department of Commerce is set to hand off the final vestiges of American control over the Internet to international authorities in less than two months, officials have confirmed.
The department will finalize the transition effective Oct. 1, Assistant Secretary Lawrence Strickling wrote on Tuesday, barring what he called "any significant impediment."
The move means the Internet Assigned Numbers Authority, which is responsible for interpreting numerical addresses on the Web to a readable language, will move from U.S. control to the Internet Corporation for Assigned Names and Numbers, a multistakeholder body based in Los Angeles that includes countries such as China and Russia.
Critics of the move, most prominently Texas Republican Sen. Ted Cruz, have pointed out the agency could be used by totalitarian governments to shut down the Web around the globe, either in whole or in part…
In the event any facilities are relocated to China, senators noted, they could go in the same building as the agency responsible for censoring that country's Internet. "We have uncovered that ICANN's Beijing office is actually located within the same building as the Cyberspace Administration of China, which is the central agency within the Chinese government's censorship regime," they wrote, noting that some of the American companies involved with the transition process have already "shown a willingness to acquiesce" to Chinese demands to aid with censorship.
"While this is certainly not illegal, it does raise significant concerns as to the increased influence that governments … as well as the culture of cronyism," they added."
STARVING SOCIALIST COUNTRY WITH FOOD RIOTS LAUNCHES GUN CONTROL EFFORT TO DISARM POPULATION 08/18/16  The politicians in Venezuela sound just like Obama, Clinton and the rest of the Hard Left. They want to disarm us for our safety!
This article talks about how corrupt the politicians are in Venezuela for taking bribes. They sound just like Hillary with the Clinton Foundation. The Clintons are as corrupt as any Central/South American thug.
"Venezuelan police crushed and chopped up nearly 2,000 shotguns and pistols in a Caracas city square on Wednesday, as the new interior minister relaunched a long-stalled gun control campaign in one of the world's most crime-ridden countries.
Interior Minister Nestor Reverol said the event marked the renewal of efforts to disarm Venezuelans, through a combination of seizures and a voluntary program to swap guns for electrical goods.
Venezuela has the world's second highest murder rate and the street gangs that plague its poor neighborhoods have become increasingly heavily armed in recent years, at a time when a deep recession has reduced resources available to police.
Gangs often get weapons from the police, either by stealing them or buying them from corrupt officers, experts say.
Because money is kind of worthless in Venezuela due to inflation which its government doesn't believe exists.
"We are going to bring disarmament and peace," Reverol told reporters, while police officers drilled and sawed at rusty shotguns, home made pistols and some newer weapons"
Israel and the Middle East War
No Room for the Zionist Entity in the Region 08/18/16  Hamas has a covenant to destroy Israel, yet Obama and others think that Israel and Hamas can coexist! This is a good article about Hamas.
Zechariah 12:6 In that day will I make the governors of Judah like an hearth of fire among the wood, and like a torch of fire in a sheaf; and they shall devour all the people round about, on the right hand and on the left: and Jerusalem shall be inhabited again in her own place, even in Jerusalem.

"History seems to be repeating itself and the lessons from the Hamas victory in the 2006 parliamentary election have not been learned. Hamas is fooling not only many Palestinians by promising them a better life and prosperity under its rule; it is also fooling some Westerners, who talk about "signs of moderation and pragmatism" coming from the Islamist movement.
Since its establishment in 1987, Hamas has been single-minded about its charter-documented desire to wage jihad against Israel. Its leaders continue to state this in Arabic on a daily basis. It is not rocket science: the movement has not changed and will not do so in the future, regardless of whether it wins or loses any election.
Hamas has made itself perfectly clear. What is not so clear is why some Westerners continue to talk about its "policy shifts." Also difficult to understand is why some in the West are not asking President Abbas and his Palestinian Authority what they intend to do if and when Hamas wins the local and municipal elections. Finally, why Abbas is pushing ahead with preparations for the elections, when he knows that his Fatah faction could easily lose to Hamas, is a true mystery."
Israel
Why Hezbollah won't open all-out front against Israel 08/18/16  This is a great article about what is happening with Hezbollah. Eventually there will be an all-out war between Israel and Hezbollah in which Hezbollah is totally destroyed.
"In the surreptitious struggle between Israel and Hezbollah over the past few years, Israel has maintained the upper hand. As part of the struggle, Nasrallah has tried desperately to create a small-footprint front against Israel. In other words, he wants to foment a kind of anti-Israel terror not directly connected to Hezbollah to avoid giving Israel an excuse to attack his organization. Nasrallah cannot launch attacks from across the Blue Line, the international border between Israel and Lebanon, because he knows that doing so would result in an aggressive response by Israel.
He also cannot let the situation deteriorate into a full-scale war, especially now, with Hezbollah sustaining hundreds of casualties and thousands more injuries in the blood-drenched Syrian quagmire.
At first, Nasrallah tried to create a second front against Israel in the Golan Heights. The rules of that operation called for low-key actions against Israel, without allowing the situation to devolve into a major conflict. Israel, however, has achieved a clear victory in the military and intelligence battle waged in the Golan Heights over the past two years.
Nasrallah lost quite a few of his assets and people, including Samir Kuntar in December 2015 and Jihad Mughniyeh in January 2015, while Israel paid an acceptable cost for its actions. Furthermore, according to foreign news sources, Israel continues to attack strategic arms convoys heading from Syria to Beirut."

2 Peter 3:9  The Lord is not slack concerning his promise, as some men count slackness; but is longsuffering to us-ward, not willing that any should perish, but that all should come to repentance.