World War 3 Update
                    Verse of the Day
Matthew 24:6 And ye shall hear of wars and rumours of wars: see that ye be not troubled: for all these things must come to pass, but the end is not yet. (7) For nation shall rise against nation, and kingdom against kingdom: and there shall be famines, and pestilences, and earthquakes, in divers places. (8) All these are the beginning of sorrows.
Commentary
The die is cast for WW3. Right now Syria is the hot spot to start the war, but other places like the South China Sea could ignite it. Right now the tension is growing in Syria between the Iranian led Shiites and the Saudi Arabian/Turkey led Sunnis. This is not going away and is only going to intensify. The Sunni – Shiite war for the control of Islam just may be the catalyst for WW3. Russia is supporting the Shiites, so the war could drag in the Russians.
Israel right now is just sitting back and watching all this unfold. Israel is closely watching Iran and it believes Iran is the greatest enemy.
No matter what happens, keep your eyes fixed on the coming of the Lord Jesus for His bride. In the end, this is all that matters.
1John 2:17 And the world passeth away, and the lust thereof: but he that doeth the will of God abideth for ever.
May the Holy God of Israel bless and protect you.
1Thess 1:10 And to wait for his Son from heaven, whom he raised from the dead, even Jesus, which delivered us from the wrath to come.
WORLD WAR 3
John Bolton: Obama Weakness on Russia, China 'Has Made Risk of Hostilities Greater' 02/18/16 I have said for a long time that Obama's weakness was creating the atmosphere for WW3. It appears that because of his weakness the world is now at critical mass. China, Russia, Iran and North Korea are all filling this void. He is so weak and so weakened America that it is very tempting for these nations to move for a confrontation for world domination.
Truly, the Hard Left mind lives in one huge delusion that is unable to grasp reality. Their mind is a judgment from God.

"During his appearance on Thursday's edition of Breitbart News Daily with host Stephen K. Bannon, former U.N. ambassador John Bolton warned that Barack Obama's weakness has inspired adversaries around the globe to push forward – from Islamist terrorists to serious global powers like Russia and China. "What the President has done, by reducing our military capability, has made the risk of hostilities greater," Bolton argued. He said it was time to include major potential adversaries such as Russia and China in our missile defense plans, as well as possible attacks from rogue states like North Korea or Iran, and terrorist deployment of weapons of mass destruction. "I have to say, as we see Russia getting more and more belligerent, and upgrading its forces… China, in particular, dramatically expanding its missile capabilities and its nuclear stockpile… I think we have to think back to the original Reagan design, in the Strategic Defense Initiative, and at least plan for, and think about, a much more comprehensive national missile defense system," he advised. "Because it's the only way we have to protect our innocent civilians. They are the ones most vulnerable today to the likes of North Korea and Iran, and they would be the ones vulnerable down the road."
Perle Predicts Putin Will Be 'More Aggressive' as Russian Economy Deteriorates 02/21/16 This is what I have been saying all along. Wars are very expensive and as the Russian economy collapses, Putin has limited options.
He knows how much time the Russian military has left, and as the time of the financial end draws close, he will become very aggressive. He might start a war with NATO.
The question is just how much time is left for the Russian economy?
"Russian President Vladimir Putin will likely become more aggressive as the Russian economy deteriorates, as is often the case with "totalitarians and dictators," former assistant Secretary of Defense Richard Perle told Newsmax TV Friday. "It's among, other things, a way of rallying people [and] taking their mind off the economic problems they're facing, so I expect he will behave even worse,"
Chinese media calls for government to 'fire shots and ram U.S. warships to teach them a lesson' over disputed South China Sea islands 02/20/16 The rhetoric towards WW3 is now never ceasing. The news in China is all state controlled, so this is China's way of warning America of war.
"Chinese media have urged their military to fire warning shots at the U.S. Satellite images show missile systems on Chinese-controlled islands But China maintains U.S. presence in the region is threatening peace."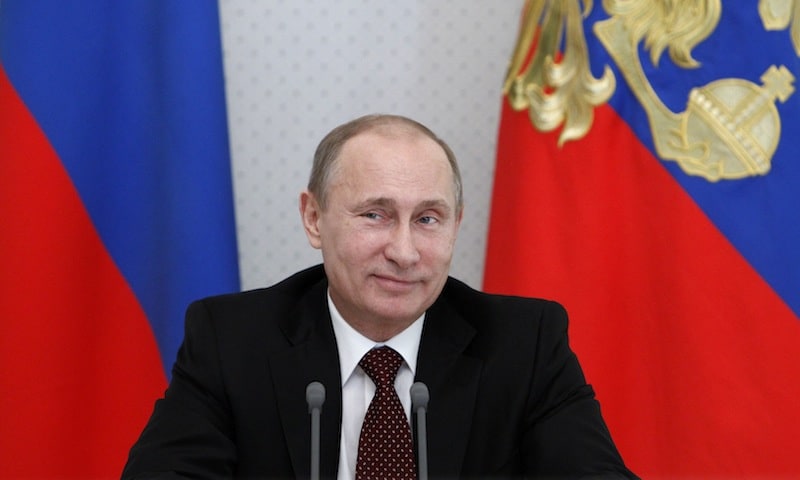 Great Power Realignment – To Russia? 02/20/16 Because of America's sin and rebellion against the Lord, God is stripping the power away from the US. We are no longer fit to be a world leader. The power is being transferred to Russia, and I believe that God is going to use Russia to judge America.
"The U.S. is looking less and less relevant, as historic Great Powers do what they have historically done best — fight for their national interests as they define them. President Obama appears to be conceding the lead to Russia and Russian aims. ISIS will continue to come under attack by the U.S. and its allies, but Russia will continue to roll up the non-ISIS opposition, including groups the U.S. had supported. Assad is breathing easier. Iran is viewing the Shiite Crescent as a done deal, and Hezbollah can be assured of Iranian resupply. The Kurds will try to strengthen their territorial gains while Sunni Syrian civilians will continue to flee the Assad/Russian/Iranian assault. The end result may be "peace," but of the Machiavellian sort. "Peace," Machiavelli wrote, is the set of conditions imposed by the winner on the loser of the last war. The Turks and the Russians understand him. The Americans? Perhaps not so much."
Iran to Russia: Take $14bn and build us a modern army 02/20/16 Both Russia and Persia will meet their final doom on the Mountains of Israel. This is at the Second Coming of Jesus Christ.
Ezekiel 38:8 After many days thou shalt be visited: in the latter years thou shalt come into the land that is brought back from the sword, and is gathered out of many people, against the mountains of Israel, which have been always waste: but it is brought forth out of the nations, and they shall dwell safely all of them. (9) Thou shalt ascend and come like a storm, thou shalt be like a cloud to cover the land, thou, and all thy bands, and many people with thee.
We know from Ezekiel 38,39 that Russia and Persia (modern Iran) will unite in the final battle against Israel. This shows how far advanced the ties between Russia and Persia, and they are growing closer all the time.
"Iran's Defense Minister Gen. Hossein Dehghan arrived in Moscow this week at the head of a large military delegation and laid before President Vladimir Putin and his Defense Minister Gen. Sergei Shoigu a $14 billion check. Now, make our Revolutionary Guards Corps and regular forces into an up-to-the-minute war machine, he said. The plan to make over and upgrade Iran's military was first approved by Iran's supreme leader Ayatollah Ali Khamenei. It is to be paid for with funds released by newly lifted sanctions against the Islamic Republic. The ayatollah aspires to rebuild the two branches – the IRGC with 150,000 troops and the regular army of 420,000 – as the most powerful armed force in the Middle East. The fee on offer to Moscow covers the best-quality arms purchases and the foundation of a wide-ranging military industry for turning out Iran's requirements of warplanes, tanks and other high-grade systems."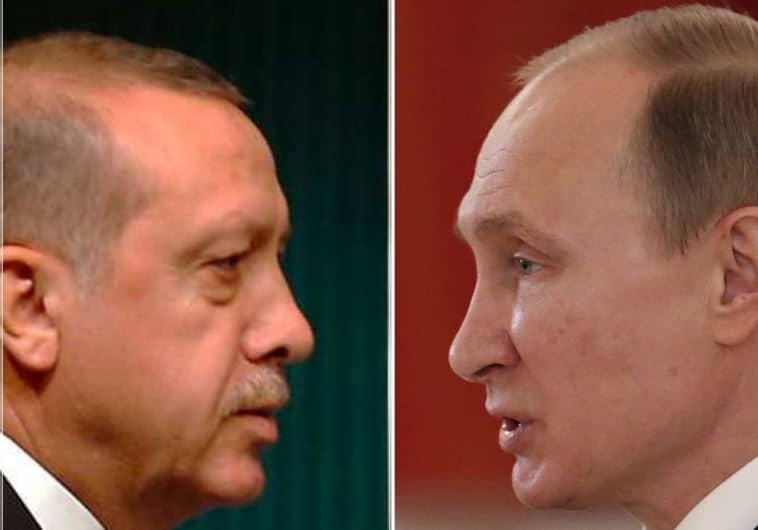 NATO warns Turkey it can't count on support in a conflict with Russia as tensions escalate 02/20/16 Is Turkey going to back down as the US and NATO will not back it in a war with Russia? Turkey cannot allow Iran and Syria to unite, so what is going to happen?
"European diplomats warned that Ankara cannot invoke Article 5 Germany says that NATO cannot 'pay the price for a war started by Turks' Turkey has called for international ground operation in Syria Russia called Security Council meeting to halt Turkey's shelling of Kurds"
Turkish intervention in Syria risks Turkey-Russia war: Hollande 02/19/16 The French look at war between Russia and Turkey.
"French President Francois Hollande on Friday said Ankara's escalating involvement in the Syrian conflict was creating a risk of war between Turkey and Russia. "Turkey is involved in Syria… There, there is a risk of war," Hollande told France Inter radio. "That is why the (UN) Security Council is meeting," he added. Hollande also said "Russia will be unable to cope if it unilaterally supports (Syrian President) Bashar al-Assad" and called for "pressure" to be exerted on Moscow to negotiate on Syria. "I do not want to exclude Russia from the solution. I went myself to Moscow to tell Vladimir Putin, 'All of us have to work together to make this political transition'… but I cannot accept that at the same time that people are negotiating, they are bombing civilian populations," he said."
Israel and the Middle East War
France's Relentless Hostility to the Jewish State 02/18/16 This is an amazing article as it summarizes the extent at which France has gone to promote Islam and try to damage Israel. After reading this article, it is very clear that France is Israel's number one enemy in Europe.
The future for France is very bleak as the Holy God of Israel is in the process of turning France over to the Muslims for judgment. All the Jews in France should immediately get out to go to Israel.
"France today is one of the main enemies of Israel — maybe its main enemy — in the Western world. France's disregard of the threats faced by Israel is more than simple willful blindness. It is complicity. At a time when Mahmoud Abbas constantly encourages terror and hatred against Israel, and when murders of Israeli Jews by Palestinian Arabs occur on a daily basis, France's anti-Israel relentlessness can only be seen as the latest extension of France's centuries-old anti-Semitism. France's "Arab policy" has gone hand-in-hand with a massive wave of Muslim immigration. France has quickly become the main Muslim country in Europe. More than six million Muslims live in France, and make up approximately 10% of the population. The Muslim vote is now an important factor in French politicians' decisions; the risk of Muslim riots is taken into account."
Report: Israel attacks Hezbollah weapons cache in Syria 02/19/16 This is the wild card with Syria: Israel flying over Syria to attack Hezbollah. The Russians are there and this could get ugly if the Russians would challenge the IDF.
"The Israeli Air Force (IAF) reportedly attacked a munitions storage south of Damascus at the Mount Mana area near the roads leading to Dara'a on Wednesday night, the Syrian Observatory for Human Rights (SOHR) reported.
According to the SOHR report, an organization which monitors the civil war in Syria, the location was targeted by three missile strikes which caused physical damage, but there was no available information about the size of the damage or on casualties, and it is unknown whether members of the Hezbollah terror organization were inside the location or not. Witnesses to the explosion reported seeing secondary explosions, possibly indicating that weapons stored at the site exploded due to the attack."
Hard Left in the Military
Decision looms for Army sergeant who protected Afghan boy 02/18/16 We need to watch this closely and scream if this hero is discharged from the military. The problem is we have Obamaites in power over the military, and only with people who think like him could this happen. When a real man becomes president, we need to purge the military of the Obamaites and reinstate honorable military personnel who suffered under Obama's reign. This is the type of action that demoralizes the public. I just can't wait for an honorable president, who can restore our military from all the damage inflicted by Obama and the reprobates.
"A decorated Army sergeant who protected an Afghan boy from a child molester could find out any day whether his actions will end his career in the military. Sgt. First Class Charles Martland, a Green Beret with an 11-year Special Forces career, was stationed in Afghanistan in 2011 when the boy's mother came to him and said she'd been beaten and her son raped by a local police commander. Martland and another soldier summoned the police official and, when the man laughed at them, threw him off the base. Martland and Daniel Quinn were both disciplined for their actions. Last year, amid military cuts, the Army Human Resources Command recommended Martland be discharged in part based on his disciplinary record, but an official decision by U.S. Army brass is expected by March 1. "Charles did the right thing in Afghanistan by standing up to a child rapist and corrupt commander, and now it's the Army's turn to do the right thing and reverse the decision to expel him from the service," said Rep. Duncan Hunter, R-Calif., whose office has been assisting Martland. "Permitting Charles to continue serving is in the best interest of the Army and the nation."
1Thess 5:23 And the very God of peace sanctify you wholly; and I pray God your whole spirit and soul and body be preserved blameless unto the coming of our Lord Jesus Christ.