Breaking the Cross: Latest ISIS Magazine Aimed At Christians
Verse of the Day
1 Corinthians 1:18 For the preaching of the cross is to them that perish foolishness; but unto us which are saved it is the power of God.
Commentary
It appears that ISIS is targeting Christians, like so many Islamic nations. Because of that, many Christians living under Islam are in fear all the time. This is because of what is written in the Koran and Hadiths. The first Islamic caliphate was ruthless towards Christians, and ISIS is just following their actions. Christian women are in great danger under Islam, as we can see from what is happening in Europe.
Islam is bringing the fight to us, and it will not be long before there is great bloodshed coming to the West. I think the war between Islam and the West already has started.
The doctrine in the Koran is directly against Christianity, which energizes the Muslims against us; in addition the Suras promote violence. The following are a few Suras showing how the Koran is written directly against Christianity:
Sura 4.171 O followers of the Book! do not exceed the limits in your religion, and do not speak (lies) against Allah, but (speak) the truth; the Messiah, Isa son of Marium is only an apostle of Allah and His Word which He communicated to Marium and a spirit from Him; believe therefore in Allah and His apostles, and say not, Three. Desist, it is better for you; Allah is only one God; far be It from His glory that He should have a son,

Sura 4.171 Allah is only one God; far be It from His glory that He should have a son, whatever is in the heavens and whatever is in the earth is His, and Allah is sufficient for a Protector.

Sura 6.101 Wonderful Originator of the heavens and the earth! How could He have a son when He has no consort, and He (Himself) created everything, and He is the Knower of all things.

Sura 9.30 And the Jews say: Uzair is the son of Allah; and the Christians say: The Messiah is the son of Allah; these are the words of their mouths; they imitate the saying of those who disbelieved before; may Allah destroy them; how they are turned away!
May the Holy God of Israel bless and protect you.
1 John 1:7 But if we walk in the light, as he is in the light, we have fellowship one with another, and the blood of Jesus Christ his Son cleanseth us from all sin.
Islam/ Christianity
Breaking the Cross: Latest ISIS Magazine Aimed At Christians 08/07/16  What you are about to read is real Islam and its view of Christianity. This is Muhammad and the first caliphate in action. If an Islamic caliphate does form, this is what they will attempt to act out against Christians and Jews.
I have no doubt that Islam is going to meet a crashing defeat and end over Jerusalem.  Jerusalem will be the graveyard of Islam.
"The fifteenth issue of the Islamic State's Dabiq magazine is called Breaking the Cross and is targeted at discrediting Christianity and Western secularism.
Unlike previous issues which were primarily directed at Muslim-majority societies, this issue is full of propaganda aimed at converting non-Muslims to the Islamic State's puritanical and bloodthirsty interpretation of Islam.
The foreword includes direct attacks on the ideologies of Christianity, feminism, secular liberalism and atheism, naming them individually and offering rebuttals. It also references the recent attacks in France and Germany and threatens further violent attacks.
The magazine puts forward a dual approach. On the one hand ISIS calls on the population of Europe to "abandon their infidelity and accept Islam, the religion of sincerity and submission to the Lord of the heavens and the earth."
On the other they threaten continual warfare against those who do not, saying "we call you to reflect on these questions as the bloodthirsty knights of the Caliphate continue to wage their war of just terror against you."
Christianity
The Great U-Turn in the Sky 08/07/16  This article (by Georgann Ryan) is a response to a recent program with an author discussing his book about how Jesus won't take his Church until the very end of the Tribulation, something which sounded so illogical and un-biblical that it demanded a response.
Unfortunately, this author is excellent in his reporting of prophetically-related news so it seems he has gotten off track somewhere by stepping outside of that calling.
"I know that people can disagree amicably on the timing of the rapture, and I don't believe it's a game-changer in terms of their fellowship and acceptance of one another as Christian brothers and sisters. But there are times when an argument is so misleading and based on such logical fallacies that it has to be addressed.
We're told in the Bible that the Holy Spirit is our teacher and guide, but that doesn't mean that he makes ancient language scholars out of people who have no training in it. There's a problem when someone who is otherwise intelligent, competent and even inspired at times (in another field) begins to rush in, and armed with a superficial understanding, at best, of the "real" meaning of the texts, then dismisses all of the arguments and explanations of those who are scholars, because he believes he has "superior" revelation…

The focus is misplaced in scrutinizing texts, then feeling compelled to broadcast a personal interpretation to awaken everyone, arguing that they should accept your views in order to be ready for a future which none of us can discern absolutely and specifically. Isn't something wrong when an author believes that he alone is the recipient of wisdom and guidance from the Holy Spirit in a certain area, and so must instruct the rest of us on his revelation?
The problem is that this is an issue of heart, not of doctrine. Michael Snyder, an excellent reporter, writer (and a lawyer) has just published a book, "The Rapture Verdict," arguing that the belief in a pre-trib rapture is causing many in the Church to be complacent because they believe they'll be gone before things get too bad. Why prepare for tough times or worry about the tech revolution leading to the Beast system and the mark if you won't have to deal with it anyway?
I can tell him why – it's because we know that we could be gone at any moment if the rapture might be imminent. Faced with that, we work harder because we want to do all we can before we're removed and no longer can work for Christ. That possibility makes us more dedicated because we aren't just worrying about our own futures, we're concerned for the lost whom we can't reach once we're gone. It's not the doctrine that creates selfishness and a sense of irrelevance – it's a heart that isn't focused on Jesus and what he cares about.
If it only were a matter of doctrine, similar reasoning could be applied to a post-trib rapture. Why worry about doing anything if we know it can't change what's coming? We'll be here for times which are so brutal and warped that if not for the return of the Lord, no flesh could endure. But that belief causes people to be insular and focus on "preparation" to survive what's coming, hidden in the hills somewhere."
Islam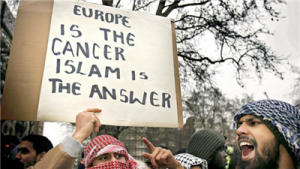 Islam, Sexual Violence and the West 08/07/16  There is something deep within many male Muslims toward what they call "infidel" women. You can trace this back to Muhammad and his early followers, because the infidel women were the "spoils of war." If you follow Islamic history, it is clear that infidel women were the continued subjects of rape and slavery.
What is happening with ISIS and also with the raping of European women is nothing new, but rather a continuation of what started 1,400 years ago with Muhammad. The great conflict between the Hard Left Europeans and Islam has to erupt, or the Europeans must to surrender to Islam.
"Denial is not a strategy. Western countries that cherish women's rights must wake up to the fact that many migrants could challenge those values. Most of the mass migration comes from violence-plagued, Muslim-majority countries in the Middle East and North Africa, where women are second-class citizens subject to honor killings and various legal restrictions, and where the local culture often condones rape, encourages wife-beating, and treats women as sexual objects (with 72 virgins promised to Muslim men who reach heaven).
Thus, just as the mass migration from the Middle East and North Africa raises the specter of regular Islamist terror on European soil, it also augurs the kind of sexual abuse that those regions have traditionally tolerated. German officials implicitly seemed to acknowledge as much with their laughably impotent campaign to re-educate migrants using signs that explain acceptable behavior towards women.
Non-Muslim ("infidel") women are especially vulnerable to sexual assault: Christian women are often abused and denigrated in Islamic societies, as extensively exposed by Raymond Ibrahim, author of Crucified Again. The Islamic State (ISIS) regards the Yazidi, another religious minority, as devil worshippers and reportedly enslaved up to 5,000 Yazidi women, subjecting them to rape, sexual slavery, forced prostitution and other acts of extreme brutality, like burning alive a 20-year-old girl "because she refused to perform an extreme sex act."
Islam/ Hard Left
Racism, not Refugee Rape, Is Causing Agitation in Twin Falls, Claims Local TV Outlet 08/08/16  This is the Hard Left mentality in Europe, and now we see it popping up in America. They simply love Muslims and hate real Americans.
In Europe, we have watched the massive rapes of "infidel" women by the Muslims and now it starts in America. This action was by youngsters raping a 5 year old girl!
It is amazing to watch the reprobate mind, and it is so easy to predict their actions. Whatever is evil and wrong they both do and protect. Think the worst of them and they will fulfill it. They are like zombies, attracted to sin and evil.
John 3:19-20 And this is the condemnation, that light is come into the world, and men loved darkness rather than light, because their deeds were evil. For every one that doeth evil hateth the light, neither cometh to the light, lest his deeds should be reproved.

"White racism, not a June 2 videotaped rape by refugees from strife-torn tribal cultures, is causing the growing civic protest in Twin Falls, Idaho, according to KMVT, the main local TV station.
The pitch was delivered with the help of Nancy Taylor, who is a local advocate for greater immigration.
I believe that there is a very small group in Twin Falls, very small and vocal, who, for lack of a better word, are racist … A little girl was assaulted, and just because people of color are involved, it becomes an issue. Unfortunately, children in this community are victims of crime every day, why isn't that an outrage?
That skew ensured that KMVT's reporting on the press conference is "one of the most blatant examples of pro-refugee, anti-American bias I've seen to date in the media," said Ann Corcoran of Refugee Resettlement Watch. She's an expert on the lucrative refugee resettlement industry.
"When a news media outlet fails to report what an organization holding a press conference actually says at that event, you really have to question if they are an objective reporter of actual news, or if they are instead simply a propaganda outlet for the powerful refugee resettlement industry and its local business allies," Corcoran says."
Islam/ The Coming Middle East War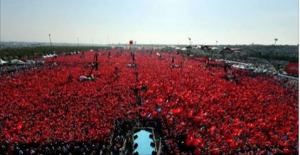 Turkey's Erdogan stages mass rally in show of strength after coup attempt 08/07/16  Turkey will move to take the lead for the Sunni caliphate. I am going to watch Turkey very closely, as it has the power to defeat Iran and unify Sunni Islam into a caliphate and attack Israel.
"President Tayyip Erdogan told a rally of more than one million people on Sunday that July's failed coup would be a milestone in building a stronger Turkey, defying Western criticism of mass purges and vowing to destroy those behind the putsch.
The "Democracy and Martyrs' Rally" at the Yenikapi parade ground, built into the sea on the southern edge of Istanbul, was a show of strength by Erdogan, who has been angered by European criticism of his combative response to the coup and by U.S. reluctance to hand over the man he accuses of masterminding it.
Banners in a sea of red Turkish flags read "You are a gift from God, Erdogan" and "Order us to die and we will do it". It was the first time in decades that opposition leaders joined a rally in support of the government, with pockets of secularists, nationalists and others alongside his core Islamist supporters.
"That night, our enemies who were rubbing their hands in anticipation of Turkey's downfall woke up the next morning to the grief that things would be more difficult from now on," Erdogan said of the July 15 abortive coup, drawing parallels to times past when Turkey was occupied by foreign forces."
American Politics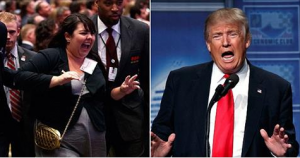 All you've got is tiny hands!' Trump interrupted FOURTEEN times by protesters during economic speech as audience responds to organized shouts with standing ovations 08/08/16  This article is from the British media Daily Mail. I love to follow it because they either give great information that is not reported in America or they will be the first to report it.
I want you to scroll down to the bottom of the article and look at the picture of Hillary. I have noticed that she does not look good and seems to be physically failing.
"Fourteen different protesters pepper Donald Trump's speech to the Detroit Economic Club with screaming protests
Comic relief came from a lone male protester, who ranted: 'Tiny hands! All you've got is tiny hands!'
Trump largely ignored them and their shouts were swallowed up by a cavernous convention center ballroom
One yelled that Trump would have to 'answer to women'
Crowd responded with standing ovations and cries of 'We love you!'
'I will say the Bernie Sanders people have far more energy and spirit,' Trump quipped
Ivanka Trump gets round of applause when she's announced as one of his advisers
Left-wing group called Michigan People's Campaign claimed credit for organizing the protest interruptions"
American Politics/ Israel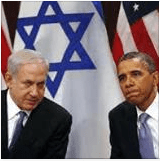 The New State Department Assault on Israel 08/07/16  Obama is trying all he can do to harm Israel, right to the end of his presidency. I hope that all he tries to do is blocked, along with Clinton becoming president because she also loves the Muslim brotherhood like Obama does.
Obama can't leave office fast enough for me. Everything this man touches is cursed and is a failure.
"This week the State Department engaged in a remarkable assault on Israel. Both in tone and in content, it marks a new hostility–and plenty of sheer ignorance.
The comment was entitled "Recent Israeli Settlement Announcements" and the full text ran as follows:
We are deeply concerned by reports today that the Government of Israel has published tenders for 323 units in East Jerusalem settlements. This follows Monday's announcement of plans for 770 units in the settlement of Gilo.
We strongly oppose settlement activity, which is corrosive to the cause of peace. These steps by Israeli authorities are the latest examples of what appears to be a steady acceleration of settlement activity that is systematically undermining the prospects for a two- state solution."
World War 3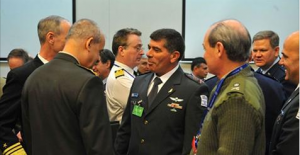 Europe's armies are dysfunctional 08/08/16  Please take time to read this article. It is a real eye-opener. It was one of most sobering articles that I've ever read.
Europe already is defeated and just waiting to surrender. Will they surrender first to the Russians or to the Muslims? There is something radically wrong with the European psyche. They have a collective death wish. There can't be much time left for the Europeans. ISIS and the Muslims can sense the Europeans have no will or guts to fight.
The Hard Left in America is exactly like their counterparts in Europe. There is no strength in them except to kill babies and advance the homosexual agenda. Look at what happens to a people who reject God and embrace sin!
"A year ago, Sir Nigel Essenhigh, former head of the Royal Navy, wrote an article in which he compared England's defense today to that during the rise of Nazism. Which part of the continent will Europe's leaders sacrifice to the Islamic State and jihadists as their grandfathers did with Sudetenland to Hitler? The French Islamicized suburbs? Londonistan?
"US anti-terrorism officials are so frustrated with the inability of Belgium to face terrorist cells that they compared its security forces to "children". Until a couple of decades ago, Sweden was militarily strong. Then, a number of decisions based on the belief that wars in Europe were "a thing of the past", turned Sweden into a defenseless state. According to the Supreme Commander of Sweden, Sverker Göransson, the country is able, at best, to defend itself "in one place for a week".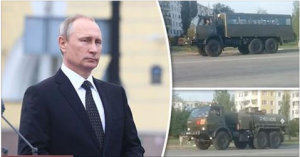 Russia moves tanks to European border amid reports of deadly Crimea shooting 08/08/16  Yet more movement toward WW3, but this time from Russia. The Russians are moving tanks right to the European border! Is this all a dream or are sleepwalking into WW3?
"It has been reported that Russian tanks have been spotted moving into occupied territory in Crimea, which was seized following an operation carried out by Vladimir Putin's forces in 2014.
Witnesses have reported large amounts of Russian military hardware massing near the towns of Dzhankoy and Armyansk in northern Crimea, close to the border with Ukraine.
Norman Dzhelalov, deputy chairman of Crimean Tatar Mejlis – which represents the peninsula's ethnic Tatar group, claimed on Facebook that tanks had arrived.
He wrote: "Witnesses report that large groups of Russian military hardware have been massed near Armyansk and Dzhankoy.
Dzhankoy has been cordoned off by troops with tanks and other equipment."
Video footage shows Russian armoured trucks and troop transporters as part of a large military convoy moving down the street.
The footage uploaded to YouTube shows the vehicles moving through the city of Kerch near the Russian border.
Russia also closed its checkpoints along the Crimean border with Ukraine on Sunday morning."

1 Thessalonians 4:16-17 For the Lord himself shall descend from heaven with a shout, with the voice of the archangel, and with the trump of God: and the dead in Christ shall rise first:
Then we which are alive and remain shall be caught up together with them in the clouds, to meet the Lord in the air: and so shall we ever be with the Lord.