Can a burgeoning satanic movement actually effect political change?
                               Verse of the Day
Isaiah 47:13,14 Thou art wearied in the multitude of thy counsels. Let now the astrologers, the stargazers, the monthly prognosticators, stand up, and save thee from these things that shall come upon thee. Behold, they shall be as stubble; the fire shall burn them; they shall not deliver themselves from the power of the flame: there shall not be a coal to warm at, nor fire to sit before it.
Commentary
As America continues its slide into sin and rebellion, we see three factions of sin forming. One is the Hard Left reprobates with homosexuality leading the way, the second is Islam with Sharia law and the third is Satanism with worshiping satan.  There is no political answer to this mess: the answer is spiritual. As long as the church plays religious games, the nation will continue its descent into hell, until it passes the point of no return. It is possible we already crossed that line with the Supreme Court legalization of "homosexual marriage."
America's descent into hell is accelerating, while at the same time America's enemies such as Russia and China are gaining power daily. I see the Lord raising up these nations as a "rod of judgment" against America. As long as the church remains so unresponsive, wickedness has no bounds in America. This can't continue for much longer. Some event is going to bring this to a head.
May the Holy God of Israel bless and protect you.
Revelation 21:10,11 And he carried me away in the spirit to a great and high mountain, and shewed me that great city, the holy Jerusalem, descending out of heaven from God, Having the glory of God: and her light was like unto a stone most precious, even like a jasper stone, clear as crystal;
Paganism Revival – Satanism/ American Politics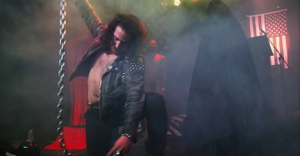 Can a burgeoning satanic movement actually effect political change? 04/19/16  The sin and rebellion of America is now so great that Satanism is becoming a political power!
Where are the pastors and leaders calling for repentance and an outpouring of the Holy Spirit???
We have prayer every Monday, Tuesday and Thursday calling on the Lord for an outpouring of the Holy Spirit. If you have no place to go, join my radio prayer group. I will post the link to the show later.
Acts 2:17  And it shall come to pass in the last days, saith God, I will pour out of my Spirit upon all flesh: and your sons and your daughters shall prophesy, and your young men shall see visions, and your old men shall dream dreams:
(18) And on my servants and on my handmaidens I will pour out in those days of my Spirit; and they shall prophesy:
(19) And I will shew wonders in heaven above, and signs in the earth beneath; blood, and fire, and vapour of smoke:
(20) The sun shall be turned into darkness, and the moon into blood, before that great and notable day of the Lord come:
(21) And it shall come to pass, that whosoever shall call on the name of the Lord shall be saved.
"Since its founding, TST has waged a highly active campaign to demand greater separation between church and state, and to challenge the privileged relationship Christianity has with government.
A cornerstone of their campaign has been tongue-in-cheek "stunts" intended to show how government institutions favor Christianity in ways that would never be tolerated for other religions.
TST first made headlines in 2013, when it held a rally in Florida, ostensibly to congratulate Governor Rick Scott for passing a bill that would allow students to read "inspirational messages of their choosing" at assemblies and sporting events.
While Scott probably envisioned the law permitting Christian students to offer public prayers and Bible readings, it could not, constitutionally, specify what sort of "inspirational messages" were allowed – including satanic messages. And so the rally featured a sign declaring, "Hail Satan! Hail Rick Scott!"
Islam – Jihad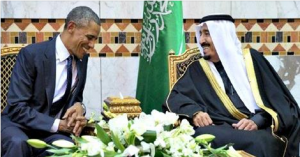 Saudis Are Committed to 'the Destruction of Countries Like' America 04/19/16  Despite the divide in Islam between the Sunnis and Shiites, they both have the same goal to destroy the West and win the entire world for Islam. This is their focus and they are working 24/7 to gain power and control in order to advance Islam for world conquest!
The Hard Left mind and the delusion that controls it can't see this. They are giving the Muslims the rope to hang us. The Hard Left despise us when we show them the horrors of Islam. They love the Muslims even to the point of committing suicide by them.
"Frank Gaffney, tells Breitbart News Daily host Stephen K. Bannon, "members of the royal family, the Saudi clerics of Saudi Arabia and, of course, the various front organizations that fund the Muslim Brotherhood, that fund other kinds of jihadists, all are imbued with this commitment to Sharia – the totalitarian doctrine that calls for the destruction of countries like ours."
The conversation takes place on the heels of the Saudis actually making threats against the U.S. in an effort seemingly aimed at continuing to conceal their role in 9-11. Per the New York Times:
Saudi Arabia has told the Obama administration and members of Congress that it will sell off hundreds of billions of dollars' worth of American assets held by the kingdom if Congress passes a bill that would allow the Saudi government to be held responsible in American courts for any role in the Sept. 11, 2001, attacks."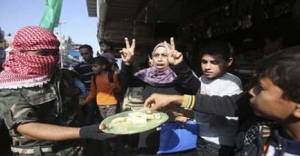 Celebrating Terrorism, Palestinian Style 04/21/16  It is joyful for most of the Palestinians for Jews to be killed. When Jews are killed, the Palestinians dance and party over it.
Israel never can be at peace with these people. This attitude by the Palestinians will result in an all-out war with Israel and the total destruction of the Palestinians.
Obadiah 1:18  And the house of Jacob shall be a fire, and the house of Joseph a flame, and the house of Esau for stubble, and they shall kindle in them, and devour them; and there shall not be any remaining of the house of Esau; for the LORD hath spoken it.
"Shortly after the Jerusalem bus terror explosion attack on April 18, a number of Palestinian factions rushed to issue statements applauding the "heroic operation" and urging Palestinians to pursue the path of armed struggle against Israel.
The Palestinian jubilation over the terror attack, the first of its kind since the suicide bombings during the Second Intifada more than a decade ago, is yet another reminder of the growing radicalization among Palestinians. This radicalization is mostly attributed to the ongoing anti-Israel incitement and indoctrination by various Palestinian factions and leaders.
Not surprisingly, the first Palestinian group to applaud the Jerusalem bus attack was Hamas.
Hamas spokesman Sami Abu Zuhri said that his movement "welcomes the Jerusalem operation and considers it a natural response to Israeli crimes, especially extra-judicial executions and the desecration of the Al-Aqsa Mosque."
The Hamas spokesman was in fact echoing similar charges made by Palestinian Authority President Mahmoud Abbas, who declared that Palestinians will not allow Jews to be "defiling the Aqsa Mosque with their filthy feet."
Islam – Europe and Jews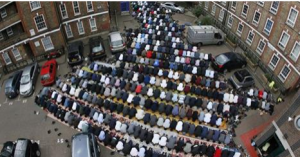 Islamic radicalization fuels 'dire' threat to Jews in Europe, congressional panel hears 04/20/16  Hating Jews seems to be in the European DNA. Now, with massive amounts of Muslims flooding in, they will take this European hatred to a new level.
The Jews are not safe in European and need to leave. This has been building for many years, but the Jews have to make plans to leave Europe because the Muslims soon are going to start killing them.
The ISIS-type terrorists will go after the Jews because they have a blood-lust to kill them. Europe is heading for a bloodbath with all of the Muslims now living in those countries.
"A congressional human rights commission heard testimony from experts on how Islamic radicalization in Europe has ramped up risk for Jewish communities.
"ISIS especially hates the Jewish people and has instructed its followers to prioritize killing them," Rep. Chris Smith, R-N.J., the chairman of the U.S. Helsinki Commission, said Tuesday, launching the hearing he called in the wake of recent attacks in Europe, and referring to the Islamic State terrorist group behind some of the recent major attacks in Europe.
John Farmer, a former New Jersey attorney general who now leads a Rutgers University initiative to assess how to protect communities vulnerable to terrorism, said terrorist attacks were threatening the viability of Jewish Europe.
"The situation on the ground has become dire, the challenge to the Jewish communities has become nothing less than existential," he said. "Many stalwart [Jewish] leaders have become ambivalent about remaining in Europe at all."
God's Final Warning to Europe
'EU doesn't recognize Israeli occupation of the Golan' 04/20/16  The Muslims are pouring into Europe, destroying the culture and creating little Islamic states all over Europe. This is God's response to the EU trying to divide Israel and Jerusalem.
From this statement it looks like Europe is going to get more and more Muslims to match what the EU is trying to do to Israel.
"The European Union's foreign policy chief Federica Mogherini reiterated on Tuesday that the EU does not recognize Israel's claim to the Golan Heights, echoing a similar statement from the US the day before.
The EU recognizes Israel within its pre-1967 boundaries, regardless of the (Israeli) government's claims on other areas, until a final settlement is reached," Mogherini said before a meeting in Brussels of international donors in support of the Palestinian economy.
"This is a shared position reaffirmed by the European Union and its member states," she added."
Hard Left/ Christianity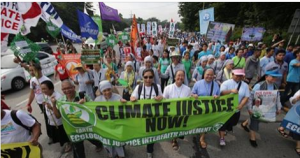 Christianity Demonized as a Global Menace 04/20/16  This is a must read and I've been waiting for an article like this. This is like a mini thesis condemning Christianity.
Please do not think that this man is just a kook. He represents that reprobate mind that has taken hold of the colleges and the Democratic Party.
These people totally reject America and all it stands for. They want the nation and all who support it destroyed. These are violent people and they are getting revved up to shed blood. They are dangerous and will kill as many people as needed to advance their agenda. They are ruthless, and so full of lies that there is no room for truth in their minds.
If the Lord does not intervene soon, you are going to see a French-type revolution in America. It is here NOW! They are gaining power by the day, since the Lord has turned the nation over to them, because the church has melted away into a social club.
The Hard Left is coalescing before our eyes, and I really do expect bloodshed this summer. I also believe that very soon it is going to be impossible for real Christians to live in certain states like California and many New England states.
The religious freedoms of America are now coming to end.
"The 17th annual White Privilege Conference was held in Philadelphia from April 15 to 17.
Blake Neff of The Daily Caller attended the conference and reported that "activist and author Paul Kivel" actually claimed that "almost every dysfunction in society, from racism and sexism to global warming and a weak economy, is united by the ideology of 'Christian hegemony.'"
Kivel identified three particularly severe problems in the modern world that are caused or worsened by Christianity. First are wars in the Middle East, which he says are a result of Christianity's effort to spread Western ideas and influence.
The second problem Kivel attributed to Christianity is the economic destruction it has caused because, wrote Neff, "it provides that God-like 'invisible hand' that supposedly drives market forces within a flawed capitalist system."
Next, Kivel made the irrational leap that to distinguish between good and evil leads to condemnation of various things as worthy of destruction. From my perspective, however, it is not Christians but leftists such as Kivel who are most intolerant toward people and ideas of other religions or secularists.
Finally, Kivel castigated Christianity's "hierarchical" views that place "God over people, men over women, parents over children, (and) white people over people of color," which, in his view, inevitably leads to systems that justify or glorify oppression."
Hard Left – Reprobate Mind/ Christianity
Fired for preaching: Georgia dumps doctor over church sermons 04/20/16  I am starting to report on a regular basis the the hardening of America against Christianity. The nation is becoming like the Soviet Union was, where all speech is controlled by the state.
The State of Georgia is now under control of the reprobates. They used free speech to get in power, and now they shutting down everyone who speaks contrary to their agenda. This is accelerating across the nation. Christians are being marginalized, and the next step is to strip our rights away by violence.
WHERE ARE THE PREACHERS IN GEORGIA? THE WAR IS WAGING WHILE THE VAST MAJORITY ARE AWOL!
Are the vast amount of pastors hirelings and not shepherds of God's sheep?
,
Psalm 94:16   Who will rise up for me against the evildoers? or who will stand up for me against the workers of iniquity?
"Bi-vocational pastors be warned – what you say from the pulpit on Sunday could get you fired from your public sector job on Monday.
Dr. Eric Walsh, a renowned public health expert who also serves as a lay minister, has filed a federal lawsuit against the Georgia Department of Public Health alleging he was terminated for delivering sermons on issues ranging from homosexuality to evolution.
"No one in this country should be fired from their job for something that was said in a church or from a pulpit during a sermon," said First Liberty attorney Jeremy Dys.
First Liberty, one of the nation's largest law firms defending religious liberty, is representing the Seventh Day Adventist lay minister.
They contend that the Georgia Department of Public Health assigned workers to investigate sermons Dr. Walsh delivered on health, marriage, sexuality, world religions, science and creationism. He also preached on what the Bible says about homosexuality."
Hard Left – America
Pro-Immigration Bishop Tells Congress That US Has 'Raped' Central America 04/20/16 (VIDEO) You are witnessing the Hard Left thinking that America is the source of all evil in the world.
The real problem in Latin America is corruption and the absence of the Lord. All these countries suppress their people and are totally corrupt. It is not America's fault that Mexico is in the state it is in. There is no middle class in these nations and no way to escape poverty.
We've had 8 years of Clinton and 8 of Obama in the last 24 years. The Democrats could have "corrected" problems, but the only thing they've done is keep the borders wide open.
"That's when the bishop — the first Hispanic woman elected to her position at UMC — launched into an attack on U.S. foreign policy, blaming it for a situation that has forced Central Americans to flee their homes.
"Immigrants want to stay home," she said. "They're not able to stay home because we've undermined their economies. We have raped their lands."
"I would restate that most immigrants want to stay home. But they can't feed their families," she continued, adding that the U.S.'s involvement in Central America has harmed their economies "in disastrous ways."
"We've been involved in their politics in ways that have undermined their countries and left their societies in shambles."
A massive surge of unaccompanied alien children began in 2014 when nearly 70,000 children — mostly from Central America — were apprehended at the southern U.S. border. Federal law requires that minors from countries that do not border the U.S. be placed into the care of the Department of Health and Human Services. From there, they are provided shelter until the agency can find a sponsor to take custody."
Earthquakes
Global Earthquake Forecast — Major Unrest , West Coast USA + Japan 04/20/16  This is a great update on what is happening with all of the earthquakes hitting around the world.
There is an excellent analysis of what is coming to the USA.
"A series of large earthquakes in the M7.0+ range has developed across the Pacific into Asia. Starting with a M7.2 which struck near Burma in Asia, followed by a M6.5, M6.0, andM7.1 which struck South Japan in the West Pacific.. then a M7.8 struck South America along the coast of Ecuador in the East Pacific."
Financial Armageddon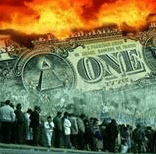 "This Will All Blow Up In The Fed's Face," Schiff Warns "Trump's Right, America Is Broke" 04/19/16  Peter Schiff is a great economist, and I pay close attention to what he says.
James 5:1  Go to now, ye rich men, weep and howl for your miseries that shall come upon you. (2) Your riches are corrupted, and your garments are motheaten. (3) Your gold and silver is cankered; and the rust of them shall be a witness against you, and shall eat your flesh as it were fire. Ye have heaped treasure together for the last days.
"On the Fed, and current policies, he very bluntly points out that nothing is working, nor has it worked, but of course the central planners will try it all anyway. He also takes a moment to agree with Donald Trump regarding the fact that the U.S. is flat out, undeniably broke.
"The problem for the fed is how do they launch a new round of stimulus and still pretend the economy is in good shape."
"Negative interest rates are a disaster. It's not working in Japan, it's not working in Europe, it's not going to work here. Just because it doesn't work doesn't mean we're not going to do it, because everything we do doesn't work and we do it anyway. It shows desperation, that you've had all these central bankers lowering interest rates and expecting it to revive the economy. And then when they get down to zero, rather than admit that it didn't work, because clearly if you go to zero and you still haven't achieved your objective, maybe it doesn't work. Instead of admitting that they were wrong, they're now going negative."
"The United States, no matter how high inflation gets, we'll do our best to pretend it doesn't exist or rationalize it away because we have a lot more debt. America is broke, if you look at Europe and Japan even though there is some debt there, overall those are still creditor nations. The world still owes Europe money, the world still owes Japan money, but America owes more money than all of the other debtor nations combined. Trump is right about that, we are broke, we're flat broke, and we're living off this credit bubble and we can't prick it. Other central banks may be able to raise their rates, but the Fed can't."
Malachi 3:5  And I will come near to you to judgment; and I will be a swift witness against the sorcerers, and against the adulterers, and against false swearers, and against those that oppress the hireling in his wages, the widow, and the fatherless, and that turn aside the stranger from his right, and fear not me, saith the Lord of hosts.