Chinese smart TVs are snooping on their owners
Verse of the Day
Philippians 3:20 For our (citizenship) is in heaven; from whence also we look for the Saviour, the Lord Jesus Christ:
Commentary
If NWO is doing it in China then they are doing it in America or will soon be doing the monitoring!
THE 666 SURVEILLANCE SYSTEM
"Hundreds of millions of Chinese consumers had a surprise discovery last week: Their TV sets know a lot more about them than they'd ever thought, or ever agreed to.
It turns out Beijing-based Gozen Data, a leading Chinese TV viewership analytics firm, has been collecting personal data in real time using smart TVs — without users' consent.
The practice was first exposed when a user on V2EX, an online forum for tech enthusiasts, noticed their Skyworth-brand smart TV had become slow and analyzed the code of back-end programs to figure out why. What they found was a program that scans the user's Wi-Fi every 10 minutes and uploads a wide range of information to Gozen Data's website."
PEDOPHILIA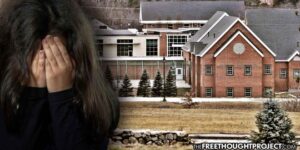 "Massive Child Sex Ring Busted at State Youth Facility—Hundreds of Kids Tortured and Raped"
I wonder how many other "institutions there are like this in America? This was run by a combination of pedophiles, sadists and psychopaths. May the Lord heal the hearts and minds of all those abused by these criminals.
"On top of the arrests this week, several of the alleged child rapists who were arrested have also been named in a lawsuit in which more than 200 men and women allege they were physically or sexually abused as children by 150 staffers at the Manchester facility from 1963 to 2018.
According to the lawsuit, the facility was a "magnet for predators." According to the lead attorney, Rus Rilee, children were gang raped by counselors, beaten while being raped and forced to sexually abuse each other, he said. Some ended up with sexually transmitted diseases; one ended up pregnant.
"Staff members choked children, beat them unconscious, burned them with cigarettes and broke their bones, Rilee said. Counselors set up "fight clubs" and forced kids to compete for food. Children were locked in solitary confinement for weeks or months, sometimes shackled or strapped naked to their beds. Kept away from classrooms while their injuries healed, some can't read or write today," he said, according to the AP. "These broken, shattered children were then unleashed into society with no education, no life skills and no ability to meaningfully function," said Rilee."
POLITICAL POWER VS RELIGION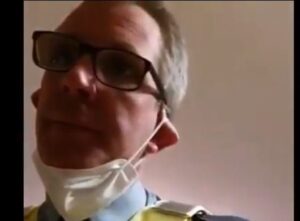 "Irish Police Break Into Man's Home and Remove His Children at 3 AM After He Films Police Barging In and Shutting Down a Catholic Mass (VIDEO)"
It seems from every angle the state wants to crush the church no matter what religion it is except Islam. This is setting the stage for the power of state to be unleash because these people hate God and they want no competition against their authority. What we see happening in China is on the way to all of the West as the Communists gain more power.
Without an Outpouring of the Holy Spirit, the Communists will move to outright crush the church and sent it underground.
"The local Garda or Irish police, barged into a Catholic Mass in Athlone, Ireland last weekend and shut down the service. As you can see from the video, the congregation was sitting rows apart, and even by crazy Dr. Fauci's standards were likely not in danger of infecting others in the church.
One man in the congregation, later identified as Pat Sweeney, decided to film the assault on this Catholic service by the state."
PROTECTING THE SPECIAL SIN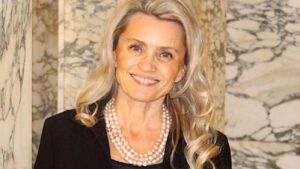 "I will not be intimidated into hiding my faith': Christian official faces jail for believing God"
As the Communists gain more control, this is what happens. The Hard Left mind loathe anything to do with God and this is the result. Just like Communists throughout history, they will not stop to try and purge and destroy Christianity. What you see happening in European countries and Canada is just waiting to happen in America. These are real God hating people down to their very core.
"A far-left government prosecutor has announced plans to prosecute – and possibly jail – a Christian who served for years as a member of Finland's Parliament, including as the nation's interior minister between 2011 and 2014, over her Christian faith.
The Evangelical Focus publication confirmed Finnish Christian politician Päivi Räsänen has been charged for her social-media posts, a booklet, and her statements during an interview, over a span of 10 years. She's a medical doctor who is a leader of the Christian Democrats in Finland, and is charged with three hate crimes against homosexuals, the report said."
THE IMAGE OF THE BEAST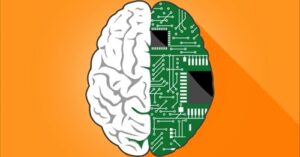 "Transhumanists Aim To Replace God With Machines Through Digital Immortality"
What we are witnessing is the NWO is attempting to obtain eternal life through high tech and then replace God! They want to control the word through the 666 Surveillance System and rule over it by being transhuman gods!
It is all coming out in the open while they seem to be accelerating their agenda. In the end, they are going to meet Jesus Christ who will destroy their entire system at his Second Coming.
"Transhumanists have hyped the new religion of high technology for decades now. The basic idea, fairly prevalent in Silicon Valley, is that rapid advances in scientific knowledge and tech innovation will culminate in our de facto omniscience and omnipotence. Even though humanity is lost in a godless cosmos, digital devices will allow us to transcend our ape-like forms. As Google's Ray Kurzweil famously quipped, "Does God exist? I would say, 'Not yet.'"
THE IMAGE OF THE BEAST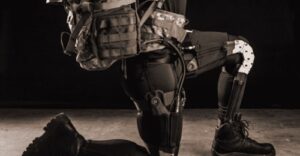 "U.S. Space Force Chief Scientist: 'Human Augmentation' Is Now Necessary"
More on the Image of the Beast and humans becoming cyborgs!
"The chief scientist for the newly created US Space Force has said he thinks 'human augmentation' will be here sooner rather than later. Dr. Joel Mozer, speaking at an event at the Airforce Research Laboratory, said that it is 'imperative' that the US outdo its adversaries by leading in 'human augmentation' in military technology.
'In the last century, Western civilization transformed from an industrial-based society to an information-based society, but today we're on the brink of a new age: the age of human augmentation,' said Mozer. 'In our business of national defense, it's imperative that we embrace this new age, lest we fall behind our strategic competitors.'"
THE WESTERN DROUGHT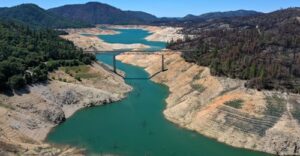 "Dramatic photos of Lake Oroville depict California's worsening drought"
The drought cycle is getting worse. Could this be the year God breaks the back of California for its pride and sin?
"New drone photos of Lake Oroville, California's second-largest reservoir, bring home the stark reality of the state's worsening drought.
The images, taken by photographer Justin Sullivan on Tuesday, show the massive lake in Butte County just 42% full. That's only half of its historic average for this date."
FRENCH NATIONALISM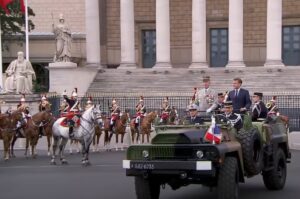 "Macron Government Ignores Warning, Announces 20 French Generals Who Warned of "Civil War" Over Leftist and Islamist Radicalization Will Be Punished"
This was heartwarming to read the French generals love France and are nationalistic! The top generals in America know the situation in America and looked the other way.
"Emmanuel Macron has threatened to punish generals who signed an open letter warning that the country is heading for 'civil war' because of radical Islam.
Twenty retired generals, as well as several serving soldiers, signed the letter which warned that failure to act against the 'suburban hordes' – a reference to the predominantly immigrant population of the housing estates which surround French cities – will lead to deaths 'in the thousands.'"
THE SPECIAL SIN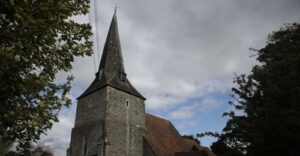 "Christian Pastor Arrested in UK for Saying Marriage Is Between Man & Woman – Video"
What happens in Great Britain is exactly what the Hard Left has planned for America. The Hard Leftist all think exactly alike.
"According to the report, police said they received information that the man was making "allegedly homophobic comments," and they arrested him under the Public Order Act, which can be used when anyone uses "abusive or insulting words" that cause "harm" to another person. Later, he was released without charge.
A 71-year-old Christian pastor who was arrested after preaching from the Bible on Tuesday described his treatment as "shameful," as he was accused of making homophobic remarks by defining marriage as a relationship between a man and a woman outside Uxbridge Station in west London, and led away in handcuffs, questioned in a police station, and held overnight."
SEX TRAFFICKING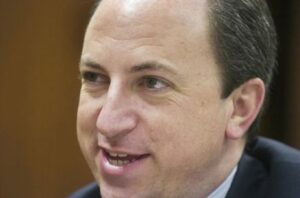 "Former Oregon Democrat House Majority Speaker Arrested For Human Sex Trafficking"
This is a wicked dem controlled city and state. There is no way this man could be arrested unless he fell out of favor with the demon-dems in control. They are all criminals and protect each other.
"Former Oregon House Speaker and current Clackamas Community College board member Dave Hunt has been arrested and charged by Portland police in an undercover sex traffic sting operation. Hunt, a Democrat, voted for the 2011 bill that he is charged under.
The Democrat was one of eight men cited by the Human Trafficking Unit of the Portland Police in April. Officers had set up a sting operation using online decoys on known human trafficking websites — and Hunt contacted them to arrange payment for sexual acts, according to a report from the Portland Tribune."
WORLD WAR 3: CHINA VS TAIWAN (Video)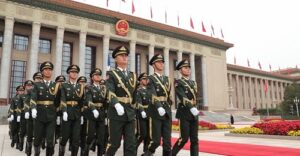 China has already revealed plans to 'unify Taiwan by force'. America cannot be relied on to help"
This is a great news report from Australia on the growing threat of war between China and Taiwan. According to the report, China is on the verge of starting the war.
If you like our ministry, please consider making a donation to keep us going. May the Holy God of Israel bless you!
Revelation 22:20 He which testifieth these things saith, Surely I come quickly. Amen. Even so, come, Lord Jesus.