Curse of Obama: Urges Soldiers to Question Trump's Authority, 'Criticize Our President'
                      Verse of the Day
2Timothy 3:1-4 This know also, that in the last days perilous times shall come. For men shall be lovers of their own selves, covetous, boasters, proud, blasphemers, isobedient to parents, unthankful, unholy, Without natural affection, trucebreakers, false accusers, incontinent, fierce, despisers of those that are good, Traitors, heady, highminded, lovers of pleasures more than lovers of God;
Commentary
He is a curse on the nation right up to his last moment in office. He told the army to feel free to rebel against Trump! This man is really a traitor for all to see. He is not even trying to disguise his treason. Both Obama and Clinton are national dangers, and I am so happy that God was merciful to us and Clinton was not elected.
May the Holy God of Israel bless and protect you.
Titus 2:13 Looking for that blessed hope, and the glorious appearing of the great God and our Saviour Jesus Christ;
American Politics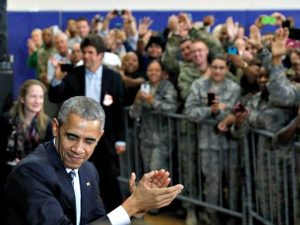 Obama Urges Soldiers to Question Trump's Authority, 'Criticize Our President' 12/08/16  
"In his final address to America's armed forces, President Barack Obama reminded troops that once Donald J. Trump becomes president, soldiers have a duty to question his authority and criticize him. Obama also said the Second Amendment and global warming can be blamed for terrorism.
Obama stood before soldiers at MacDill Air Force Base, in Tampa, Florida on Tuesday, December 6, to talk about "the foundation that we will leave for the next administration," CNSNews.com reported.
Characterizing the military's mission as a fight against "violent extremism," Obama insisted that soldiers need to rise up against Trump if they feel he is pushing policies that are ill considered.
Obama told the troops, "each of us has…the universal right to speak your minds and to protest against authority; to live in a society that's open and free; that can criticize our president without retribution."
Islam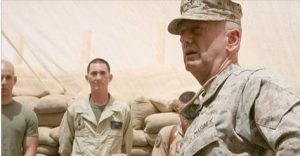 How James Mattis As Defense Secretary Could Bust Our Deathly Political Correctness About Islam 12/08/16  Finally, finally, finally the truth is coming out about Islam!! The truth no longer will be suppressed.
General Mattis is going to be the Secretary of Defense and in this position, he is set to tell the truth about the real nature of Islam and how dangerous it is to America or any nation. We are in a war with Islam and we have to now the nature and tactics of Islam to defeat it.
Islam wants to conquer the world for allah, and this has to be brought out into the open and then taken head on. What a change will come over America as the people can clearly see just how dangerous Islam is to America.
I am sure the Hard Left will fight his appointment; therefore, we must make political noise on his behalf. I can hardly wait for January 20th and a completely new America.
John 8:32  And ye shall know the truth, and the truth shall make you free.

"In a speech given at the Heritage Foundation last year, Mattis spoke about America's position vis à vis political Islam. Rather than equivocating on the matter in order to avoid saying something uncomfortable or politically incorrect, Mattis simply pointed out that America needs to make a decision about its stance toward this ideology.
Recall that political Islam, or Islamism, is a movement within Islam: it works toward the increasing implementation of Islamic law and values in all areas of life—usually via state control—in order to make Islam a dominant force in the world.
Why We Don't Talk About Islamism
Mattis' suggestion—which sounds like a basic element of defense strategy—has been surprisingly neglected in the years since 9/11. The U.S. tends to deal with Islamism on a case-by-case basis. And so long as any particular group or political entity doesn't have a direct and obvious link to terrorism, we tend to give them a pass. Even then, this is sometimes too high of a bar, as is the case with the Muslim Brotherhood and associated groups."
Hard Left/ Islam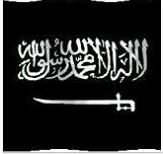 Twitter 'verifies' Muslim Brotherhood while expelling conservatives 12/09/16  The Hard Left shows how it hates us and yet it protects Islam, including their violence. This shows how dangerous the Hard Left mind is. I believe that it is the most destructive force on earth and is worse than Islam.
Romans 1:28  And even as they did not like to retain God in their knowledge, God gave them over to a reprobate mind, to do those things which are not convenient;

"Social media users have long considered Twitter's coveted blue check mark an online status symbol.
While formally used as a way to visually display that Twitter has confirmed a given user's identity, marketing specialists say that the little blue check mark is immense advantage to promoting one's brand and message.
Twitter says verified accounts are those viewed as being in the "public interest," and emphasizes "users in music, acting, fashion, government, politics, religion, journalism, media, sports, business, and other key interest areas."
It's no wonder then, that social media erupted when it was discovered that the Twitter decided to verify @Ikhwanweb, the official twitter handle of the Muslim Brotherhood.
Critics have rightly pointed out that @Ikhwanweb has been used by the Muslim Brotherhood to promote violence, including publishing a 2015 call for violent jihad and "martyrdom," and spreads anti-Israel, anti-Jewish, and anti-Western hatred online."
Hard Left
American Missionary to Nicaragua Pleads Guilty to Helping Ex-Lesbian Who Fled Country With Daughter 12/08/16  This pastor is a true hero and gave his freedom to save a young girl from being exposed to the lesbian lifestyle. The trial clearly shows the perverted nature of the both the court and legal system and all levels. In this system, evil is good and good is evil!
Psalm 94:16  Who will rise up for me against the evildoers? or who will stand up for me against the workers of iniquity?

"An American missionary to Nicaragua entered a guilty plea on Wednesday to a charge of conspiracy in international parental kidnapping for helping an ex-lesbian flee the U.S. with her child seven years ago.
"Timo Miller is a good man," his defense attorney, Jeffrey Conrad of Pennsylvania told the Buffalo News. "He made a mistake and he wants to put this behind him."
Several supporters sat in the courtroom as Timothy Miller, also known as Timo, entered his plea. Miller lives in Crossville, Tennessee, but conducts missions work in Managua, Nicaragua.
A criminal complaint had stated that he worked with the Ohio-based Christian Aid Ministries, but Assistant Director Paul Weaver told Christian News Network that Timo Miller had no affiliation with their organization. A lawsuit filed against the group by the ex-lesbian's former partner was also dismissed because of the misunderstanding."

Isaiah 5:20  Woe unto them that call evil good, and good evil; that put darkness for light, and light for darkness; that put bitter for sweet, and sweet for bitter!
Israel/ The Coming Middle East War
First of new F-35 stealth fighter jets en route to Israel 12/08/16  These jet fighters are designed to defeat the Russian S-400 defensive system. These planes put the Russian airforce and navy at great risk and greatly change the balance of power in the Middle East.
They also easily reach Iran and defeat their defensive systems. Wow, look at the timing of this, with the war that is brewing with Iran over Syria!
Zechariah 12:6  In that day will I make the governors of Judah like an hearth of fire among the wood, and like a torch of fire in a sheaf; and they shall devour all the people round about, on the right hand and on the left: and Jerusalem shall be inhabited again in her own place, even in Jerusalem.

"Two US-made F-35 stealth fighter jets on Thursday began their voyage en route to Israel where they will be acquired by the Jewish state after their expected landing next week at the Nevatim Air Force base near Beersheeba.
The two planes are set to request clearance to land this coming Monday at 2:30 p.m., when American pilots will transfer the "keys" to Prime Minister Benjamin Netanyahu and to IAF Maj.-Gen. Amir Eshel.
The IAF commander is due to place the White Star of David sticker, the emblem of the IAF, on the jet that is expected to transform the IDF as the leading military in the Middle East for the next 40 years.
The IAF vowed that the day after the aircraft arrive, the jets will perform their first flight by Israeli pilots over the Masada fortress. From there, the jet will undergo a transformation where IAF systems will be installed and will be adjusted for Israeli controls."
World War 3/ North Korea watch
North Korea is capable of launching a NUCLEAR MISSILE, US military warn amid concerns about Kim Jong-un's 'very very provocative' behaviour 12/11/16   Just an update on what NK is up to, as this nation prepares for WW3.
"It is thought North Korea can now mount a nuclear warhead on a missile
It may not yet be able to get a weapon back through the atmosphere
A US military source described Kim Jong-un's behaviour as 'very very provocative'
The Pentagon is continually revising its contingency plans to deal with the possibility of a North Korean strike."
Science: 666 Surveillance System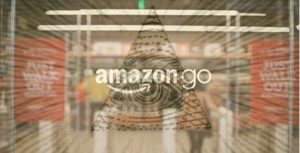 Next-Level Amazon Grocery Leads Directly to Microchip Implants, Computer Vision Databases, and Totalitarian Machine Intelligence 12/07/16
This airtight controlling system is fast falling into place throughout the world! There is no way out of this system. It is going to be the perfect man trap! We are building the perfect trap, and it is happening right before our eyes.
Revelation 13:16-18  And he causeth all, both small and great, rich and poor, free and bond, to receive a mark in their right hand, or in their foreheads: And that no man might buy or sell, save he that had the mark, or the name of the beast, or the number of his name. Here is wisdom. Let him that hath understanding count the number of the beast: for it is the number of a man; and his number is Six hundred threescore and six.

"Imagine on your next trip to the grocery store, that there were no checkouts, no cashiers, and no lines. You could simply walk in, grab what you need and go. Sounds great right? Amazon has created a 'next-level' grocery store in Seattle that does just that by utilizing machine intelligence and facial recognition software. New technology like this is paving the way towards microchip implants, and the mark of the beast.

Amazon, the largest online shopping network in the world is entering into the real world, and their first step is Amazon Go, a store that utilizes a smartphone app and cashier-less store."
Earthquakes
M8.0 megaquake hits West Pacific — California struck by large M6.5  He now is warning Oklahoma of an imminent 6.0 within the next 3 days. God has gifted him with the ability to forecast earthquakes and give us warnings. God's love and mercy is so great towards us.
"The largest earthquake of the year has struck the West Pacific. Measuring at M8.0 , this event follows the largest North American earthquake of the year which struck as well in California (M6.5) today. California and the West Pacific were both warned for large movement to occur this week."
Miscellaneous
"To Worship You I Live" (Video)  By: Christian Cuevas
I was greatly blessed by his singing to the Lord
Romans 13:1  Let every soul be subject unto the higher powers. For there is no power but of God: the powers that be are ordained of God.