Donald Trump Wins Round One with North Korea
Verse of the Day
Amos 3:7 Surely the Lord GOD will do nothing, but he revealeth his secret unto his servants the prophets.

Commentary
I think the present crisis with NK is a real feeling-out process between President Trump and Kim Jong Un. If he fires his missiles at Guam, it will start the war, but I don't think that he will. There might still be a little time before WW3 starts. Of course, I might be wrong, so we all still need to pray.
This is a very good article and shows President Trump's skills in dealing with people.
May the Holy God of Israel bless and protect you.
Daniel 12:9,10 And he said, Go thy way, Daniel: for the words are closed up and sealed till the time of the end. Many shall be purified, and made white, and tried; but the wicked shall do wickedly: and none of the wicked shall understand; but the wise shall understand.
World War 3/ North Korea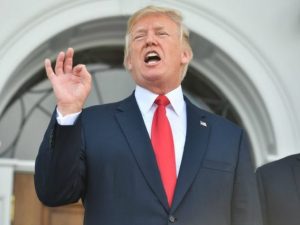 Donald Trump Wins Round One with North Korea 08/11/17
"The mainstream media are aghast at President Donald Trump's comments on North Korea as he promises "fire and fury" and warns that American military solutions are "locked and loaded."
The political elite, and the foreign policy establishment, oscillate between bitter scorn and sheer panic at his tactics. But one does not have to be convinced of Trump's rhetorical genius to note that he has already re-framed the conflict in a way that is advantageous to the U.S."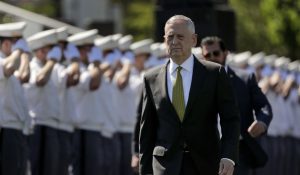 Mattis: Military solution in place to address North Korea threat 08/10/17  According to Secretary of Defense Mattis, the US and its allies are prepared for war with NK. This is real war talk because if we were not ready, the US would stall for time to prepare.
According to both the President and Mattis, the US is ready for war. It appears that the time for diplomacy with NK is over.Now it is up to Kim Jong Un. We are on the verge of WW3.
Luke 21:9-10  But when ye shall hear of wars and commotions, be not terrified: for these things must first come to pass; but the end is not by and by. Then said he unto them, Nation shall rise against nation, and kingdom against kingdom:

"U.S. military strategists at the Pentagon have a military solution in place to address the growing threat emanating from North Korea, but they are holding their fire in favor of ongoing diplomatic efforts by Washington and its allies, Defense Secretary James Mattis said Thursday.
The Pentagon chief remained largely mum on the details of that military solution, which theoretically would curb Pyongyang's efforts to develop a nuclear-capable, ballistic missile arsenal, except to say any military option would be a multilateral one involving a number of regional powers in the Pacific.
"Do I have military options? Of course, I do. That's my responsibility, to have those. And we work very closely with allies to ensure that this is not unilateral either … and of course there's a military solution," Mr. Mattis told reporters en route to meet with senior leaders in the technology sector in Seattle and California."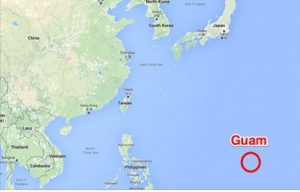 NKorea Will Develop Guam Strike Plan by Mid-August 08/09/17  This is about as intense the rhetoric can get short of war. One wrong move by NK, and it could start WW3. President Trump is not bluffing, so the time has arrived for war.
Will North Korea back down? I think not, if China has promised to have NK's back! We will know within a few months. I think there is about two months to play left in this surge toward war.
"North Korea will develop a plan by mid-August to launch four intermediate range missiles at the U.S. territory of Guam before presenting it to leader Kim Jong Un who will make a decision on whether to proceed, the North's state media said on Thursday.
The unusually detailed report on the attack plan marked a further escalation in tensions between Pyongyang and Washington after U.S. President Donald Trump warned North Korea earlier this week it would face "fire and fury" if it threatened the United States.
North Korea's official news agency KCNA described Trump's threat as a "load of nonsense".
"Sound dialogue is not possible with such a guy bereft of reason and only absolute force can work on him," it said of Trump, adding that it will keep closely watching the speech and behavior of the United States."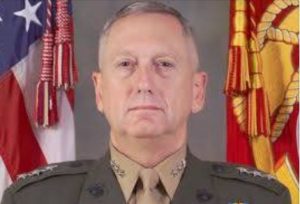 Gen. Mattis warns North Korea not to invite 'destruction of its people' 08/09/17  This rhetoric runs in cycles and right now it is hot. It might cool down for awhile, but the issue is not going to go away.
"If Kim Jong Un won't listen to President Trump, the Mad Dog could make him heel.
Secretary of Defense James "Mad Dog" Mattis echoed his boss's fiery warning Wednesday to the dictator of North Korea with harsh rhetoric of his own. And this time, the words came from a battle-tested, four-star U.S. Marine Corps general.
"The DPRK must choose to stop isolating itself and stand down its pursuit of nuclear weapons," Mattis said in a statement. "The DPRK should cease any consideration of actions that would lead to the end of its regime and the destruction of its people."
"While our State Department is making every effort to resolve this global threat through diplomatic means, it must be noted that the combined allied militaries now possess the most precise, rehearsed and robust defensive and offensive capabilities on Earth. The DPRK regime's actions will continue to be grossly overmatched by ours and would lose any arms race or conflict it initiates."
North Korea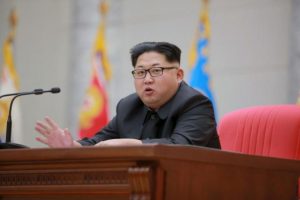 Here are the Horrific Details of Christians Being Crushed Under Steamrollers, Hung Over Fires in North Korea 08/10/17  I hope that the Lord raised up President Trump for judgment against this regime. Kim Jong Un acts like a god and demands worship as one, and in his eyes it is sport to murder God's people. It is time for this regime to come to an end.
Revelation 2:10-11  Fear none of those things which thou shalt suffer: behold, the devil shall cast some of you into prison, that ye may be tried; and ye shall have tribulation ten days: be thou faithful unto death, and I will give thee a crown of life. He that hath an ear, let him hear what the Spirit saith unto the churches; He that overcometh shall not be hurt of the second death.

"If discovered they are subject to detention and then likely taken to political prison camps (kwanliso)," the document reads. "Crimes against them in these camps include extra-judicial killing extermination, enslavement/forced labour, forcible transfer of population, arbitrary imprisonment, torture, persecution, enforced disappearance, rape and sexual violence, and other inhumane acts."
CSW goes to document some of the known instances of gruesome torture Christians have ensured in the country:
Documented incidents against Christians include being hung on a cross over a fire, crushed under a steamroller, herded off bridges, and trampled underfoot. A policy of guilt by association applies, meaning that the relatives of Christians are also detained regardless of whether they share the Christian belief. Even North Koreans who have escaped to China, and who are or become Christians, are often repatriated and subsequently imprisoned in a political prison camp.
…Open Doors estimates there are approximately 300,000 Christians in North Korea…"
Hard Left/ Homosexuality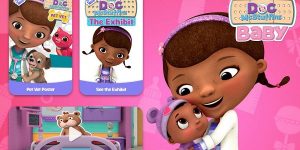 Disney now targeting preschoolers with 'gay' cartoons 08/10/17  The nation is falling faster and faster into a debased culture with no end in sight. Now the reprobates are targeting 5 year olds. We are racing towards judgment, with the vast amount of the Church spiritually anesthetized! How about the entire Church turning away from Disney! This is the least we can do.
Jude 1:7  Even as Sodom and Gomorrha, and the cities about them in like manner, giving themselves over to fornication, and going after strange flesh, are set forth for an example, suffering the vengeance of eternal fire.

"An episode of a Disney cartoon for preschoolers normalizes homosexual relationships. LifeSiteNews.com reports an Aug. 5 episode of the Disney Junior channel show "Doc McStuffins" featured a family headed by two lesbian "moms." "Doc McStuffins" is about a 7-year-old who wants to be a doctor and fixes her broken toys.
The show targets preschoolers and young children, and its website features child-friendly video games and print-out coloring pages.
"Outlasting the Gay Revolution" spells out eight principles to help Americans with conservative moral values counter attacks on our freedoms of religion, speech and conscience by homosexual activists
The episode, called "The Emergency Plan," is about a "family" of dolls forced to flee their house after an earthquake. The ostensible message of the episode is to teach children the importance of preparing for emergency situations, but the homosexual undertones are clear.
Wanda Sykes, the lesbian actress who plays one of the lesbian "parents" in the show, told GLAAD, the world's largest homosexual advocacy group, that "with this episode, [my kids] see a family that looks like our family."
Hard Left in the Military
Mention of 'God' becomes serious drag for U.S. military 08/10/17  This is the "fruit" from Obama being president. It shows how the reprobate mind can't even stand the mention of God. They are really evil to the core.
I hope with the new commanders in the military the reprobates can be weeded out. Make sure you watch the video.
Psalm 144:15  Happy is that people, that is in such a case: yea, happy is that people, whose God is the LORD.

"The U.S. Air Force is being sued for refusing to release the results of its investigation into an incident in which Air Force personnel dragged away a retired military officer, allegedly because he mentioned "God" in an airman's retirement ceremony.
The nonprofit legal defense group First Liberty Institute said Oscar Rodriguez had been invited to make a speech about the folding of the American flag at an airman's retirement ceremony in which he mentioned God.
In the April 2016 incident at Travis Air Force base, Rodriguez was confronted by uniformed airmen who forcibly dragged him away."
Jerusalem
PA fears Israel will build 'imaginary Temple' 08/11/17  The Muslims are really concerned that Israel will build the Temple. I believe that Israel indeed will build the Temple after this coming all-out war and Islam is broken. The Lord is going to break Islam when the Muslim armies are crushed as they try and destroy Israel and take Jerusalem.
Revelation 11:1-2  And there was given me a reed like unto a rod: and the angel stood, saying, Rise, and measure the temple of God, and the altar, and them that worship therein. (2) But the court which is without the temple leave out, and measure it not; for it is given unto the Gentiles: and the holy city shall they tread under foot forty and two months.

"[A] senior aide to Palestinian Authority (PA) chairman Mahmoud Abbas, warned on Wednesday of "the occupation's plans to Judaize Al-Quds and to build a synagogue in preparation for the construction of the imaginary Temple."
"We must be careful…because Netanyahu is wounded and will try to get revenge and complete his plan in Al-Quds. He has already opened the gates to the settlers so that they can desecrate and contaminate our holy places and expel our people," claimed Abdel Rahim in a speech he gave in Abbas's name."
The Coming Middle East War
Will the Coming End of ISIS Unleash War on Israel? 08/11/17  This is a great article showing that war between Israel and Iran is very close. As soon as ISIS falls, Iran will be ready to attack Israel.
If I was Iran, I would coordinate with war between North Korea and the USA. I would want the wars simultaneously so to weaken American support for Israel. If America is tied down in Asia, it could really weaken its help for Israel. What is in the near future is war, war and more war. God's prophetic plan for Israel is going to be fulfilled no matter what the Muslims try.
Psalm 83:13-18  O my God, make them like a wheel; as the stubble before the wind. As the fire burneth a wood, and as the flame setteth the mountains on fire; So persecute them with thy tempest, and make them afraid with thy storm. Fill their faces with shame; that they may seek thy name, O LORD. Let them be confounded and troubled for ever; yea, let them be put to shame, and perish: that men may know that thou, whose name alone is JEHOVAH, art the most high over all the earth.

"After a nine-month battle, Iraq took control of the ISIS stronghold in Mosul. Now the U.S.-led coalition remains focused on taking the fight to ISIS in Raaqa, Syria, the terror group's self-proclaimed capital. Some experts are warning the battle against the Islamic State might just be a prelude to a much more dangerous battle just ahead.
Most believe the victory in Mosul and the offensive against ISIS in Raaqa signal the end of the Islamic State caliphate. But what happens next is the major question facing the Middle East.
"You have so many actors both at the state and the sub-state level that are working in these very amorphous coalitions against one another, with one another, that this is a very dangerous place," Caroline Glick, an adjunct fellow with the Center for Security Policy, told CBN News. "This becomes a tinderbox."
Glick says a wide range of actors, including Syria, Russia, the U.S., Turkey, the Kurds, Sunni Islamic groups, Hezbollah and Iran all make up that volatile mix. "You got a lot of people with weapons. You got a lot of weapons going on in a small territorial unit and its implications for both great power relations and of course for the ability to cause massive instability in neighboring countries like Jordan—and as you mentioned Israel, and of course Iraq is all part of the same theater—are just almost mind-boggling," Glick said."
Special Attention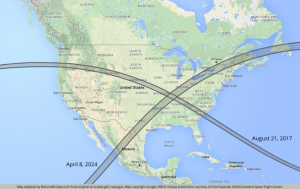 X Marks the Spot: Two Total Solar Eclipses in Seven Years 08/10/17  I just found this out about the coming eclipse om August 21. This it is amazing. Seven years later, in 2024, there is a second eclipse which also crosses America and intersects the first! They will form a "X" over the Midwest.
What really caught my attention is that the intersection is right over the New Madrid earthquake zone! I don't know if all this means anything, but I've never heard of two eclipses doing this.
Luke 21:11  And great earthquakes shall be in divers places, and famines, and pestilences; and fearful sights and great signs shall there be from heaven.

"It's been said that, on average, a total solar eclipse can be seen from the same place only once every 375 years. The methodology used by whoever calculated this number is unknown and it's debatable whether there can even be a definitive methodology for such a calculation. For instance, how many points on Earth do you use to arrive at an average number of years? But regardless of the math, there's no denying the fact that a total solar eclipse is a relatively rare event for any given place. So, for an area to get not one, but two, total solar eclipses in just seven years is a truly remarkable occurrence!
An area spanning parts of Missouri, Illinois, and Kentucky will be the nexus of the next two total solar eclipses to occur in the U.S., on August 21, 2017, and April 8, 2024. Because the 2017 eclipse travels across the country from northwest to southeast and the 2024 eclipse makes its way through the nation from southwest to northeast, the two paths cross each other and create a zone of overlapping totality of almost 9,000 square miles, or roughly the size of New Jersey."

Deuteronomy 31:6  Be strong and of a good courage, fear not, nor be afraid of them: for the Lord thy God, he it is that doth go with thee; he will not fail thee, nor forsake thee.