End Times? Thousands Having Microchips Implanted in Hands
Verse of the Day
2 Thessalonians 2:11,12 And for this cause God shall send them strong delusion, that they should believe a lie: That they all might be damned who believed not the truth, but had pleasure in unrighteousness.
Commentary
There is no stopping this process as it will spread across the world. The basic technology is in place to do this, so it depends on public acceptance along with a little more advanced technology so it can be done to the masses!
The world now rushing towards what the Bible calls the Mark of the Beast which will be used to control the masses. This will happen prior to the Second Coming of Jesus Christ.
May the Holy God of Israel bless and protect you.
Hebrews 11:9,10 By faith he sojourned in the land of promise, as in a strange country, dwelling in tabernacles with Isaac and Jacob, the heirs with him of the same promise: For he looked for a city which hath foundations, whose builder and maker is God.
The 666 Surveillance System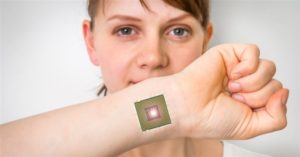 "End Times? Thousands are Having Microchips Implanted in Their Hands"
"Thousands of Swedish citizens are having microchips implanted under their skin to replace credit cards, keys and personal identification – an invasive action that is sure to draw concern from privacy advocates and perhaps End Times theologians, too.

Agence France-Presse reported that about 3,000 citizens have taken the step out of a sense of convenience. "Swedes have gone on to be very active in microchipping, with scant debate about issues surrounding its use, in a country keen on new technology and where the sharing of personal information is held up as a sign of a transparent society," AFP reported."
Islam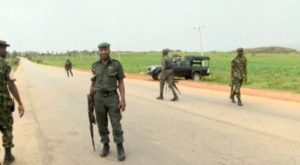 "About 200 Christians Murdered by Muslims in Heinous Killing Spree" Just an update about Christians being persecuted and murdered by Muslims. This murder continues, and yet Islam is a peaceful religion.
"In a 60-hour killing spree that began last weekend, about 200 Christians were slaughtered in Plateau State even as the U.S. ambassador at large for international religious freedom was departing Nigeria.

Ambassador Sam Brownback's one-week visit was pockmarked with six suicide bombings by Boko Haram in one day (the largest single day detonations), deadly Shiite clashes with the police, altercations between local Muslims and a community, and continuing killings by Muslim Fulani Herdsmen. The grand finale of this perfect storm of violence was the triple-digit massacre in Plateau State."
Earthquakes and Volcanoes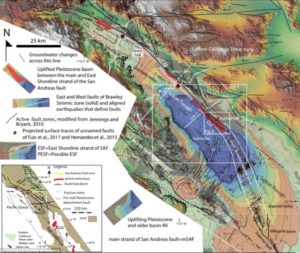 "Is the San Andreas fault line at risk of the 'BIG ONE'? New-found 15 mile-long formation in the area could be ground zero for California's next massive earthquake" This is the latest update about the San Andreas fault. I believe when this fault breaks it will be in connection to sinful event.
"A tectonic time bomb that threatens to set off a huge earthquake under California could be triggered by a newly-discovered structure in the San Andreas fault.

Experts believe a newly-uncovered 15 mile (25km) long formation, dubbed the Durmid ladder structure, could be ground zero for the next major earthquake to hit the region, colloquially known as 'Big One'.

The discovery was made during an extensive geological study which examined the southern tip of the (1,300-km) long fault zone, which many believe will set off the next big earthquake."
Hard Left Churches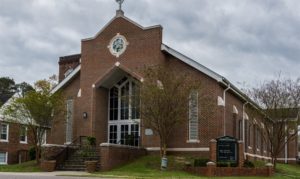 "Presbyterian Church USA passes anti-Israel resolutions" There is no mention by this church of the everlasting covenant God made with Abraham, Isaac and Jacob. The reason they did this was they don't believe the Bible.
God is in the process of merging this church was Islam as they both agree about Israel and deny the word of God. God's true believers have to flee from this denomination.
Genesis 17:7 And I will establish my covenant between me and thee and thy seed after thee in their generations for an everlasting covenant, to be a God unto thee, and to thy seed after thee. (8) And I will give unto thee, and to thy seed after thee, the land wherein thou art a stranger, all the land of Canaan, for an everlasting possession; and I will be their God.

"The Presbyterian Church USA passed several resolutions critical of Israel at its biennal General Assembly. Among the 11 resolutions on Israel that the assembly dealt with late on Friday was one opposing anti-BDS legislation at the state and federal level, and another referring to Israel as an apartheid state. The assembly also voted against resolutions that it said were not sufficiently critical of Israel because they also mentioned Palestinian Authority transgressions, particularly of the terrorist group Hamas."
Hard Left Dems : Starting 2nd Civil War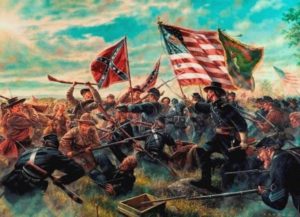 "42% of voters fear new civil war in U.S." The Hard Left is taking the fight to us. They can't remove President Trump, and they can't stop his policies, so their next move is violence.
They have promoted lies and vicious rhetoric since day one, so their base is primed and ready to go. They live lies, so they are ready to act on their lies.
I hope this blows over, but without a massive spiritual revival the nation is headed towards a civil war.
Proverbs 10:11 The mouth of a righteous man is a well of life: but violence covereth the mouth of the wicked
"Amid the public harassment of Trump officials, exemplifying a sharply divided nation, 42 percent of American voters believe a second civil war is likely within the next five years, according to a new poll.

Significantly, the Rasmussen survey conducted June 21 to 24 found that 59 percent of all voters "are concerned that those opposed to President Trump's policies will resort to violence." Democrats (37 percent) are more fearful than Republicans (32 percent) and voters not affiliated with either major party (26 percent) that a second civil war is on the horizon.

Most voters fear that political violence is coming from opponents of the president's policies, just as they did in the second year of Barack Obama's presidency, Rasmussen said."
Hard Left Getting Harder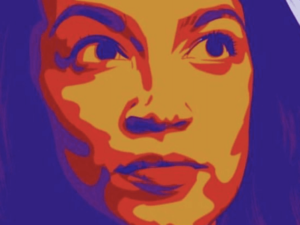 "New Democrat Heroine Alexandria Ocasio-Cortez Is an Anti-Israel Radical" Take time to read this article because Cortez is the future of the Democrat Party. I warned this party was going to be the enemy of Israel, and she is leading the way.
Cortez is a Communist and hates Israel, so America is dividing into two sections with NO possible agreement between the two. This is why we need revival for survival.
"Alexandria Ocasio-Cortez, the 28-year-old democratic socialist who became an instant Democratic Party heroine by unseating party caucus chair Rep. Joe Crowley (D-NY) in Tuesday's New York primary, is an anti-Israel radical.

Her victory is a further sign of the Democratic Party's slide toward the extreme left — and toward the anti-Israel left in particular. During her primary election, Ocasio-Cortez tweeted passionately about an alleged Israeli "massacre" of Palestinian "protesters" at the Gaza border, citing an Al Jazeera article.
Pro Life Victory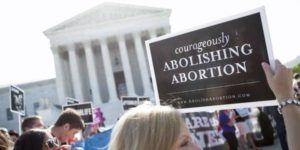 "Supremes slap down California's abortion promotion" This is more great news from the Supreme Court. California's attempt to force pro life centers to promote abortion was ruled unconstitutional!
This is wonderful and victories keep coming.
Revelation 1:7 Behold, he cometh with clouds; and every eye shall see him, and they also which pierced him: and all kindreds of the earth shall wail because of him. Even so, Amen.

 "The U.S. Supreme Court Tuesday slapped down – hard – California's scheme to promote abortion at the expense of pro-life crisis pregnancy centers, deciding that requiring them to advertise nearby abortionists likely violates the First Amendment.

"Content-based laws 'target speech based on its communicative content' and 'are presumptively unconstitutional and may be justified only if the government proves that they are narrowly tailored to serve compelling state interests,'" the opinion explained.

"The licensed notice is a content-based regulation. By compelling petitioners to speak a particular message, it 'alters the content of [their] speech.'"
Countering the Hard Left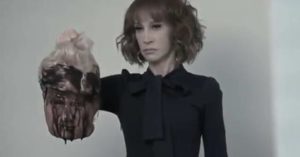 "GOP KNOCKS IT OUT OF THE PARK, Releases Brilliant and Ruthless Ad Against the Democrats (VIDEO)" This ad is really well done. it is about time.
"The well produced ad opens with Senator Bernie Sanders saying, "a few years ago, ideas that we talked about were thought to be fringe ideas, radical ideas, extremist ideas — those ideas are now mainstream," over footage of graffiti that reads "revolution or death" and Kathy Griffin holding President Trump's severed head.

It goes on to feature the bullying of White House Press Secretary Sarah Sanders, Johnny Depp talking about assassinating the president, and Madonna talking about blowing up the White House.

The ad, which does not mention any specific GOP candidates, is sharp, shocking, and absolutely what the GOP needs to invigorate their base and bring in rational independents who are sick of the insanity."
World War 3: USA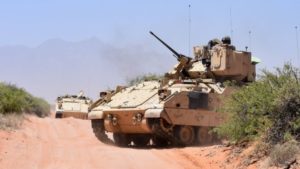 "Army makes massive Bradley buy – up to 473 vehicles to prep for major power war" More signs of the US preparing for a major war. It is being done quietly.
 "The Army is massively revving up its fleet of Bradley Fighting Vehicles through a recent deal to add up to 473 of the new infantry carriers, service officials said.

The move represents a key portion of a broader Army push to prepare its arsenal of armored combat vehicles for major power land war – and further pave the way toward a new generation of combat platforms for the 2030s and beyond.

While the Army of course has thousands of Bradleys in its inventory, the size of this buy is extremely significant because, among other things, it acquires the newest generation of Bradley vehicles – something designed to lay key groundwork for longer-term high-priority ground vehicle modernization plans."
Revelation 22:20 He which testifieth these things saith, Surely I come quickly. Amen. Even so, come, Lord Jesus.