EVERYTHING IS RIGGED: You are living in a fabricated fairy tale
Verse of the Day
2 Thessalonians 2:9-12 Even him, whose coming is after the working of Satan with all power and signs and lying wonders, And with all deceivableness of unrighteousness in them that perish; because they received not the love of the truth, that they might be saved. And for this cause God shall send them strong delusion, that they should believe a lie: That they all might be damned who believed not the truth, but had pleasure in unrighteousness.
Commentary
It seems that the entire world system around us is built on lies and delusions. The delusions have permeated everything. I believe that these lies and delusions will set the stage for the antichrist, who will ride all these delusions to power. All the delusions are priming people for the great delusion. People no longer can discern truth, nor do I think that they care. People are conditioned to accept lies and not be able to discern a delusion. Many people have gotten angry with me when I point out the delusion they are living under.

It is as if the modern world has become like "Alice in Wonderland."
All of the delusion are coming to an abrupt end at the Second Coming of Jesus Christ with his bride.
May the Holy God of Israel bless and protect you.
John 8:32 And ye shall know the truth, and the truth shall make you free.
Hard Left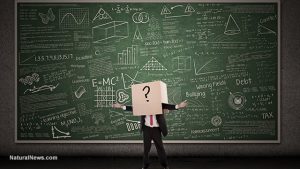 EVERYTHING IS RIGGED: Medicine, science, elections, the media, money, education, search engines, social media… you are living in a fabricated fairy tale 08/02/16  This is a great article and a must-read. The author summarizes all the delusions and lies that now surround us! After reading this article, you will see how modern society is built and based on lies.
"After witnessing how Reuters just blatantly cooked the presidential election polls this week to favor Clinton and how the mainstream media is so terrifyingly biased in favor of Clinton that the very foundation of democracy is now in crisis, it's time to tell you something that perhaps a lot more people are finally ready to hear:

EVERYTHING IS RIGGED.

Every institution in America is sold out, corrupted and politically rigged to favor Big Government and Big Business. "America is a lost country," explains Paul Craig Roberts. "The total corruption of every public and the private institution is complete. Nothing remains but tyranny. And lies. Endless lies."

CNN, Reuters and the Associated Press are all now shameless promoters of every big lie across every sector of society, from vaccines and GMOs to elections and politics. The federal government itself is incapable of doing anything other than lying, and it has totally corrupted the entire realm of science by pulling the strings of funding via the National Institutes of Health and the NSF.

The FDA is entirely corrupt, as is the USDA. Both function now as little more than marketing propaganda pushers for Big Pharma and Big Biotech. Similarly, Google, Facebook and Twitter are all rigged, too, censoring the voices they don't want anyone to hear while highlighting the establishment lies they wish to promote."
World War 3
China holds massive naval drills to prepare for 'sudden, cruel & short' modern war (VIDEO) 08/01/16  I am reporting almost every day on the Chinese rhetoric about WW3. Is this all just a bluff? Are we sleepwalking into WW3?
I think that China is now ready for war; it will confront the US and not back down. I am keeping you on the cutting edge as nations seem to be drifting toward WW3.
"The Chinese navy held a large-scale "live ammunition" drill in the East China Sea, which involved hundreds of ships and submarines from all three fleets of the People's Liberation Army.
The exercise involving China's East Sea, North Sea and South Sea fleets practiced both offensive and defensive capabilities of the Chinese naval power. The exercise mobilized some 300 ships, dozens of fighter planes, and involved troops that are responsible for coastal defense radars, communications, and electronic warfare defense, daily newspaper The China Times reported."
Give them a bloody nose': Xi pressed for stronger South China Sea response 08/01/16  The Chinese military is pushing for an armed conflict over the South China Sea. They know full well that the war will bring in America.
With rhetoric like this, can the war be far off? War is coming and it is just a matter of what incident will spark it. China is ready to take on the US. The dread is that Obama is the Commander-in-Chief.
"So far, Beijing has not shown any sign of wanting to take stronger action. Instead, it has called for a peaceful resolution through talks at the same time as promising to defend Chinese territory.
But some elements within China's increasingly confident military are pushing for a stronger – potentially armed – response aimed at the United States and its regional allies, according to interviews with four sources with close military and leadership ties.
"The People's Liberation Army is ready," one source with ties to the military told Reuters.
"We should go in and give them a bloody nose like Deng Xiaoping did to Vietnam in 1979," the source said, referring to China's brief invasion of Vietnam to punish Hanoi for forcing Beijing's ally the Khmer Rouge from power in Cambodia."
American Politics
'I Was Just Joking': Media Apoplectic as Khizr Khan Attack on Donald Trump Goes Down in Flames 08/01/16  There is no end to the corruption in Washington. God is showing us just how corrupt the Washington political establishment is!
Revelation 22:20 He which testifieth these things saith, Surely I come quickly. Amen. Even so, come, Lord Jesus.

"Mainstream media figures from the New York Times to the Huffington Post to CNN are apoplectic Monday as their latest attack on Donald J. Trump, the Republican nominee for president, has crumbled yet again under the slightest bit of scrutiny.
Specifically, the newest line of attack to fall apart is the criticism of Trump over Khizr Khan, the Muslim Gold Star father who spoke at the Democratic National Convention last week.
But, as Breitbart News showed on Monday midday, that clearly was not the case. Khizr Khan has all sorts of financial, legal, and political connections to the Clintons through his old law firm, the mega-D.C. firm Hogan Lovells LLP.
That firm did Hillary Clinton's taxes for years, starting when Khan still worked there involved in, according to his own website, matters "firm wide"—back in 2004. It also has represented, for years, the government of Saudi Arabia in the United States. Saudi Arabia, of course, is a Clinton Foundation donor which—along with the mega-bundlers of thousands upon thousands in political donations to both of Hillary Clinton's presidential campaigns in 2008 and 2016—plays right into the "Clinton Cash" narrative."
Islam/ Christian Apostasy
Pope Francis defends Muslims and blasts 'Islam is NOT terrorism' 08/01/16  What nonsense! It is in the Koran, Hadiths and the life of Muhammad to kill the infidel for allah, yet the pope claims Islam is peaceful.
What he should do is take his message to Saudi Arabia and march into Mecca and see how peaceful it is! The Muslims literally will kill him. He is weak minded and does not stand for real Christianity as outlined in the Bible, so he is ready to compromise, even to the death of Europe at the hands of the Muslims.
"POPE Francis said yesterday it was wrong to identify Islam with terrorism and that social injustice and idolatry of money were among the prime causes of terrorism.
Speaking aboard the plane taking him back to Rome after a five-day trip to Poland, he said: "I think it is not right to identify Islam with terrorism. "It is not right and it is not true."
Francis was responding to a question about the killing on July 26 of an 85-year-old Roman Catholic priest by knife-wielding attackers who burst into a church service in western France, forced the priest to his knees and slit his throat.
The attack was claimed by ISIS.
He said: "I think that in nearly all religions there is always a small fundamentalist group."
He then added: "We have them," referring to Catholicism. The Pope continued: "I don't like to talk about Islamic violence because every day when I look at the papers I see violence here in Italy – someone killing his girlfriend, someone killing his mother-in-law. These are baptised Catholics."
The Coming Middle East War
Hezbollah blasts Saudi Arabia's 'normalization with Israel' 08/02/16  I want you to know about this because the fact that Saudi Arabia is opening relations with Israel is huge! Saudi Arabia must feel it needs Israel in the coming war with the Shiites, otherwise there is no need for it.
Arabia wants close ties with Israel because it can't trust America. This is yet another huge event in the Middle East, along with the Russians in Syria and what is happening in Turkey.
"Hezbollah leader Hassan Nasrallah on Friday blasted Saudi Arabia for its alleged "normalization with Israel."
"Saudi Arabia has taken advantage of the ailing Arab situation, only to build relations with Israel. The price will be at the account of the Palestinians," he warned, in comments quoted by Lebanon's National News Agency.
"This is free normalization with Israel and this will open the doors to other states than Saudi Arabia to follow suit," added Nasrallah.
"We will be before a cultural disaster that allows Saudi Arabia to make peace with Israel. And this is the most dangerous thing that could happen," warned the Hezbollah chief, and said, "Everybody must now take a clear position."
Nasrallah's comments came in a speech from his bunker at a ceremony to honor a Hezbollah commander who recently passed away."
Turkey: Erdogan Takes Charge Of Military 08/01/16  It looks like the Turkish military is now under the control of an Islamist state. Now Sunni Turkey will be clashing with Shiite Iran in Iraq and Syria.
This has to end in a vicious war for the control of Islam. I still think that Sunni Islam is going to win, but it is going to be a horrific bloodbath. The winner will then move on Jerusalem and the doom of Islam.
"Turkey's president Recep Tayyip Erdogan has introduced new powers bringing the military further under civilian authority.
The move comes after the failed coup of 15 July, which resulted in the arrests of more than 10,000 people, most of them from the country's armed forces.
Nearly 70,000 others were suspended or sacked from their jobs in media, health care, education, military and the judiciary.
Mr Erdogan's decree is the third issued during the three-month state of emergency declared following the event, which left more than 200 people dead.
It gives the prime minister and president the authority to issue direct orders to the commander of the army, air force and navy."
Earthquakes and Volcanoes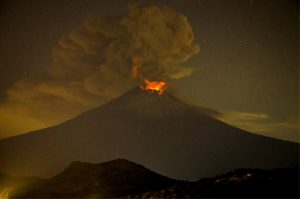 Strong Popocatepetl eruption covers Mexico City in a layer of ash 08/02/16  This is extremely dangerous; the volcano is only 30 miles from Mexico City. This city has a population of 20 million and a massive eruption and earthquake would destroy the city and create millions of refugees which would head north to America.
This would destabilize both Central and North America. The possibility of the scenario I just described is real and could happen at any time since this is a very active volcano.
"Another strong eruption of the Popocatepetl volcano on August 1, 2016 covered streets, houses and cars in Mexico City in ash.
This massive eruption started at around 6pm and lasted up to 3am in the night. Long, really long!"
Fires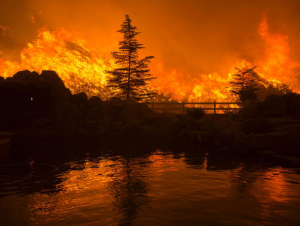 From California to Nevada, wildfires burn in seven Western states 08/02/16  These fires need to be watched since the US, and California in particular, is under God's judgment. The fires will burn until October so it is possible to see major cities burn.
This is very serious because the national sin demands God's judgment since the vast majority of Christians have lost the fear of God and are not crying out to Him.
Hosea 4:1-3 Hear the word of the LORD, ye children of Israel: for the LORD hath a controversy with the inhabitants of the land, because there is no truth, nor mercy, nor knowledge of God in the land. By swearing, and lying, and killing, and stealing, and committing adultery, they break out, and blood toucheth blood. Therefore shall the land mourn, and every one that dwelleth therein shall languish, with the beasts of the field, and with the fowls of heaven; yea, the fishes of the sea also shall be taken away.

"Wildfires were burning Monday in seven Western U.S. states, from California's famed Big Sur region to tribal towns and hamlets near Reno, Nevada.
Evacuations were ordered in Montana, Nevada, Oregon and Wyoming and firefighters were trying to stop a Washington blaze from reaching a thickly forested security zone at the Hanford Nuclear Reservation."

Deuteronomy 4:24-26  For the Lord thy God is a consuming fire, even a jealous God. When thou shalt beget children, and children's children, and ye shall have remained long in the land, and shall corrupt yourselves, and make a graven image, or the likeness of any thing, and shall do evil in the sight of the Lord thy God, to provoke him to anger: I call heaven and earth to witness against you this day, that ye shall soon utterly perish from off the land whereunto ye go over Jordan to possess it; ye shall not prolong your days upon it, but shall utterly be destroyed.