France's Reign of Terror "Lead…the enemies of the people by terror…"
Verse of the Day
 Genesis 6:13 And God said unto Noah, The end of all flesh is come before me; for the earth is filled with violence through them; and, behold, I will destroy them with the earth.

Commentary
Please take the time to read the article I've posted about the French Revolution. It gives great information about what happened. If you follow my writing, you will notice that I often compare the Hard Left in America with the spirit of the French Revolution. This article is a must-read because you will understand the reprobate mind in action during the French Revolution.

The reprobate mind is ruthless and hates God and this is what is starting to manifest in America. Their goal is to try and destroy us, just as the Nazis went after the Jews. If we resist them, it will enrage them and lead to violence. They are dangerous people and not to be ignored.
Only a direct move of God can hold them back because they are energized by the spirit of antichrist and getting ready for the man of sin. At the Second Coming of Jesus Christ, he will put an end to those people with a reprobate mindset.
May the Holy God of Israel bless and protect you.
Revelation 16:5-6 And I heard the angel of the waters say, Thou art righteous, O Lord, which art, and wast, and shalt be, because thou hast judged thus. For they have shed the blood of saints and prophets, and thou hast given them blood to drink; for they are worthy.
History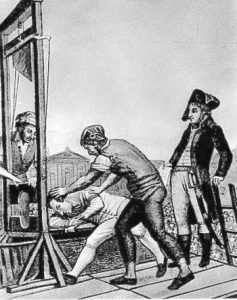 France's Reign of Terror "Lead…the enemies of the people by terror…" 07/18/16  The revolution attacked the Catholic Church, but keep in mind the reprobates make no distinction between Catholics and Christians. Anything whatsoever connected with the Bible and with the God of the Bible, they want to destroy. The Hard Left reprobate mind is the most destructive force on earth.

I fully believe that if the Lord completely removes his restraining hand and turns America over for judgment, it will be just as the French Revolution was, with the same results.
Isaiah 5:20  Woe unto them that call evil good, and good evil; that put darkness for light, and light for darkness; that put bitter for sweet, and sweet for bitter!

Robespierre began accusing, arresting, and beheading:
-first all the royalty;
-then the wealthy;
-then the farmers and businessmen;
-then those hoarding food;
-then the clergy,
-then the former revolutionaries.
Over 40,000 were beheaded in Paris.

It was an intentional campaign to de-christianize French society and replace it with a civic religion of state worship.
The new secular government proceeded to:
-Forbid crosses as being offensive;
-Religious monuments were destroyed;
-Public and private worship and education outlawed;
-Priests and ministers, along with those who harbored them, were executed on sight;
-Christian graves were desecrated, including that of Ste. Genevieve, the patron saint of Paris who called the city to pray when Attila the Hun was attacking in 451 AD;
-Churches were closed or used for "immoral," "lurid," "licentious," "scandalous" "depravities."
Islam – Caliphate/ Anarchy – Civil War
Erdogan's appeal to Islamists in wake of failed coup spurs fears for Turkey's future 07/19/16  This could turn the Middle East upside down! Wow, events are happening so fast.
Turkey might become a Sunni Islamist state, just like Iran is a Shiite one! Turkey has a modern NATO-type military. We really have to watch how this plays out because Turkey could become very militant and force the US bases to close. It also could turn militant against Israel.
Erdogan wants to recreate the Ottoman Empire, so with an Islamist base, he now has the motivation to move in the Middle East.
"Religious fervor and support of Erdogan seemed to have fused into one," he mused, calling the scene "surreal."
The rhetoric of Erdogan, who has been prime minister or president of Turkey since 2003, has been increasingly religious in recent years and accompanied by crackdowns on the judiciary, the press and critics. In the wake of the failed coup, in which more than 250 people were killed, his government has detained nearly 6,000 military and judicial officials.
Critics who support the secular tradition begun in 1923 when Mustafa Kemal, the leader better known as Ataturk, founded Turkey from the ruins of the Ottoman Empire, fear the failed coup will give Erdogan all the justification he needs to transform the nation into an Islamist state.
Indeed, the presence of Koran-quoting, pro-Erdogan crowds in Taksim Square was seen by some as a symbolic step back from the freedoms and traditions that have long made Turkey an anomaly among Muslim nations. The Square includes Gezi Park, which in 2013 became a symbol of resistance to Erdogan's growing authoritarianism as thousands took to the streets in protest of the government."
Islam – Jihad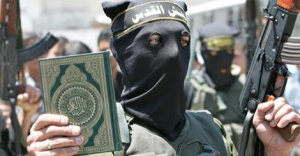 Have the Crusades finally started again? (A short but inclusive report on the following countries which are the first to ban Islam. See how the rest of the world is acting fast on the threat posed by Islam and its barbaric Sharia Law.) 07/18/16  I have said for many years that the day would come when the Muslims would be at war with the world, and Islam would be crushed.
I believe that the final end of Islam will come when a caliphate forms and attacks Israel to kill all the Jews and capture Jerusalem. This battle will destroy untold numbers of Muslims and break the back of Islam as a religion. Many nations of the world are now reacting to the barbarism of the Muslims.
"Japan has always refused to allow Muslims to live permanently in their country and they cannot own any real estate or any type of business, and they have banned any worship of Islam. Any Muslim tourist caught spreading the word of Islam will be deported immediately, including all family members.
Cuba rejects plans for first mosque.
The African nation of Angola and several other African nations have officially banned Islam.
Record number of Muslims, (thousands) deported from Norway as a way of fighting crime. Since these Muslim criminals have been deported, crime has dropped by a staggering 72%. Prison officials are reporting that nearly half of their jail cells are now vacant, courtrooms nearly empty, police now free to attend to other matters, mainly traffic offences to keep their roads and highways safe and assisting the public in as many ways as they can."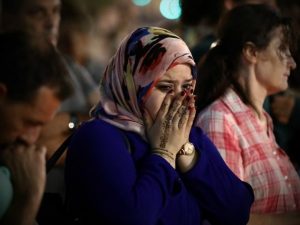 Muslims Were The Real Victims Of The Nice Terror Attack, The BBC Explains 07/18/16  Once again, the Hard Left runs to defend the Muslims, even after their terrorist attack in Nice, France. This article shows how the BBC is very concerned about Islamophobia in France after that attack!
"More bad news from Nice: we learn from the BBC that local Muslims have been getting the cold shoulder from their kuffar neighbours. "People who yesterday would embrace me warmly are now cold towards me," says one.
And all because of the unfortunate and terribly unfair coincidence that the man who mowed down over 100 people in a truck just happened to be called Mohamed, of Tunisian descent, and allegedly yelling "Allahu Akbar" as he went about his murderous spree.
"The worst affected by these attacks are us, the Muslims. We have seen an increase in abuse and threats," complains local man Ahmed Mohamed.
Another – Abdul Moniem – has some sage things to say about not pointing the finger of blame.
"You have to distinguish between different types of crime. Are these crimes that relate to terrorism? Or are these individual criminal acts? In this case what happened was a terrible crime and shouldn't be treated as terrorism. The criminal who carried out this attack did not pray or fast…he had social and relationship problems. It was this that led him to hurt people."
The BBC is very concerned about this outbreak of 'Islamophobia'. That would be why it sent a reporter – also called Mohamed – to down to investigate."
World War 3
Freedom of navigation patrols may end 'in disaster': Chinese admiral 07/18/16  The Chinese are giving all the signs of being ready and willing for WW3. The tension is now mounting by the day. One confrontation could start WW3.
With the rhetoric that China has been spewing over the South China Sea, how can the Chinese back down? World War 3 easily could start in the South China Sea.
"Freedom of navigation patrols carried out by foreign navies in the South China Sea could end "in disaster", a senior Chinese admiral has said, a warning to the United States after last week's ruling against Beijing's claims in the area.
China has refused to recognize the ruling by an arbitration court in The Hague that invalidated its vast territorial claims in the South China Sea, and did not take part in the proceedings brought by the Philippines.
It has reacted angrily to calls by Western countries and Japan for adherence to the decision.
China has repeatedly blamed the United States for stirring up trouble in the South China Sea, a strategic waterway through which more than $5 trillion of trade moves annually.
China, Brunei, Malaysia, the Philippines, Taiwan and Vietnam all have rival claims, of which China's is the largest.
The United States has conducted freedom of navigation patrols close to Chinese-held islands, to Beijing's anger, while China has been bolstering its military presence there."
Beijing sends nuclear capable H-6K bomber over Scarborough Shoal in new South China Sea escalation 07/18/16  This is just in, and China is increasing the tension in the South China Sea. Wow!
"BEIJING has sent the US a message in the skies above the South China Sea: Anything you can do, we can do too. It's just flown a nuclear-capable bomber over Scarborough Shoal.
The United States has conducted several B-52 bomber 'freedom of navigation' flights over the contested waterway in recent months, along with flights by surveillance and patrol aircraft.
The incidents came just days after an international arbitration court in The Hague rejected Beijing's claim to territorial sovereignty over the vast majority of the South China Sea. The challenge, issued by Manila, had been rejected as invalid by China which refused to take part in proceedings."
Economic Armageddon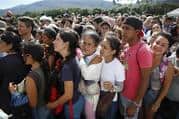 123,000 Venezuelans cross border shopping for scarce food 07/18/16  There is no end to the collapse of Venezuela. It appears that very soon there is going to be massive emigration from this nation. This will destabilize the surrounding nations and cause mass chaos through both South and Central America.
"More than 100,000 Venezuelans, some of whom drove through the night in caravans, crossed into Colombia over the weekend to hunt for food and medicine that are in short supply at home.
It was the second weekend in a row that Venezuela's socialist government opened the long-closed border with Colombia, and by 6 a.m. Sunday, a line of would-be shoppers snaked through the entire town of San Antonio del Tachira. Some had traveled in chartered buses from cities 10 hours away.
Venezuela's government closed all crossings a year ago to crack down on smuggling along the 1,378-mile (2,219 kilometer) border. It complained that speculators were causing shortages by buying up subsidized food and gasoline in Venezuela and taking them to Colombia, where they could be sold for higher prices."

James 1:5  If any of you lack wisdom, let him ask of God, that giveth to all men liberally, and upbraideth not; and it shall be given him.