Franklin Graham: Is the Handwriting on the Wall for America?
                                       Verse of the Day
 Ezekiel 33:2-4 Son of man, speak to the children of thy people, and say unto them, When I bring the sword upon a land, if the people of the land take a man of their coasts, and set him for their watchman: if when he seeth the sword come upon the land, he blow the trumpet, and warn the people; Then whosoever heareth the sound of the trumpet, and taketh not warning; if the sword come, and take him away, his blood shall be upon his own head.

Commentary
I believe that Franklin Graham is God's man of the hour. He is like a voice crying out in the wilderness, but very few are listening. He very well might be God's last watchman before the final judgment. Where are the multitudes of pastors crying out with him? He is faithful to the Lord, and through his ministry of going to all the state capitals and crying out to the Lord, American has been warned.
We are crying out to the Lord three nights a week for repentance and an outpouring of the Holy Spirit. We have warned so there is no blood on our heads for not warning the nation.
May the Holy God of Israel bless and protect you.
Ezekiel 33:11 Say unto them, As I live, saith the Lord GOD, I have no pleasure in the death of the wicked; but that the wicked turn from his way and live: turn ye, turn ye from your evil ways; for why will ye die, O house of Israel?
God's Final Judgment on America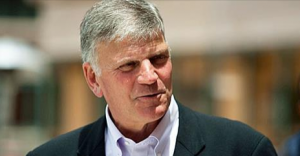 Franklin Graham: Is the Handwriting on the Wall for America? 05/08/16  Franklin is a wonderful man of God. He is offering leadership to the Church for repentance and crying out to God for an outpouring of the Holy Spirit. Where are the 1000's of pastors and church leaders supporting him and calling on the Lord?
It is really sad and embarrassing to see the condition the church is in.
This is the handwriting on the wall:
Daniel 5:25-28 And this is the writing that was written, MENE, MENE, TEKEL, UPHARSIN.
This is the interpretation of the thing: MENE; God hath numbered thy kingdom, and finished it.
TEKEL; Thou art weighed in the balances, and art found wanting.
PERES; Thy kingdom is divided, and given to the Medes and Persians.

"I wonder if the handwriting is now on the wall for America. Has God decided that our idolatry, immorality and godlessness have become such a stench in His nostrils that we as a people will experience a harsh form of divine judgment? Have our iniquities grown so foul and vast that we will reap the bitter harvest of our wickedness and rebellion against Almighty God?
I don't know the answer to that, but I do believe that God is able to restore and heal us if we repent of our sins—personal and corporate—and turn to Him in humility and reverence. The Bible tells us that the Lord is patient toward us, "not willing that any should perish, but that all should reach repentance" (2 Pet. 3:9).
We are a people and nation in imminent danger. We mock God, ridicule His Word and His ways, and flaunt gross immorality.
Only Almighty God can deliver us, and it is our fervent prayer as we go across America in the months to come, that He will hear our prayers and heal our land.
He is our only hope."
World War 3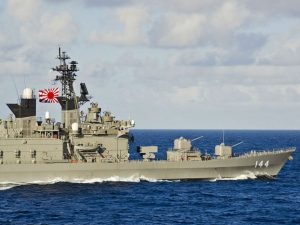 Japan's East China Sea Military Buildup Continues 05/08/16  Events leading to WW3 seemed to have slowed down for now. I'm sure that we will soon see a rash of new events.
If it becomes obvious that Trump will become president, I wonder if this would spur Russian and China to aggression while Obama is still in office? He is so weak that they know he can be pushed around.
"China's growing naval activism in the East China Sea has inevitably sparked reaction from Japan, as Tokyo is busy raising a defensive wall along its southern flank, coinciding with one of the most vulnerable sections of the so-called first island chain, to control and deter possible aggressive moves by the Chinese navy.
On the heels of new security legislation allowing Japan's Self-Defense Forces to engage in armed conflicts overseas for the first time since the end of World War II, evidence is mounting that Tokyo is intent on closing in on China through a variety of ISR (intelligence, surveillance and reconnaissance) and antimissile facilities. Key to this strategy is the militarization of the Nansei Island Chain, Japan's southernmost territories, which includes the prefectures of Okinawa and Kagoshima."
The Great Western Retreat 05/05/16  Putin knows full well what is written in this article about the European readiness for war. With Obama as president and the European nations in a steep decline, including the military, he has to be thinking war. It might look like easy pickings because Europe is so decadent and weak and Obama lives in his delusions.
The Europeans can't stop the Muslim invasion, and now they face a well-armed and well-trained Russian bear that wants to fight! Can WW3 be far off?
"In Europe, armies are no longer even ready for war. The German army is now useless, and Germany spends only 1.2% of GDP on defense. The German army today has the lowest number of staff at any time in its history.
In 2012, Germany's highest court, breaking a 67-year-old taboo against using the military within Germany's borders, allowed the military to be deployed in domestic operations. The post-Hitler nation's fear that the army could develop again into a state-within-a-state that might impede democracy has paralyzed Europe's largest and wealthiest country. Last January, it was revealed that German air force reconnaissance jets cannot even fly at night.
Many European states slumber in the same condition as Belgium, with its failed security apparatus. A senior U.S. intelligence officer even recently likened the Belgian security forces to "children." And Sweden's commander-in-chief, Sverker Göranson, said his country could only fend off an invasion for a maximum of one week.
During the past ten years, the United Kingdom has also increasingly been seen by its allies — both in the US and in Europe — as a power in retreat, focusing only on its domestic agenda. The British have become increasingly insular – a littler England.
The UK's armed forces have been downsized; the army alone is expected to shrink from 102,000 soldiers in 2010 to 82,000 by 2020 – its smallest size since the Napoleonic wars. The former head of the Royal Navy, Admiral Nigel Essenigh, has spoken of "uncomfortable similarities" between the UK's defenses now and those in the early 1930s, during the rise of Nazi Germany."
Russia warns of retaliation if NATO makes more deployments in Eastern Europe 05/04/16  The non-stop rhetoric and buildup for war all over the globe continues. Russia is on a war footing and is very aggressive. NATO is responding which shows this continual buildup towards WW3.
When armies mobilize like this, it invariably leads to war.
"Russia will take retaliatory measures if NATO deploys four extra battalions in Poland and the Baltic states and it will reinforce its western and southern flanks with three new divisions by the year-end anyway, officials said.
U.S. Defense Secretary Ashton Carter said on Monday that NATO was weighing up rotating four battalions of troops through eastern member states amid rising tension in the Baltic.
Russia has scrambled jets to intercept U.S. reconnaissance planes in recent weeks and made simulated attack passes near a U.S. warship in the Baltic Sea.
Andrei Kelin, a department head at Russia's Foreign Ministry, said on Wednesday that the proposed NATO deployment spoken of by Carter was a source of concern for Moscow.
"This would be a very dangerous build-up of armed forces pretty close to our borders," Kelin told the Interfax news agency.
"I am afraid this would require certain retaliatory measures, which the Russian Defence Ministry is already talking about."
Russia announced in January it would create three new military divisions and bring five new strategic nuclear missile regiments into service.
On Wednesday, Russian Defence Minister Sergei Shoigu said the new divisions would be formed by the end of this year and were being created to counter what Moscow saw as NATO's growing strength."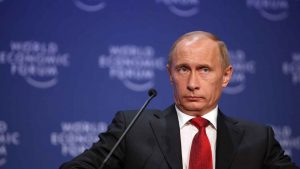 CONTEMPLATING WAR IN EUROPE 05/08/16  This is a great article laying out the military position of Europe in face of an all-attack by the Russians. The conclusion is that nothing could stop the attack.
Remember, Obama is so weak and the collapsing Russian economy dictates that Russia can't stay on this war footing for long, so Putin may be tempted to attack very soon.
This potential for war is real. The Russians did not play all the war games for two years as a bluff. The Russian military is now finely honed and ready for war, while we have Obama shrinking the military and pushing unqualified females into combat units!
I have said many times that God might be raising up Putin as God's "rod of judgment" on the decadent West and collapsing America.
Revelation 22:20  He which testifieth these things saith, Surely I come quickly. Amen. Even so, come, Lord Jesus.

"During one of my recent research trips to Germany, among a small discussion group, a colonel in the German Bundeswehr raised a few eyebrows with an off-the-record observation: If Russian President Putin, he posited, ever unleashed his large and powerful mechanized forces across the North European Plain – through Belarus, Poland, Germany and beyond – nothing would be able to stop them.
While such a grim prospect surely centers the mind, it also begs the question: Why would Putin, no matter how aggressive his behavior in recent years has become, ever commit such a staggering and calamitous act?
Setting that question aside for the moment, it is sobering to acknowledge that the Bundeswehr colonel was on the mark – given Western Europe's alarmingly poor state of military preparedness, it would be unable to mount a meaningful challenge to a major Russian conventional attack, short of escalating to nuclear weapons. And since the latter option is, well, no option at all, and considering that any conventional resistance put up by NATO alliance members such as Germany, Belgium and France would amount to little more than token resistance, one wonders: Would these countries, and their countrymen, fight to save Berlin, Brussels and Paris, or simply bow to the inevitable and capitulate?"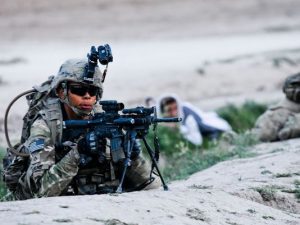 Army shrinks to smallest level since before World War II 05/09/16  In a tranquil time, this would be acceptable, but with Putin ready for war and China's massive buildup this is scary. You throw into this mix Obama as president, and America is in deep trouble.
We must look so weak to Putin in Europe and China in Asia. Obama is a tempting target for these nations.
"The Army's latest headcount shows that nearly 2,600 soldiers departed active service in March without being replaced, an action that plunges manning to its lowest level since before World War II.
During the past year the size of the active force has been reduced by 16,548 soldiers, the rough equivalent of three brigades.
Endstrength for March was 479,172 soldiers, which is 154 fewer troopers than were on active duty when the Army halted the post-Cold War drawdown in 1999 with 479,424 soldiers, the smallest force since 1940, when the active component numbered 269,023 soldiers."
Hard Left in the Military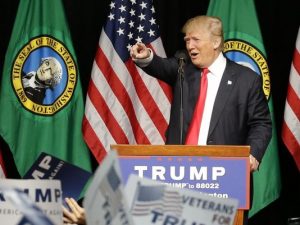 Military Times survey: Troops prefer Trump to Clinton by a huge margin 05/09/16  This gives a ray of hope that the military is not all lost, If Trump is elected, we need a purge of the Obamaite officers. The combination of good officers and troops with moral is a good place to start rebuilding the military.
"In a new survey of American military personnel, Donald Trump emerged as active-duty service members' preference to become the next U.S. president, topping Hillary Clinton by more than a 2-to-1 margin. However, in the latest Military Times election survey, more than one in five troops said they'd rather not vote in November if they have to choose between just those two candidates.
But given only those choices, 21 percent of the service members surveyed said they would abstain from voting. More than 54 percent of the 951 troops Military Times surveyed said they would vote for Trump, the presumed Republican presidential nominee, over Clinton, the Democratic front-runner. Only about 25 percent said they would vote for Clinton in that matchup."
As America Has Done to Israel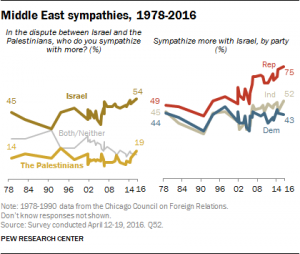 American views of Israel and Palestinians 05/08/16  It is really heartening to see that Americas still are standing with Israel. The one group which is turning against Israel is the Hard Left Democrats, on which I have reported many times.
I see them getting harder against Israel and the Jews, with a vicious militancy that is going to lead to bloodshed.
"These views are only modestly changed from July 2014. The share sympathizing more with Israel is little changed, while the share sympathizing more with the Palestinians has ticked up from 14% then to 19% today.
The partisan gap remains wide. Three-quarters of Republicans (75%) say they sympathize more with Israel (just 7% say they sympathize more with the Palestinians). And though a larger share of Democrats sympathize more with Israel than with the Palestinians, that margin is much narrower (43% vs. 29%). By 52% to 19%, independents express more sympathy for Israel than the Palestinians.
While independents are more likely to express sympathy toward Israel by a 52% to 19% margin, there is a large difference between those who lean toward the Democratic Party and those who lean toward the GOP. Republican leaners sympathize more with Israel by an overwhelming margin (72% vs.9%), in line with the views of Republican identifiers. The sympathies of Democratic leaners, however, are divided: 34% say they sympathize more with Israel and 33% say the Palestinians, while another third either volunteer that they sympathize with both (3%) or neither (16%), or do not offer an opinion (13%). Democratic leaners are less likely than Democratic identifiers to sympathize with Israel."
As Sweden Has Done to Israel
The Failure of the Swedish Establishment 05/08/16  I'm following Sweden since it is one of the leading nations that has come against Israel. As a result of this rebellion, God is allowing the Muslims to pour into Sweden for judgment.
This is a very interesting article about how Sweden is starting to come unglued as a nation.
"In Sweden's third largest city, Malmö, the children of illegal migrants receive income support payments from the government, and the unemployment rate among foreign-born men aged 18-24 years is at 41%. In Sweden, those who do not have jobs receive generous welfare payments from the local authorities, and families in the country illegally have their rent paid by the taxpayers. It is an open invitation to more migrants to come to Sweden.
The Swedish establishment tells Swedes that the more immigrants come to Sweden, the richer Sweden will become — no matter which country these immigrants come from.
The Swedish establishment is characterized by incompetence combined with an extreme left-wing ideology and a hillbilly-like mentality that refuses to see the rest of the world and the risks involved in it. The Swedish establishment has not dealt with Sweden as if it were a country, but as if it were a village.
By gross miscalculations, the Swedish establishment has eroded its own legitimacy. Today, fewer than one in four Swedes have confidence in their government. Meanwhile, the Swedish media is a major threat to Sweden's security today: it downplays the migration crisis with ridiculous arguments."
 Islam – Muhammad and the Jews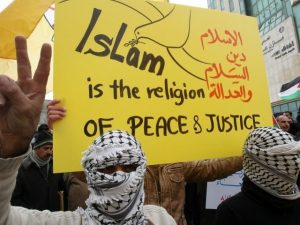 Egyptian Scholar: Prophet Muhammad, Nazis, Viewed Jews As Animals; Jew-Hatred Preventing Progress 05/08/16  This Islamic scholar is telling the truth. The problem is no one will listen or the hard core will kill him.
The Muslims follow Muhammad and what he thought and how he acted against the Jews is what matters, and not what a scholar states.
"Egyptian-German scholar Hamed Abdel-Samad claimed that the prophet Muhammad's view of Jews as "subhuman" and the subsequent treatment of Jews after his death was akin to that of the Nazis, adding that such hatred is ongoing and has "prevented us from dealing with our problems in a serious way."
In the lecture, translated by MEMRI and entitled "Islamic Fascism and the Jews," Abdel-Samad called on the Muslim and Arab world to stop "poisoning one generation after another with this hatred."
Jeremiah 5:4  Therefore I said, Surely these are poor; they are foolish: for they know not the way of the Lord, nor the judgment of their God.