Half of Americans suddenly support Muslim immigration ban
Verse of the Day
Proverbs 10:6  Blessings are upon the head of the just: but violence covereth the mouth of the wicked.

Commentary
The hatred within Islam is being fully exposed, splitting apart the Hard Left and causing more Americans to call for a halt to Muslim immigration. Islam is truly a judgment on any society that embraces it. Will America be brought down and torn apart by it or will the nation return to God and reject the agenda of those leading the nation?
May the Holy God of Israel bless and protect you.
Psalm 54:2-4  Hear my prayer, O God; give ear to the words of my mouth. For strangers are risen up against me, and oppressors seek after my soul: they have not set God before them. Selah. Behold, God is mine helper: the Lord is with them that uphold my soul.
Islam – America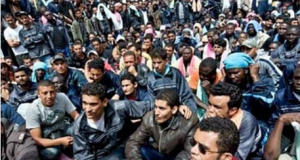 Half of Americans suddenly support Muslim immigration ban 06/16/16  Americans are in a life and death struggle with Islam. Are we going the way of Europe or will we stand against Islam? There really is no excuse to support Islam if we just look at Islamic culture and what is happening to Europe.
God always warns before judgment and right now the judgment is staring at us.
Genesis 18:17  And the LORD said, Shall I hide from Abraham that thing which I do;
Half of all Americans suddenly support a temporary ban on Muslim immigration into the United States, according to a Reuters poll.
The stunning results represent an enormous sea change in public opinion that seemingly took place overnight in the wake of the Orlando massacre.
The question was posed this way: "Agree/Disagree: The United States should temporarily stop all Muslims from entering the United States."
Before Omar Mateen killed 49 people and wounded dozens more at an Orlando nightclub early Sunday morning, just 43 percent of Americans supported the ban and 53 percent opposed it."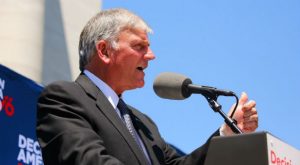 Franklin Graham Rebukes Obama for Defending Islam 06/17/16  Franklin Graham is a great man. He is one of the few who has a voice on the national platform and speaks the truth. I simply can't say enough good things about him.
Psalm 94:16  Who will rise up for me against the evildoers? or who will stand up for me against the workers of iniquity?

"Evangelist Franklin Graham will no longer stand in complacency for President Barack Obama's apparent endorsement of Islam.
In a Facebook post, Graham wrote:

Mr. President, I read in the The New York Times today where you reportedly blasted Donald J. Trump for wanting to tighten the borders and accused him of painting a whole religion as violent.
A Muslim can murder 49 innocent people in a gay club, and you still defend the religion of Islam.
But a Christian who refuses to bake a homosexual's wedding cake endures prosecution, financial ruin, and nation-wide shaming because of their faith, and you stay silent!
What Omar Mateen did was following the teachings of the Koran. It is incomprehensible that you will not acknowledge the dangers of Islam's teachings in order to protect the American people under your watch."
Islam – Jihad America
FBI Released Omar Mateen Because They Thought His Co-Workers Were Bigots 06/16/16  It really does appear that "political correctness" stopped the FBI investigation of the Orlando terrorist.
"Huckabee pointed to a FOX News report that, in a closed-door meeting Monday, FBI Director James Comey confirmed to reporters there was a 10-month investigation of Mateen in 2013. It was initiated after his co-workers reported statements he made that concerned them. Federal agencies have repeatedly told Americans "If you see something, say something," and it would appear these co-workers did exactly that. Which begs the question why, then, the FBI decided not to take further action.
"They bought his claim that he was teasing his co-workers because he thought they were trying to marginalize him for his Muslim faith," Huckabee wrote. "In other words, they were more willing to believe that all his American co-workers were bigots than that he might be a danger to society. He'd learned to speak the language of political correctness well and used it to manipulate guilty liberals.
"At the same time that the Obama administration was arguing for the right to gather electronic data on every U.S. citizen, including reporters, it was abandoning real leads, killing a serious terrorist investigative unit and deleting its files, and removing experts and training materials on how to identify threats, all because those things might be seen as culturally insensitive to Muslims. This is how political correctness kills, and it just set a new U.S. record."
Hard Left/ Islam/ American Politics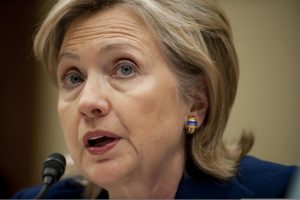 Hillary's Huge Libya Disaster 06/16/16  I have said all along that both Obama and Clinton love the Muslim terrorists. They especially love the Muslim Brotherhood, but if need be they will use any terrorist.
I really do think that Obama/Clinton are a "Fifth Column" within the US. It is very delightful to see all of this coming to the light.
"Despite valid ceasefire opportunities to prevent "bloodshed in Benghazi" at the onset of hostilities, Secretary Clinton intervened and quickly pushed her foreign policy in support of a revolution led by the Muslim Brotherhood and known terrorists in the Libyan Islamic Fighting Group. One of the Libyan Rebel Brigade commanders, Ahmed Abu Khattala, would later be involved in the terrorist attack in Benghazi on September 11, 2012.
Articulating her indifference to the chaos brought by war, Secretary Clinton stated on May 18, 2013, to the House Oversight Committee and the American public, "Was it because of a protest or was it because of guys out for a walk one night and decided they'd go kill some Americans? What difference, at this point, does it make?"
Secretary Clinton's war actually did make a difference. It led to a very real and very tragic humanitarian disaster.
Her bad judgment and failed policy resulted in the arming of terrorists, months of war and tens of thousands of causalities, the murder of the American ambassador and the deaths of three other brave Americans, continued civil war and the collapse of the Libyan economy, and a failed nation-state contributing to a tragic European migrant crisis. Clearly the Libyan disaster tops Secretary Clinton's legacy of failure."
Islam/ Homosexuality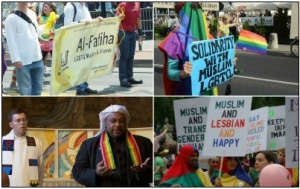 No, the Council on American-Islamic Relations Doesn't Like Homosexuals 06/16/16  The Muslim terrorist attack on the homosexuals in Orlando has brought to light the irreconcilable difference between the homosexuals and Muslims. It appears that the eyes of homosexuals were just opened to this.
I think that the Hard Left will line up with the homosexuals against the Muslims, but it is a difficult choice because they love both so much.
"But let's not kid ourselves. CAIR was founded by members of the Sunni Islamist Muslim Brotherhood, whose hatred of homosexuals is quite explicit. Shibly himself decried homosexuality as "evil" and a "quick way to earn God's wrath" in a 2009 Facebook essay on gay marriage.
"In order not to jeopardize their pursuit of U.S. governmental access and partnerships with left wing anti-Israel activists, most CAIR officials have avoided expressing such opinions publicly.
More often they have ignored the issue of homosexuality or denied that it is prevalent in the Muslim community. Echoing the laughable claims of former Iranian president Mahmoud
hmadinejad that his country has no homosexuals, CAIR-Chicago director Ahmed Rehab once objected to the presence of a gay Muslim American character in a local theater production, saying that homosexuality is an issue "not…very prevalent in the Muslim community" that was "imposed upon it by the play makers."
Moreover, CAIR coordinates very closely with other Islamist organizations that have not felt the need to bite their tongues when talking about homosexuality. Tahirah Amatul Wadud, a member of the CAIR-Massachusetts Executive Board of Directors, also happens to be general counsel for the notoriously anti-gay organization The Muslims of America Inc. (TMOA), led by Mubarak Ali Gilani (for high-profile cases handled at TMOA by Wadud, see here and here). Gilani called the U.S. Supreme Court's legalization of gay marriage on June 26, 2015 "a black day in the history of mankind."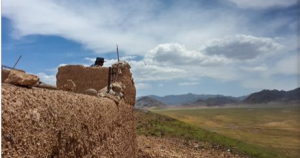 Taliban use 'honey trap' boys to kill Afghan police 06/16/16  This is mind boggling because one section of Islam wants to kill all homosexuals, while another part is riddled with homosexual pedophilia!
Remember, several months ago I posted articles and a video about US soldiers who were threatened with court-martial because they tried to protect these boys from being raped in Afghanistan! This Muslim nation must be riddled with those raping children!
"The Taliban are using child sex slaves to mount crippling insider attacks on police in southern Afghanistan, exploiting the pervasive practice of "bacha bazi" — paedophilic boy play — to infiltrate security ranks, multiple officials and survivors of such assaults told AFP.
The ancient custom is prevalent across Afghanistan, but nowhere does it seem as entrenched as in the province of Uruzgan, where "bacha bereesh" — or boys without beards — widely become objects of lustful attraction for powerful police commanders.
The Taliban over nearly two years have used them to mount a wave of Trojan Horse attacks — at least six between January and April alone — that have killed hundreds of policemen, according to security and judicial officials in the province.
"The Taliban are sending boys — beautiful boys, handsome boys — to penetrate checkpoints and kill, drug and poison policemen," said Ghulam Sakhi Rogh Lewanai, who was Uruzgan's police chief until he was removed in a security reshuffle in April amid worsening violence.
"They have figured out the biggest weakness of police forces — bacha bazi," he told AFP."
Muslims are NOT Moderate: Western Muslims Admit the Truth  This is probably the best teaching I've seen about Muslims belief in killing because of homosexuality.
It is a Muslim teacher in front of a huge audience proclaiming it, and shows this group agreeing with him. It is chilling because it also means killing Christians who resist Islam. This is so good that I recommend you forward it to others.
"The West and the non-Muslim countries need to wake up …Stop Muslim immigration, these Trojan Horses are destroyers of host cultures and values. The politicians and the people have to think seriously if they need these violent, misogynistic, and non-integrating thugs."
World War 3
Air, land, sea, cyber: NATO adds cyber to operation areas 06/16/16  It now looks as if a cyber attack could ignite WW3. There is no doubt that this is aimed at both China and Russia.
"NATO agreed Tuesday to make cyber operations part of its war domain, along with air, sea and land operations, and to beef up the defense of its computer networks.
NATO Secretary-General Jens Stoltenberg said the decision to formally consider cyber operations a military domain is not aimed at any one country. He says the allies need to be able to better defend themselves and respond to attacks on their computer networks.
The decision has been long in coming, particularly amid rising tensions with Russia, which has proven its willingness to launch computer-based attacks against other nations.
Russian hackers have been blamed for a breach into an unclassified Pentagon computer network and for a breach of NATO's computer network two years ago.
Stoltenberg was speaking at the meeting of NATO defense ministers."
Russia 'Mobilizing for War' Warns Canadian Intelligence Report 06/16/16  I have said time and again that Putin does not bluff. I fully believe that he has Russia ready for war and that Obama is so weak, Putin may make a move.
It really does feel that the stage is set in Europe, as it was 100 years ago immediately prior to WW1.
"This follows a report by the Canadian Security Intelligence Services – the Canadian government intelligence agency – based on research by outsiders rather than its own assessment, warning that Russian President Vladimir Putin's hard-line policies were becoming "more deeply entrenched," as the CBC put it, and that "Moscow is retooling its military for a fight" and possibly "mobilizing for war."
"It is modernizing conventional military capability on a large scale; the state is mobilizing for war," the intelligence agency report stated."
Psalm 58:2-3  Yea, in heart ye work wickedness; ye weigh the violence of your hands in the earth. The wicked are estranged from the womb: they go astray as soon as they be born, speaking lies.