Hillary's Prison Blues (White Trash in the White House)
Verse of the Day
 1 John 2:17 And the world passeth away, and the lust thereof: but he that doeth the will of God abideth for ever.

Commentary
I've posted two satires about Hillary that I thought were very funny and well done. Facing this election, we need some laughs.
There also is a great article about scientific research proving the accuracy of the modern Bible.
Make sure that you read the article about Russia/Syria and the coming war with Israel. Israel is preparing for it and believes it will come in about six months. Israel believes that the tactics Russia is using in Northern Syria and Israel also will be used in the South along the Golan Heights.
May the Holy God of Israel bless and protect you.
2 Timothy 4:8 Henceforth there is laid up for me a crown of righteousness, which the Lord, the righteous judge, shall give me at that day: and not to me only, but unto all them also that love his appearing.
American Politics
Hillary's Prison Blues (White Trash in the White House) 09/26/16  This is from the new website/YouTube channel People Get Ready – please support us by subscribing and sharing! [Thanks – Georgann Ryan]
"Credits:
Music by Johnny Cash
Arrangement and recording by Joe Charles"
Hillary Clinton is an Ameriphobe" (Video) 09/23/16   This is parody both very funny and true.
"It is now abundantly clear that Progressivism is the only real mental illness to speak of, and it's time Conservatives respond in kind. So when Democrats banish American flags from their Presidential convention, or when they condemn our police, how should Conservatives react? The answer is: fix the Liberal with a steady gaze, point a quivering finger, and declare loudly "you are an Ameriphobe!
New World Order – World Government
Egypt's Sisi: Globalization Yields 'Poverty, Inequality, and Undermining of the Social Contract' 09/23/16  It is no wonder why Obama and Clinton hate him so much! He also overthrew the Muslim Brotherhood, who are favorites of the Islamists – Obama/Clinton!
"Egyptian President Abdel Fattah al-Sisi's address to the United Nations General Assembly was focused on economic issues, with a surprisingly strong critique of globalism.
Sisi argued that "developing countries are not afforded a sufficient opportunity to achieve sustainable development; they require a conducive international environment which provides them with a larger share of international trade, finance mechanisms, and transfer of technology, as well as influx of investments and debt settlement, in addition to the necessity of a conducive national environment for development."
"Egypt also stresses the importance of harnessing the global monetary system to establish a fair global economic system, one that provides equal opportunities for development and contributes to minimizing the gap between developed and developing countries," Sisi added."
Bible – Archaeology
3D tech proves Hebrew Bible 'unchanged for 2000 years' 09/22/16  I love when science proves things like this about the Bible.
Matthew 24:35  Heaven and earth shall pass away, but my words shall not pass away.

"The passages from the Book of Leviticus, scholars say, offer the first physical evidence of what has long been believed: that the version of the Hebrew Bible used today goes back 2,000 years.
The discovery, announced in a Science Advances journal article by researchers in Kentucky and Jerusalem on Wednesday, was made using "virtual unwrapping," a 3D digital analysis of an X-ray scan. Researchers say it is the first time they have been able to read the text of an ancient scroll without having to physically open it."
Israel – Western Civilization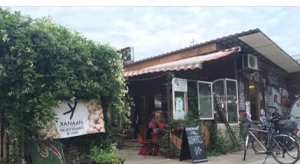 Israel will save civilization as the Spartans did at Thermopylae 09/23/16  Once again, Europe is just like it was before World Wars 1 and 2. The anti-Jew and Israel-hating is rising like the incoming tide. It is slow but steady. The more Muslims in Europe, the more hatred for the Jews grows. There is something in the European DNA about hating Jews.
The Jew-hating is all part of God's curse hanging over Europe.
"PM Benjamin Netanyahu is obviously right in his "No Jews" address. While Israel is far from "Arabrein", a Nazi-like ideology is spread by the Palestinian Authority to turn Judea and Samaria in a "free of Jews" region.

The ethnic cleansing of "the settlers" is the only one that the world applauds. Netanyahu's speech, in fact, has been rejected by the White House.

The United Nations Educational, Scientific and Cultural Organization (Unesco) also adopted a "Jüdenrein" (free of Jews) policy by giving credit to the suprematist Islamic rights over Jerusalem's Temple Mount, Judaism's holiest site for thousands of years."
Iran/ The Coming Middle East War
As Rouhani Prepares to Address UN, Iran's Military Threatens to Turn Israeli Cities to 'Dust' 09/23/16 Rouhani often threatens Israel with destruction. The problem for Iran is that Israel has 100s of nuclear weapons with the missile system to deliver them to Iran.
Iran does want war with Israel and that is why the war in Syria is so important. It offers Iran a roadway at Israel.
"On the eve of Iranian President Hasan Rouhani's address to the United Nations, military parades back home Wednesday featured ballistic missiles on a truck draped with a banner threatening to turn a fellow U.N. member state's cities to "dust."
"If the leaders of the Zionist regime make a mistake then the Islamic Republic will turn Tel Aviv and Haifa to dust," read the banner, according to Reuters."
Israel and the Middle East War
Russian-Syrian Aleppo tactics await the South 09/23/16  This article is loaded with great information about the developing war between Israel and the Shiite/Syrian alliance.
Syria has no future, because it is going to be completely destroyed in a war with Israel. I believe that this war coming between Israel and Syria is the one Isaiah wrote would happen prior to the Second Coming of Jesus Christ
Isaiah 17:1 The burden of Damascus. Behold, Damascus is taken away from being a city, and it shall be a ruinous heap.

"The Syrian president Assad took the unusual step of appointing a senior Druze officer, Brig. Gen. Osama Zhar a-din, as the Golan front's new commander. The motive behind this is an attempt to drive a wedge between the IDF troops posted on the Israeli Golan and the Druze inhabiting the local villages, while also sowing discord between the Druze serving in Israel's armed forces and their Jewish brothers-in-arms.
According to our military sources, the current Syrian and allied lineup just across the border from Israel is not deployed this time to attack Israel, but for a clean sweep of all the Syrian rebel forces holding sectors of the Golan-Israeli border.
The pro-Assad forces are expected to weigh in with artillery shelling and heavy aerial bombing to force the local Syrian population of 140,000 to 160,000 to flee. This scenario would confront Israel and the IDF with the possibility of tens of thousands of Syrian refugees clamoring for sanctuary.
6. Our intelligence sources add that Iran, Hizballah and Syria have decided to henceforth hit back at any Israeli air or artillery strikes against a Syrian target on the Golan. This was decided at high-level three-way consultations in Damascus on Sept. 15, two days after Israeli aircraft attacked the headquarters of Syria's 90th Brigade at al-Shaar, near Quneitra, in reprisal for the Syrian shells that strayed across the border.
Assad informed his allies that he will not put up with any more Israeli attacks on Syrian regional commands."
Christian Apostasy/ Israel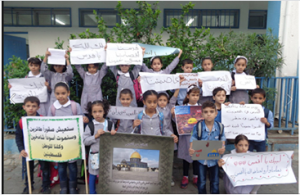 The World Council of Churches' Ongoing Anti-Israel Obsession 09/23/16  The WCC is an apostate group that is against God and his Word. They do all they can to undermine the state of Israel. It is a subversive group within Christianity.
I see them aligned with Islam and not with God. They bring confusion to the Israelis, because many Israelis think that all Christians are like the WCC! We need a new reformation to let the entire world know that we separate ourselves from the WCC.
2 Peter 2:1-2  But there were false prophets also among the people, even as there shall be false teachers among you, who privily shall bring in damnable heresies, even denying the Lord that bought them, and bring upon themselves swift destruction. And many shall follow their pernicious ways; by reason of whom the way of truth shall be evil spoken of.

"Every September, the WCC hosts a "World Week for Peace," which highlights the work of two organizations affiliated with the Council — the Ecumenical Accompaniment Program in Palestine Israel (EAPPI) and the Palestine Israel Ecumenical Forum (PIEF).
The first organization is comprised of activists who go to the West Bank to gather images and stories of Israeli Jews behaving badly, and the second organization is comprised of religious leaders who broadcast anti-Israel polemics disguised as theology and liturgy."
Islam – Europe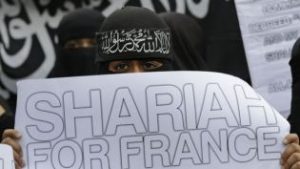 Study: 28% of French Muslims Lean Toward Extremist Views 09/23/16  This is about the same rate as is in America. There are large numbers of Muslims who would not kill for allah, but they sympathize with those that do. They may even support the killers.
The radical Muslims have a strong base in the West to thrive and wreck havoc. The greater their success the more recruits join the ranks.  It does not take many terrorists to totally disrupt a nation.
"Twenty-eight percent of French Muslims hold extremist views, or are at least attracted to fundamentalism and oppose the country's liberal way of life, according to a new study by an independent French think tank that is making waves here.

Another 25 percent of Muslim respondents in the study by the Montaigne Institute were found to be more devout and in search of their identity, but rejected the wearing of the full veil for women.

And 46 percent were either entirely secularized or in the process of becoming integrated without denying their religion.

One of the study's authors, Hakim El Karoui, said the findings reveal that more young Muslims are being attracted by radical ideologies.

"On one hand you have this silent majority, practicing Muslims who do not feel threatened by French society," said Hakim, who has mixed Tunisian/French parentage. "And on the other hand, you have this minority being lured by the call of Islamic fundamentalism, and who is using Islam to attack France."
Islam/ Christianity
Muslims surpass atheists as most unpopular group in US 09/23/16 
Psalm 14:1 The fool hath said in his heart, There is no God. They are corrupt, they have done abominable works, there is none that doeth good.

"Maybe atheists should just embrace it as a slogan: "Atheists: The group Americans love to hate."

About 40 percent of Americans say atheists "do not at all agree" with their vision of America, according to a new study from sociologists at the University of Minnesota who compared Americans' perceptions of minority faith and racial groups.

But the study marks a grimmer milestone — Americans' disapproval of Muslims has jumped to 45.5 percent from just over 26 percent 10 years ago, the last time the question was asked.

And "nones" — those who say they have no religious affiliation, but may also have spiritual or religious beliefs — are also unpopular. This is significant because nones now make up one-third of the U.S. population."
Matthew 6:33

 

But seek ye first the kingdom of God, and his righteousness; and all these things shall be added unto you.