Iraqi Resistance Movement Establishes Brigade to Liberate Golan Heights
Verse of the Day
Isaiah 34:8  For it is the day of the LORD'S vengeance, and the year of recompences for the controversy of Zion.
Commentary
These groups just can't wait for the Syrian war to end so they can attack Israel! Their doom awaits when they move against Israel. The Bible is very clear that Syria and Damascus will be totally destroyed in war with Israel. The total destruction of Damascus is a warning sign of the imminent Second Coming of Jesus Christ.
May the Holy God of Israel bless and protect you.
Joel 3:19-20 Egypt shall be a desolation, and Edom shall be a desolate wilderness, for the violence against the children of Judah, because they have shed innocent blood in their land. But Judah shall dwell for ever, and Jerusalem from generation to generation.

Israel/ The Coming Middle East War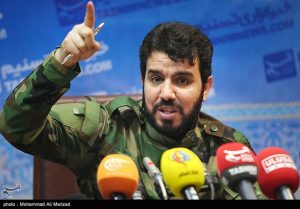 Iraqi Resistance Movement Establishes Brigade to Liberate Golan Heights 03/11/17
Isaiah 17:1  The burden of Damascus. Behold, Damascus is taken away from being a city, and it shall be a ruinous heap.

"Speaking at a press conference held at the Tasnim News Agency central office on Wednesday, Seyed Hashem al-Moussavi highlighted the involvement of al-Nujaba forces in the Syrian government's military campaign against foreign-backed terrorists and said they will not leave Syria until "the last terrorist" leaves the Arab country.
"After recent victories (in Syria), we have established the Golan Liberation Brigade," he said, adding that the forces are well-trained.
"If the Syrian government requests, we are ready to take actions to liberate Golan," the spokesman underlined.
He went on to say that the Golan Liberation Brigade is comprised of highly-equipped special forces, who have not left a region unless they ended a conflict there.
The al-Nujaba Movement is an offshoot of Iraqi voluntary forces, also known as the Popular Mobilization Units or Hashid al-Shaabi, which is active both in Iraq and Syria."
Israel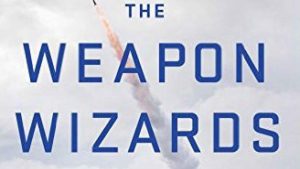 HOW ISRAEL TRANSFORMED ITSELF INTO A HIGH-TECH MILITARY POWERHOUSE 03/10/17  This is a very interesting article about a book that just came out. The book, "The Weapon Wizards," is about the tremendous high tech advancement of the Israeli military.
This is all part of God blessing Israel for the end time battles that are drawing close.
Israel is going to be left standing, but the surround Muslim nations do not survive the coming all-out Middle East war.
Zechariah 12:6  In that day will I make the governors of Judah like an hearth of fire among the wood, and like a torch of fire in a sheaf; and they shall devour all the people round about, on the right hand and on the left: and Jerusalem shall be inhabited again in her own place, even in Jerusalem.

"On March 1, 2011 Hamas terrorists fired an RPG-29 anti-tank rocket from a concealed position in Gaza at an Israeli Merkava IV tank on routine patrol near the border. What occurred next represents a milestone for armored warfare. The Merkava was equipped with the new Israeli-made Trophy active protection point defense system, providing the tank with a 360-degree bubble-shaped arc of protection.
The Trophy's radar detected the incoming projectile and destroyed it by firing a burst of metal pellets. That was the first time such a system was ever successfully tested under real combat conditions. Israel was also the first nation to deploy such an innovative platform.
But the Trophy performed another technological feat that fateful day. It simultaneously calculated the trajectory of the incoming rocket to determine the source of fire and instantly transmitted the coordinates by interfacing with another Israeli innovation known as the Tzayad battle management system. Soldiers in the theater were instantly apprised of the enemy's position and seconds later, the Hamas terror cell was liquidated with accurate counterbattery fire. This seamless integration of battlefield technology has dramatically reduced the sensor to shoot cycle, enabling rapid elimination of the enemy.
This minor skirmish caused somewhat of a stir in military circles but was largely unknown to the ordinary public. Trophy's impressive combat effectiveness in this and subsequent skirmishes has persuaded the U.S. military to adopt the platform for its M1A2 Abrams tanks."
Christianity
Europe will lose 100 million Christians. Islam will win. 03/12/17  This is a direct warning to the church in America.
What happened in Europe was that the preachers stopped believing the Bible was the word of God. There is little to no fear of God in the Europeans. They kill babies on a massive scale, resulting in their population rapidly decreasing. The promote homosexuality and destroy marriage. They bully the Jews and try to destroy Israel.
There is no hope for Europe because the vast amount of people are hardened in their sin and rebellion against God. It would take a massive move of God to turn this around. Because of their sin and rebellion against God and his word, he is sending the Muslims as judgment. The Western culture based on Christianity is being replaced with Islam, and there is nothing the Europeans can do to stop it, short of a war against the Muslims. There is no way out for the Europeans since they are going to submit to Islam or fight the Muslims to drive them out. This has reached critical mass so very soon we will find out what the Europeans are going to do.
Isaiah 26:9  With my soul have I desired thee in the night; yea, with my spirit within me will I seek thee early: for when thy judgments are in the earth, the inhabitants of the world will learn righteousness.

"The Pew Forum revealed that Islam will become the world's largest religion, surpassing Christianity. Look at Europe's abandoned churches and you will have the answer to the question: how did we reach this decadence?
France, the nation that launched the great millennium of medieval Christianity, which crowned Charlemagne emperor in 800, the France of churches inserted between vineyards and cornfields, la Douce France, the France of beautiful castles, abbeys and cathedrals, is in the grip of a terrible abyss, dramatically exemplified by demographic and religious change.
Since 1980, the Church of England has closed 1,074 churches, seven percent of the total. Some have become carpet warehouses, restaurants or entertainment venues. Of 900 Methodist chapels in Cornwall, only 250 are still functioning; others have become homes.
Germany, the country that gave birth to Pope Benedict XVI, where President Gauck was a Protestant minister and Chancellor Angela Merkel is the daughter of a pastor, a country whose sacred music is the best in the world, where churches constitute the second-largest employer, has emerged as the battering ram of Western secularism.
Lutheran Bishop Jobst Schoene said that Christianity in Europe could meet the same tragic fate of Christianity in North Africa. In Roman times, at the end of the seventh century, the lands that today comprise Algeria and Tunisia, for example, were entirely Christian, and home to champions of the Christian faith such as Tertullian and Augustine. Two centuries later, Christianity was extinguished, replaced by the Arab-Islamic civilization."
Hard Left/ ProLife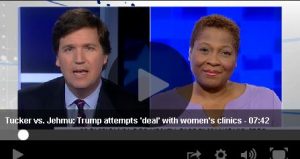 Tucker vs. Jehmu: Trump attempts 'deal' with Planned Parenthood 03/12/17  This link is to a Fox News video which can't be embedded here. It's difficult to watch because the PP person is so full of lies and killing is just part of her. It shows that at the heart of the reprobate mind is killing babies. It is like a sacrament to them.
I know well the PP mind since I battled them for 10 years in York, PA. I know exactly what these people think, how dangerous they are, and just how much they hate us. We were a small group, but with the Lord's help we won.
If you are interested in my battle to shut down PP in York, PA and the federal lawsuit that I won, go to: ProLife Battles at York, PA
Proverbs 6:16-19 These six things doth the LORD hate: yea, seven are an abomination unto him: A proud look, a lying tongue, and hands that shed innocent blood, An heart that deviseth wicked imaginations, feet that be swift in running to mischief, a false witness that speaketh lies, and he that soweth discord among brethren.
American Politics/ History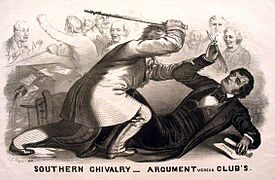 Pro-slavery Democrat Rep. Brooks beat anti-slavery Republican Senator with gutta-percha cane till it broke… 03/11/17  This article is loaded with great information about the anti-slavery movement in American history. What caught my attention was the fact that the pro-slavery Democrat mentality in 1857 was exactly like it is today, with the Democratic Hard Left agenda.
It is easy to see that America may be moving towards a second civil war with the massive amount of Democrats who now operate under a reprobate mind. They are exactly like their pro-slavery fathers of 1857.
There is very little common ground between us and those that function under the Hard Left delusions. The have become living, thinking, functioning sin. Whatever is connected with God, they hate and want to destroy. There is no reasoning with this mind. It is locked into sin and rebellion. This divide can't go on forever.
Matthew 12:25  And Jesus knew their thoughts, and said unto them, Every kingdom divided against itself is brought to desolation; and every city or house divided against itself shall not stand:

"William Cullen Bryant, editor of the New York Evening Post, wrote of the Democrat South:
"The South cannot tolerate free speech anywhere, and would stifle it in Washington with the bludgeon and the bowie-knife, as they are now trying to stifle it in Kansas by massacre, rapine, and murder …
Are we to be chastised as they chastise their slaves … a target for their brutal blows?"
World War 3/ North Korea
As North Korea's arsenal grows, experts see heightened risk of 'miscalculation' 03/11/17  It appears that the time has arrived when NK might be able to reach the USA with nuclear weapons. Even though Trump was elected President, there is no repentance that I can see in the wicked cities of the West coast. They are getting harder in their sin.
God judges wickedness like this with fire. I have said for many years that NK might be a rod-of-judgment against the US. One thing is for sure, war with NK is very close.
Isaiah 1:7  Your country is desolate, your cities are burned with fire: your land, strangers devour it in your presence, and it is desolate, as overthrown by strangers.

"Over the past year, technological advances in North Korea's nuclear and missile programs have dramatically raised the stakes in the years-long standoff between the United States and the reclusive communist regime, according to current and former U.S. officials and ­Korea experts. Pyongyang's growing arsenal has rattled key U.S. allies and spurred efforts by all sides to develop new first-strike capabilities, increasing the risk that a simple mistake could trigger a devastating regional war, the analysts said.
The military developments are coming at a time of unusual political ferment, with a new and largely untested administration in Washington and with South Korea's government coping with an impeachment crisis. Longtime observers say the risk of conflict is higher than it has been in years, and it is likely to rise further as North Korean leader Kim Jong Un seeks to fulfill his pledge to field long-range missiles capable of striking U.S. cities."
Health and Nutrition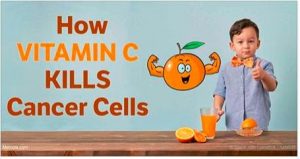 Vitamin C May Be a Potent Adjunct to Cancer Treatment 03/11/17
3 John 1:2  Beloved, I wish above all things that thou mayest prosper and be in health, even as thy soul prospereth.

"Vitamin C is one of the most well-established traditional antioxidants known and its potent health benefits have been clearly demonstrated over time — especially for the prevention and treatment of infectious diseases.
Research has also shown that vitamin C is selectively cytotoxic to cancer cells when administered intravenously (IV) in high doses, and has a number of heart- and cardiovascular benefits.
From my perspective, vitamin C is a very useful supplement that should be part of most cancer treatment protocols. Vitamin D is another crucial anti-cancer component I've written about on numerous occasions.
How Vitamin C Kills Cancer Cells
In order for vitamin C to effectively kill cancer cells, you need to have a very high concentration of vitamin C in your blood, and the only way to obtain these extreme levels is through IV administration, although using oral liposomal vitamin C can approach effectiveness at a fraction of the price, improved convenience and cost.
By bypassing the digestive tract, IV administration results in blood levels up to 500 times higher than what you can achieve through the oral route.
The mechanism behind vitamin C's ability to selectively target cancer cells has to do with the generation of hydrogen peroxide, which is ultimately what kills the cancer cells."

Joshua 20:8  And on the other side Jordan by Jericho eastward, they assigned Bezer in the wilderness upon the plain out of the tribe of Reuben, and Ramoth in Gilead out of the tribe of Gad, and Golan in Bashan out of the tribe of Manasseh.