North Korea Begins Tests to Load Anthrax Onto ICBMs, Report Says
Verse of the Day
Luke 21:11 And great earthquakes shall be in divers places, and famines, and pestilences; and fearful sights and great signs shall there be from heaven.
Commentary
There is no let up from the war rhetoric coming from Kim and President Trump. The United Nation's sanctions are starting to really hit the NK economy. In the mean time, Kim is preparing his chemical and biological weapons for war. It appears that to gain the advantage over NK, the US will need a huge first strike. This is a big gamble, but Kim can't be allowed the time to fire missiles loaded with all these types of WMD!
It looks like 2018 is going to be a decisive year in the Pacific.
May the Holy God of Israel bless and protect you.
Isaiah 66:15,16 For, behold, the LORD will come with fire, and with his chariots like a whirlwind, to render his anger with fury, and his rebuke with flames of fire. For by fire and by his sword will the LORD plead with all flesh: and the slain of the LORD shall be many.
World War 3/  North Korea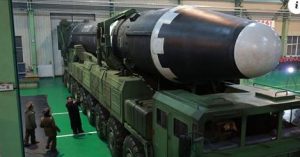 North Korea Begins Tests to Load Anthrax Onto ICBMs, Report Says 12/20/17  Kim is thinking of new ways to use his WMD! This is not going to end well.
"North Korea has begun tests to load anthrax onto intercontinental ballistic missiles, Japan's Asahi newspaper reported Tuesday, citing an unidentified person connected to South Korea's intelligence services.
The report said the testing involves ensuring the anthrax survives the immense temperatures generated during re-entry into the Earth's atmosphere. North Korea has a stockpile of between 2,500 tons to 5,000 tons of chemical weapons, and is capable of producing biological agents such as anthrax and smallpox, South Korea has previously said.
The Asahi report comes a day after the White House published its National Security Strategy, a document that said Pyongyang is "pursuing chemical and biological weapons which could also be delivered by missile." "North Korea — a country that starves its own people — has spent hundreds of millions of dollars on nuclear, chemical, and biological weapons that could threaten our homeland," the report said."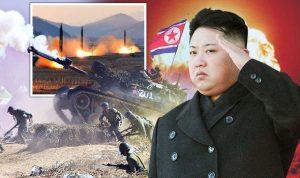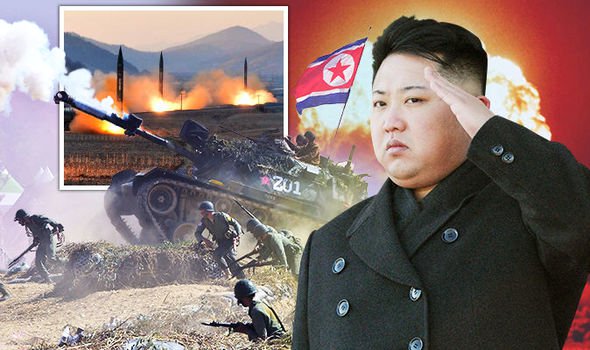 NORTH KOREAN WARNING: KIM'S SUICIDE BOMBER ARMY ready to 'infiltrate free world' warns defector 12/20/17  Kim might have numbers of suicide bombers ready to attack if war starts. It appears Kim is trying to shrink the nuclear weapons to backpack size. This is so they can be smuggled into a country and then used!
"North Korea has a secret army of brainwashed "robots" who "live and die" for despot Kim Jong-un, the London-based defector revealed.
Joo-il Kim exclusively told Express.co.uk North Korea was not militarily strong enough to bomb their rivals in the traditional sense but were ready to "infiltrate the free world" with a crack squad of suicide bombers.
Mr Kim, who lives in New Malden, south London along with a hundreds-strong population of other North Korean defectors, explained the group of specially-selected killers were the hermit state's biggest asset.
He said: "The top level leaders won't wage war. They know they can't win the war. "But there is a secret group, secret armies, undercover armies inside North Korea. They were picked by the military leaders and nurtured to be weapons and terrorists."
He said these soldiers were so devoted to Kim they would give their lives for him. He compared them to "robots" who had no thoughts of their own and merely obeyed North Korea's dictatorial administration."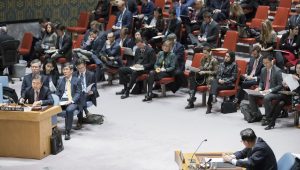 North Korea vows to 'march forward' with nuclear program to protect itself from US 12/16/17  The confrontation appears set for war. I still believe that China and Iran are totally supporting NK with the possibility of Russia also supporting them. These nations have everything to gain and nothing to lose.
Revelation 19:11-12 And I saw heaven opened, and behold a white horse; and he that sat upon him was called Faithful and True, and in righteousness he doth judge and make war. (12) His eyes were as a flame of fire, and on his head were many crowns; and he had a name written, that no man knew, but he

"North Korea needs its nuclear program to protect itself from the U.S. nuclear threat, and therefore will "march forward" with its program in defiance of international objections, a senior diplomat told the United Nations Security Council on Friday.
"Our possession of nuclear weapons was an individual self-defensive means of defending our sovereignty and right of existence and development from the U.S. nuclear threat," said Ja Song Nam, the North Korean permanent representative to the United Nations. "If anyone is to blame for it, the U.S. is the one who must be held accountable." "[North Korea] will march forward and make great advancement [in its weapons program]," he added.
Hard Left
REPORT: Fed Agency Committed 'Militaristic' Operation Against Nevada Rancher 12/20/17  Finally, a report has come out about the outrageous military tactics used by Federal agents of the Bureau of Land Management (BLM)! They acted just like the corrupt FBI agents defending Hillary and going after President Trump.
What we need is an investigation of these corrupt BLM agents and the US Attorney's Office who supported what they were doing. The solution to the problem with BLM is for the federal government to turn over vast amounts of federally controlled land to the state and local governments. The smaller the federal government the better. Remember, all this happened under Obama.
Revelation 22:20  He which testifieth these things saith, Surely I come quickly. Amen. Even so, come, Lord Jesus.

"An investigation into the Bureau of Land Management's (BLM) handling of the 2014 Nevada standoff with rancher Cliven Bundy revealed "incredible bias," widespread misconduct and likely illegal actions by the BLM.
Prosecutors shared the report with the Bundys' defense attorneys, prompting a petition to Judge Gloria Navarro for a mistrial, or for the case to be dismissed altogether, The Oregonian reports. Navarro's judgement is expected to come down Wednesday.
The investigation's report, made by BLM Special Agent Larry Wooten and addressed to the Department of Justice, was publicized last week after Washington state Rep. Matt Shea posted it on his Facebook page, according to The Wall Street Journal.
Wooten's 18-page report discussed some of what he witnessed during his three-year investigation, such as a BLM agent's "kill list" featuring people who had committed suicide while under investigation by the agency, BLM agents and officials referring to the Bundys as "retards" and "douche bags," agents bragging about "grinding" a Bundy family member's face into gravel, and lead prosecutor and Nevada's acting U.S. Attorney Steve Myhre's "preferred ignorance" of investigation details that would benefit the Bundys' defense case."
Hard Left/ American Politics/ ProLife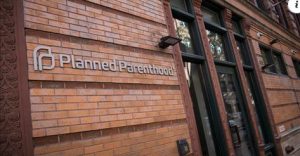 Planned Parenthood rips Trump for CDC ban on using the word 'fetus' 12/16/17  PP uses the term fetus instead of baby because fetus is a way of dehumanizing the baby in the womb. No woman says I'm pregnant with an 8 week fetus! The word used is always baby, but when it comes to killing the baby in the womb, all of a sudden it is called a fetus.
I think this is wonderful and makes PP and their ilk use the words that actually state what they are doing: killing a baby in the womb! If it is kept then the word is baby, but if it is aborted, then it is a fetus.
Luke 1:41  And it came to pass, that, when Elisabeth heard the salutation of Mary, the babe leaped in her womb; and Elisabeth was filled with the Holy Ghost:

"Planned Parenthood blasted the Trump administration on Saturday after senior officials at the Centers for Disease Control and Prevention (CDC) reportedly distributed a list of "forbidden" words and phrases that includes terms like "fetus" and "evidence-based."
In a statement, Dana Singiser, the group's vice president of public policy and government relations, called the move "unimaginably dangerous" and "reckless," saying that it would hinder the agency's ability to address public health matters.
"It is unimaginably dangerous to forbid the Centers for Disease Control and Prevention from speaking about things essential to Americans' health," she said. "This edict doesn't just mean a change in vocabulary. It means the Trump-Pence administration is trying to make a radical change in the focus of the entire agency."
The Washington Post reported Friday that the list of words and phrases was distributed to policy analysts at the CDC and bars them from using such terms in official documents being prepared for the 2019 budget."
Jerusalem/ American Politics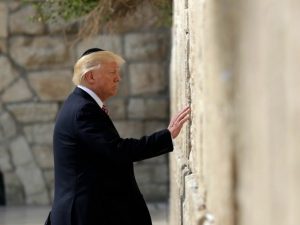 White House Signals Support for Western Wall Being Part of Israel Following H.R. McMaster's Refusal to Clarify Issue 12/16/17  This is wonderful because President Trump is taking the lead over Jerusalem and overriding his assailant who is not on board with him! He is doing everything correctly with Jerusalem and acting with both boldness and decisiveness! He is bringing blessing on himself and on the nation!
Psalm 122:6  Pray for the peace of Jerusalem: they shall prosper that love thee.

"Furthering President Donald Trump's historic recognition of Jerusalem as Israel's capital, the White House on Friday clarified its view that it expects the Western Wall to be officially declared a part of Israel in a future deal with the Palestinians.
"We cannot envision any situation under which the Western Wall would not be part of Israel. But as the president said, the specific boundaries of sovereignty of Israel are going to be part of the final status agreement," a senior administration official stated in a conference call with reporters."
Jerusalem/ As the World Has Done to Israel
176 nations at UN call for Palestinian statehood 12/20/17  The Lord is waiting for the day when all the nations of the world unite against Jerusalem to destroy it! This united effort will trigger the Second Coming of Jesus Christ with the armies of heaven!
Zechariah 12:3  And in that day will I make Jerusalem a burdensome stone for all people: all that burden themselves with it shall be cut in pieces, though all the people of the earth be gathered together against it.

"The General Assembly voted 176-7 on Tuesday to affirm the Palestinian right to self-determination, one day after Palestinian Authority President Mahmoud Abbas pledged to renew his quest for state membership in the international body.
The vote is nonbinding and has no impact beyond underscoring international support for Palestinian statehood among most of the UN's 193 members. The United States, Canada and Israel were among the seven that opposed the text; four states abstained.
While the General Assembly approves a similar text each year, PLO Ambassador to the UN Riyad Mansour said this year's vote had to be seen within the context of international opposition to US President Donald Trump's declaration that Jerusalem is the capital of Israel.
The Coming Middle East War/ Iran
Missile attack escalates tensions between Saudi Arabia and Iran 12/20/17  Iran is not backing down and is on a course for war with Saudi Arabia. If this missile had gotten through it could have started the war! The Shiite vs. Sunni war has to be very close!
"Tensions are escalating between Saudi Arabia and Iran following a missile attack on the Saudi capital Riyadh. Saudi air defences intercepted the ballistic missile in the skies over the city in an incident that is jangling nerves across the region.
The attack comes the week after the Trump administration presented evidence it says shows Iran supplied another missile launched at Riyadh's international airport last month.
And it comes as a video has gone viral, apparently made in Saudi Arabia, which visualises open conflict between the two sides. So what is going on?
Saudi Arabia and Iran back opposing sides in neighbouring Yemen's nasty civil war."
Fires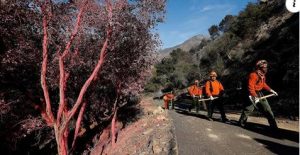 The Thomas fire is now the second largest in modern California history 12/20/17  This article is just the latest update on the California fires. The big one is still burning and expected to burn into January!
"After a brief respite from the relentless gusts that have driven the deadly Thomas fire for more than two weeks, powerful winds are expected to return, adding to the challenges facing firefighters working to contain the mammoth blaze.
The fire, which began near Santa Paula in the foothills above Thomas Aquinas College on Dec. 4, has burned through 272,000 acres as of Tuesday evening, making it the second-largest wildfire in modern California history. On Tuesday, the Thomas fire surpassed the lightning-sparked Rush fire, which burned 271,911 acres in Lassen County in 2012. The Thomas fire was 55% contained, and fire officials do not anticipate full containment until Jan. 8, according to the California Department of Forestry and Fire Protection."
Health and Nutrition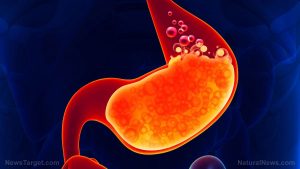 New research finds that MS, the most common inflammatory disease of the central nervous system, may be triggered by an imbalance in gut flora 12/16/17  What is becoming evident is that one of the major keys to your health is the intestinal gut flora. Through the years, I have posted a lot about the flora. Scientists keep finding more evidence of just how important the flora is. This finding is yet another example of the flora's importance. See the blog at God's Health System for more good information about staying healthy.

3 John 1:2  Beloved, I wish above all things that thou mayest prosper and be in health, even as thy soul prospereth.

"Intestinal flora may be the key to understanding how multiple sclerosis develops. Previous assumptions held that MS was a mostly genetic problem, prompting physicians to closely examine DNA. New research, however, has shown that autoimmune diseases such as multiple sclerosis, are brought about by a combination of environmental and genetic factors, the catalyst of which could be the balance of the gut microbiome.
Should this be further verified, it could help neuroimmunologists design better treatment plans for MS patients and more importantly, craft simple and more natural preventive plans."

Ephesians 5:6-8  Let no man deceive you with vain words: for because of these things cometh the wrath of God upon the children of disobedience. Be not ye therefore partakers with them. For ye were sometimes darkness, but now are ye light in the Lord: walk as children of light: