Palm Springs Becomes First City Council in Nation to Be All Homosexual, Bisexual or Transgender
Verse of the Day
 2 Peter 2:6 And turning the cities of Sodom and Gomorrha into ashes condemned them with an overthrow, making them an ensample unto those that after should live ungodly;

Commentary
Although President Trump is doing many wonderful things, like recognizing as the capital of Israel, there are termites eating away at the core of America. The homosexual agenda with all its spin offs, like transgendered,  is operating at full speed with no letup in sight. If this is unchecked it will bring society down. The only way to check this agenda is through an outpouring of the Holy Spirit. Almost all the major cities in America are completely given over to homosexuality.
May the Holy God of Israel bless and protect you.
Hebrews 11:9,10 By faith he sojourned in the land of promise, as in a strange country, dwelling in tabernacles with Isaac and Jacob, the heirs with him of the same promise: for he looked for a city which hath foundations, whose builder and maker is God.
Hard Left/ Homosexuality/ Transgendered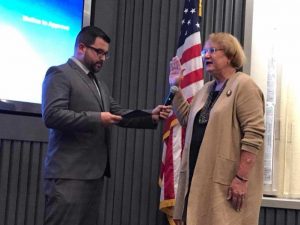 Palm Springs Becomes First City Council in Nation to Be All Homosexual, Bisexual or Transgender 12/17/17  This city is very close to the San Andreas Fault, and I wonder when this fault breaks if will start at Palm Springs?
Jude 1:7  Even as Sodom and Gomorrha, and the cities about them in like manner, giving themselves over to fornication, and going after strange flesh, are set forth for an example, suffering the vengeance of eternal fire.

"The City of Palm Springs, California has sworn in a man who identifies as a woman, as well as a woman who identifies as bisexual, making its city council all-"LGBT" as its other three members identify as homosexual.
Lisa Middleton, a man who identifies as a woman (pictured), and Christy Holstege, an attorney who identifies as bisexual, were both sworn in on Wednesday after being elected last month.
They join Mayor Robert Moon and Councilman Geoff Kors, who both are "married" to men, and Councilman J.R. Roberts, who likewise identifies as homosexual."
World War 3/ North Korea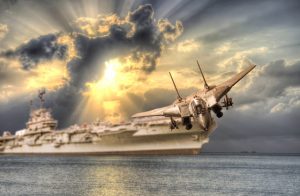 WW3: China Mobilizes Military, Warns Of War With North Korea By March 12/19/17  China is preparing for war with the United States. Anything else is just propaganda. China has nothing to lose in the coming war and everything to gain. If China is mobilizing its army near NK, then it is to defend NK against the US. This sounds like WW3.
Luke 21:9-10  But when ye shall hear of wars and commotions, be not terrified: for these things must first come to pass; but the end is not by and by. Then said he unto them, Nation shall rise against nation, and kingdom against kingdom.

"A top Chinese general has warned that a war with North Korea could break out anytime. Because of the possibility of another world war by March, the general is suggesting the Chinese military mobilized their troops on the border with North Korea.
To prepare for a conflict that could break out anytime between now and March, Lieutenant General Wang Gongguang claims that China should mobilize their military might sooner rather than later. The Global Times, the English-language outlet of the Beijing government's state-run mouthpiece People's Daily China, reports the official is warning of the need to be "mentally prepared for [war] anytime".
"China should be psychologically prepared for a potential Korean War, and the Northeast China regions should be mobilized for that," said General Wang. He is also urging the deployment of antimissile systems and troops in the border area with North Korea in anticipation of conflict between North and South Korea, and others such as Japan and the United States."
World War 3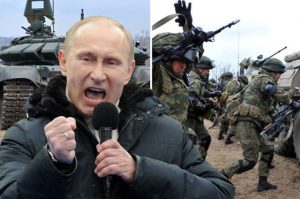 Putin Stockpiles Nukes And Tanks Ahead Of WW3: 'The Main Target….Is The US' 12/19/17  There was a lull in the war rhetoric but war drums once again are beating. Once more, the talk is full of war. I am very glad that we have President Trump, but the military was so weakened under Obama that I wonder how effective it is? So many of his general are still in place and along with pushing transgendered into the ranks that I wonder can we win a war?
"Russian president Vladimir Putin is bracing himself and his country for a third world war by stockpiling tanks and nuclear weapons. Russia has also carried out joint military drills with China, Russia admitted the main target of the joint exercise is the United States.
As tensions around the globe rise to almost intolerable levels, some nations are preparing to take the United State's place on the top as a military superpower. The country's Defence Ministry will prioritize the stockpiling of nukes, tanks, and army hardware until 2027. But this isn't the first time Putin has decided to stockpile weapons of mass destruction. In 2016, the Daily Beast reported that as Barack Obama disarmed the United States' nuclear weapons, Putin added more.
Russia will also expand, modernize, and upgrade their underground bunkers in preparation for a devastating third world war. Russia is fortifying the underground facilities for command and control during a nuclear conflict. One official said the alarming expansion indicates Russia is preparing to break out of current nuclear forces constraints under arms treaties, including the 2010 New START and 1987 Intermediate-range Nuclear Forces (INF) treaties. Russia has since violated the INF accord by testing an illegal ground-launched cruise missile."
Jerusalem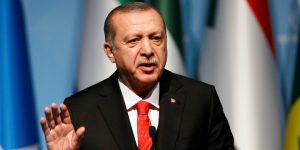 Erdogan: Turkey Seeking to Annul Trump Recognition of Jerusalem as Israel's Capital at UN 12/17/17  Erdogan is not giving up in his attempt to block the US recognition of Jerusalem as the capital of Israel. Remember, he wants Jerusalem back under Islamic control as part of the revived Ottoman Empire. I can see this festering with him until it leads to war with Israel. He wants Jerusalem.
Joel 3:16  The LORD also shall roar out of Zion, and utter his voice from Jerusalem; and the heavens and the earth shall shake: but the LORD will be the hope of his people, and the strength of the children of Israel.

"Turkey is launching an initiative at the United Nations to annul a decision by the United States to recognize Jerusalem as Israel's capital, President Recep Tayyip Erdogan said on Friday.
Erdogan was speaking two days after a Muslim leaders meeting in Istanbul condemned US President Donald Trump's decision, calling on the world to respond by recognizing eastern Jerusalem as the capital of a Palestinian state.
"We will work for the annulment of this unjust decision firstly at the UN Security Council, and if a veto comes from there, the General Assembly," Erdogan told crowds gathered in the central Anatolian city of Konya via teleconference.
The United States is a permanent Security Council member with veto powers, meaning any move to overturn Washington's decision at the council would certainly be blocked."
Fires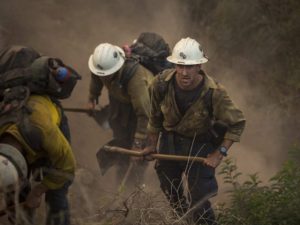 Santa Barbara a 'Ghost Town' as Residents Flee, Firefighters Battle Thomas Fire 12/17/17  This is like a never ending fire, but it appears this fire is now heading into cities and may do additional incredible damage. The California fires may be a harbinger of what is coming to this state and other states as they go deeper into sin and rebellion.
Isaiah 1:7  Your country is desolate, your cities are burned with fire: your land, strangers devour it in your presence, and it is desolate, as overthrown by strangers.

"Downtown Santa Barbara, normally a vibrant holiday destination, is virtually empty as residents have evacuated the area ahead of the advancing Thomas fire, which continues to spread west, though firefighters are making progress.
"[R]esidents piled into cars and fled on Saturday, turning downtown Santa Barbara into what one resident called 'a ghost town'," SFGate.com reported early Sunday. Some parts of the city were under mandatory evacuation orders, and the zoo prepared to evacuate animals if necessary.
The Thomas fire is now the third-largest in the history of California, exceeding 267,000 acres, according to the Los Angeles Times."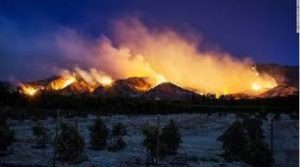 Winds fuel California wildfire, state's 3rd largest on record 12/16/17  This fire is extremely dangerous and is burning with no end in sight. I have said many times that this state is in God's crosshairs of judgment. God's people should think about getting out.
"A raging California wildfire on Saturday became the state's third largest blaze on record, with more devastation possible from a resurgence of the harsh winds that have fueled the deadly fire since the beginning of the month.
The so-called Thomas Fire has destroyed more than 1,000 structures, including about 750 homes, in coastal communities in Southern California since erupting on Dec. 4, the California Department of Forestry and Fire Protection said in a statement.
Authorities described the current conditions as "critical fire weather," including returning winds and extremely low humidity. Coastal Santa Barbara and more sparsely populated inland areas were of special concern, authorities said."
Hard Left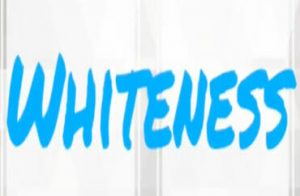 University teaches white employees how to overcome the 'discomfort' of being white 12/19/17  How long before this Hard Left delusion is taken from the madness of colleges and spills over into main society? The Hard Left all think alike in their delusions. Is this just a fad, or is it their new reality?
Revelation 22:20  He which testifieth these things saith, Surely I come quickly. Amen. Even so, come, Lord Jesus.

"A two-day professional development conference held recently at the University of Michigan included a training session that aimed to help white employees deal with their "whiteness" so they could become better equipped to fight for social justice causes, according to organizers.
Participants who took part in the "Conversations on Whiteness" session, held December 5 during the university's Student Life Professional Development Conference, were taught to "recognize the difficulties they face when talking about social justice issues related to their White identity, explore this discomfort, and devise ways to work through it," the university's website states.
The goal was to help participants in "unpacking Whiteness" to support students and staff with issues and efforts "related to identity and social justice," the website added."
"UK Teacher Punished Over 'Slip of Tongue' in 'Misgendering' Student Takes School to Employment Tribunal 12/19/17  This is from Britain, but the Hard Left is the same here. GB is just a few years ahead of America in its insanity.
Gender was created by God, but the reprobates hate male and female because it is God's creation. What they want to do is for anyone to make up whatever gender they feel like or have no gender at all. Notice how serious they are in attacking God's genders that they want to punish this teacher for simply saying "girls!"
Genesis 5:1-2  This is the book of the generations of Adam. In the day that God created man, in the likeness of God made he him; Male and female created he them;

"A math teacher in the U.K. who was recently punished for saying "Well done, girls" to a group of students in forgetting that one of the girls prefers to be identified as a boy has taken his case to an employment tribunal.
Following an investigation, Joshua Sutcliffe, an associate pastor at Christ Revelation Church in Oxford, was found to have "contravened the school's equality policy" by "demonstrating discriminatory behaviors." The suspended teacher was to have faced a disciplinary hearing, which was postponed as officials added on accusations of breach of confidence and bringing disrepute on the school for taking the matter public."
American Politics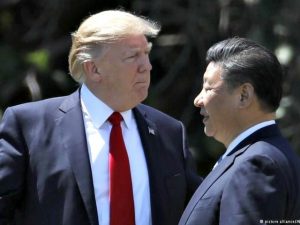 Five Ways Donald Trump's National Security Strategy Challenges China 12/19/17  This is a good agenda by the President, but it is 20 years too late. The problem started with Bill Clinton and has continued until today. All the presidents sold out the nation. Obama was the worst, but China now has all it needs for war.
"President Donald Trump's administration has published the 2017 National Security Strategy, the first of this presidency. The document focuses heavily on the threat communist China poses to American influence on trade, defense, technology, and human rights.
In its introduction, the document identifies China as working to "challenge American power, influence, and interests, attempting to erode American security and prosperity." Both China and Russia, it argues, "are determined to make economies less free and less fair, to grow their militaries, and to control information and data to repress their societies and expand their influence."
Islam
Woman Accuses 'Feminist' Linda Sarsour of Enabling Sexual Assault Under Her Watch as Leader of Pro-Palestinian Group 12/19/17  This woman hates America and Israel and will do anything to advance the Muslim agenda.
What I glean from this article is that she treats Muslim women just like Muslim men would. Her goal is to advance the agenda to destroy America and Israel, so she cares nothing about women. She will use women for her agenda but she does not care about them as persons. She has the Muslim view of women in her core, even though she is a woman! She is a very dangerous woman.
Ephesians 5:25  Husbands, love your wives, even as Christ also loved the church, and gave himself for it;

"Anti-semitic, pro-Palestinian activist Linda Sarsour has been accused of allowing a woman who worked for her to be sexually assaulted and harassed. The woman also said Sarsour threatened her if she went public with the charges.
The woman who made the claim, Asmi Fathelbab, worked at the time with Sarsour, who was executive director of the Arab American Association, the Daily Caller reported.
Fathelbab said after she started working with the association as a contractor in 2009 she was groped and physically attacked by a man who also worked there. But her reports to leadership at the association were ignored and, she claims, Sarsour dismissed them outright.
"She called me a liar because 'Something like this didn't happen to women who looked like me,'" Fathelbab told the Daily Caller. "How dare I interrupt her TV news interview in the other room with my 'lies.'"

Philippians 4:6-7  Be careful for nothing; but in every thing by prayer and supplication with thanksgiving let your requests be made known unto God. And the peace of God, which passeth all understanding, shall keep your hearts and minds through Christ Jesus.