Russia taunts US with biggest military offensive since the Cold War
Verse of the Day
2 Thessalonians 2:7 For the mystery of iniquity doth already work: only he who now letteth (hold back) will let (hold back), until he be taken out of the way. And then shall that Wicked be revealed, whom the Lord shall consume with the spirit of his mouth, and shall destroy with the brightness of his coming:
Commentary
Once again, the lead article is about the tensions of war growing between Russia and the USA. This is real and the slightest incident could ignite WW3. Putin has warned Obama, but Obama is in a delusion so it is impossible to tell what he is going to do.
No matter what happens, keep your spiritual eyes focused on the Lord Jesus and his coming for us. This is reality.
May the Holy God of Israel bless and protect you.
Micah 4:3,4 And he shall judge among many people, and rebuke strong nations afar off; and they shall beat their swords into plowshares, and their spears into pruninghooks: nation shall not lift up a sword against nation, neither shall they learn war any more. But they shall sit every man under his vine and under his fig tree; and none shall make them afraid: for the mouth of the LORD of hosts hath spoken it.
World War 3
Russia taunts US with biggest military offensive since the Cold War 10/19/16  This is a trial run, testing the readiness of the entire Russian military.
"Russia has begun its biggest surface deployment since the end of the Cold War as it aims to effectively end the war in Syria on the eve of the US election, Nato officials warned last night.
The Kremlin is sending the full might of its Northern Fleet and part of the Baltic Fleet to reinforce a final assault on the city of Aleppo in a fortnight, according to Western intelligence.
The final bombardment is designed to shore up the Assad regime by wiping out rebels – paving the way for a Russian exit from the civil war.
The assault on the city will also serve to highlight US inaction in the run-up to election day and may aid Donald Trump.
Yesterday, ahead of this morning's debate with Hillary Clinton, his presidential campaign released a letter from defence experts backing plans to increase the size of the US military.
Royal Navy warships are due to escort a group of eight Russian warships, including the country's only aircraft carrier, as they sail past the UK on their way to the Mediterranean."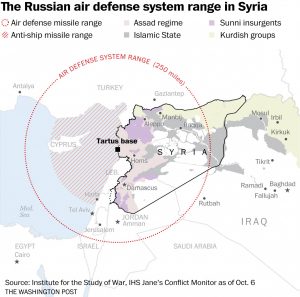 Russian air defense raises stakes of U.S. confrontation in Syria 10/19/16  This is another great article showing the military situation between the USA and Russia in Syria. In following what is happening, it like watching a slow-motion train wreck! It appears that WW3 is coming in slow-motion, with no way to stop it.
"Russia's completion this month of an integrated air defense system in Syria has made an Obama administration decision to strike Syrian government installations from the air even less likely than it has been for years, and has created a substantial obstacle to the Syrian safe zones both Hillary Clinton and Donald Trump have advocated.
Deployment of mobile and interchangeable S-400 and S-300 missile batteries, along with other short-range systems, now gives Russia the ability to shoot down planes and cruise missiles over at least 250 miles in all directions from western Syria, covering virtually all of that country as well as significant portions of Turkey, Israel, Jordan and the eastern Mediterranean.
By placing the missiles as a threat "against military action" by other countries in Syria, Russia has raised "the stakes of confrontation," Secretary of State John F. Kerry said Sunday."
Putin's Puritan Piety: The Ideological War against the West 10/09/16  This is a real eye-opening article. I gained great insight into the Russian thinking compared to that of the West. This tension between Russia and the West building toward WW3 is much more than just for military power.
The Russians see the West as decadent, while the Russians are the saviors of the family unit and much more. With Obama and the Hard Left reprobates in power over America, I can see why the Russians think like they do.

I have mentioned many times, that Russia just might be God's "rod-of-judgment" against decadent America and Europe, just as the Babylonians were God's judgment against decadent ancient Israel.
Jeremiah 25:9  Behold, I will send and take all the families of the north, saith the LORD, and Nebuchadrezzar the king of Babylon, my servant, and will bring them against this land, and against the inhabitants thereof, and against all these nations round about, and will utterly destroy them, and make them an astonishment, and an hissing, and perpetual desolations.

"Russia is one of the few countries in the Western world in which religion is becoming increasingly important and not less.
To establish his authority on the Russian society, President Vladimir Putin has shaped a doctrine mobilizing the entire Russian society against a perceived Western "decadence". He has declared that Russian traditional family values are a bulwark against the West's "so-called tolerance — genderless and infertile."
The first Cold War was a clash between Western democracy and the Soviet dictatorship of the proletariat. The new Cold War is a one between Western liberalism and Russian conservatism."
American Politics/ New World Order – World Government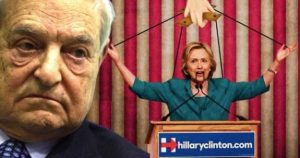 Liberal Billionaire George Soros Mentioned Over 50 Times In Leaked Hillary Campaign Emails 10/19/16  Soros is beyond evil. Whatever is evil he promotes, and he is acting behind the scenes with Hillary and the Democratic Party. If Hillary is elected, we get Soros with her. It's a package deal.
"The liberal billionaire funder, who has been tied to a globalist elite pushing the Muslim migrant crisis and multiculturalism onto Western societies, comes up a lot in private discussions between top Hillary Clinton campaign officials.
A search by American Lookout showed Soros has been mentioned at least 56 times throughout the 11 batches of emails put out by Wikileaks which show collusion between elites, the mainstream media and the Hillary campaign.
Likewise, Soros was directly mentioned in multiple subject headlines on emails, often times requesting a meeting with top Clinton official, John Podesta."
Hard Left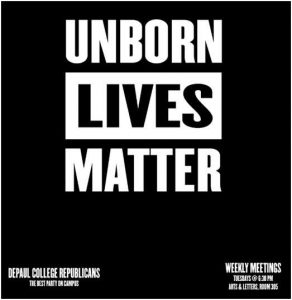 Catholic university blasts 'Unborn Lives Matter' posters as 'bigotry,' bans them on campus 10/19/16  What I think is behind this is cowardliness. The administration of this school is afraid that Black Lives Matter supporters will protest, and they don't have the courage to stand up.
You're looking at the vast amount of administrators in academia as cowards.
Proverbs 28:1 The wicked flee when no man pursueth: but the righteous are bold as a lion.

"College Republicans at DePaul University were prohibited by the university president from displaying posters on campus advertising their group with the pro-life message, "Unborn Lives Matter."
Vincentian Father Dennis Holtschneider indicated to the university community on Friday in a letter that the "Unborn Lives Matter" message constituted "bigotry" occurring "under the cover of free speech," The Daily Wire reports.
Father Holtschneider, president of the nation's largest Catholic university since 2004, went on to mention the recent banning of a speaker and asking students to redesign another banner that reportedly "provokes the Black Lives Matter" movement in his rationale, and linked to the University's "Guiding Principles on Speech and Expression" document before asking students to consider a statement that apparently assumes the Unborn Lives Matter message is hurtful and inconsistent with Catholic values.
"We accept that there is a distinction between being provocative and being hurtful," he said. "Speech whose primary purpose is to wound is inconsistent with our Vincentian and Catholic values."
Ben & Jerry's declare support for Black Lives Matter, calls for ice cream boycott ensue 10/09/16  I very seldom eat ice cream, but from now on when I do it will not be Ben and Jerry's brand,
"Ben & Jerry's has never shied away from weighing in on prominent social and political causes. Now the Vermont-based creamery has officially weighed in one of America's most contentious movements: Black Lives Matter.
On Thursday, the ice cream maker sent out a Tweet proclaiming solidarity with the Black Lives Matter movement.
"Black Lives Matter. Choosing to be silent in the face of such injustice is not an option."
The Tweet, which has been liked over 30,000 times, was accompanied by a lengthy statement on systemic and institutionalized racism and called for others to join their cause by not standing idly by and to engage in meaningful action.
"Systemic and institutionalized racism are the defining civil rights and social justice issues of our time," says the statement signed by Your Friends at Ben & Jerry's. "We've come to understand that to be silent about the violence and threats to the lives and well-being of Black people is to be complicit in that violence and those threats."
Christianity
Tim Hawkins – Atheist Kids' Songs 10/07/16  There is so much truth in the humor of these songs! Tim speculating on worship songs in atheist megachurches – very funny, and we all could use a good laugh.
Psalm 53:1 The fool hath said in his heart, There is no God. Corrupt are they, and have done abominable iniquity: there is none that doeth good.
Islam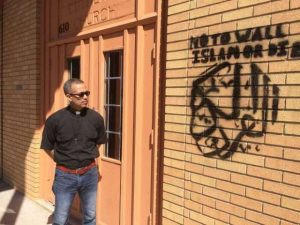 'Islam or Die' Reportedly Tagged on Texas Churches 10/11/16  Events like this could be a sign of what is coming to American churches from Muslims. Muslims can't let churches be free like they've always been here in America. Every church needs armed protection and plans for what to do if attacked.
"San Antonio news outlets are reporting that two area churches were defaced by vandals. Identical graffiti on the structures reads: 'No to wall' and "Islam or Die" with an unknown symbol stenciled beneath.
These incidents purportedly occurred in San Antonio on Monday at Gethsemane Lutheran Church and Saint Gregory the Great Catholic Church. On both, black spray painted messages read in capitalized letters: "No to wall" and "Islam or Die," along with an unidentified image, according to KABB."
Jerusalem
Archaeology 101: Jews and the Temple Mount 10/19/16  This is a great article giving overwhelming proof that the historical Jerusalem was always part of Israel. There is fascinating information in this article.
Zechariah 12:6 In that day will I make the governors of Judah like an hearth of fire among the wood, and like a torch of fire in a sheaf; and they shall devour all the people round about, on the right hand and on the left: and Jerusalem shall be inhabited again in her own place, even in Jerusalem.

"The United Nations Educational Scientific and Cultural Organization (UNESCO) Thursday adopted a biased and political resolution that disregards Judaism's historic connection to the Temple Mount, casts doubts regarding the Jewish connection to the Western Wall, and protests against the Israel Antiquities Authority's attempts to supervise construction work on and around the Temple Mount in order to preserve the antiquities and other archaeological data.
This is a purely political resolution that was formulated by Palestinian officials and that was accepted by UNESCO as is. It seeks only to preserve the heritage of Islam, and while this is important, UNESCO must not do this at the expense of Jewish and Christian heritage and culture. This resolution does not recognize the daily reality of Jerusalem or the Temple Mount, and its political agenda is in opposition to UNESCO's own charter and mission to protect and promote science, culture, education and heritage."
Earthquakes
10/18/2016 — Major Earthquake Unrest — Japan, W. Pacific, California on Watch — Italy imminent  This is a great teaching by Dutch Sinse; this man has a handle on what is causing earthquakes and the SCIENCE of predicting them. Right now Japan is the target for a huge earthquake or a series of small quakes to release the pressure.
Psalm 51:12  Restore unto me the joy of thy salvation; and uphold me with thy free spirit.