Son of Satan – Sarmat RS-28 AKA Satan-2 Missile – The Most Destructive Missile Ever Made
         

                                  Verse of the Day
 Matthew 24:6 And ye shall hear of wars and rumours of wars: see that ye be not troubled: for all these things must come to pass, but the end is not yet. (7) For nation shall rise against nation, and kingdom against kingdom: and there shall be famines, and pestilences, and earthquakes, in divers places.

Commentary
The specter of war is falling over Europe. The Russian military is getting stronger by the month, while Europe is melting away in its sin. Putin is angry against the newly-enacted European missile shield and he mentioned nuclear war! God's judgment of Europe is really manifesting; internally the Muslims are destroying the continent, while the Russian bear has all the military power to destroy Europe. And under Obama, America is powerless to stop it. The sin of Europe has reached the throne of God.
May the Holy God of Israel bless and protect you.
1 Thessalonians 5:23 And the very God of peace sanctify you wholly; and I pray God your whole spirit and soul and body be preserved blameless unto the coming of our Lord Jesus Christ.
World War 3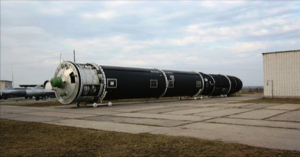 Son of Satan – Sarmat RS-28 AKA Satan-2 Missile – The Most Destructive Missile Ever Made 05/12/16  This missile is coming on-line at the very time Obama is forcing acceptance of the transgendered in the bathrooms! The homosexual, LGBT, etc. agenda is in full swing in America, while the Russian military is getting more powerful.
God destroys nations like America for tampering with His institution of marriage, so this should get our attention. In the mean time, the Church, with the exception of a few, has been spiritually anesthetized and still fails to cry out for national repentance before the Lord.
America has little prayer cover over the nation, which is virtually demanding God's judgment by promoting the very sins for which God destroys nations. Russia may very well be God's "rod-of-judgment" against America.
Isaiah 26:9  …for when thy judgments are in the earth, the inhabitants of the world will learn righteousness.

"In December 2014 the RSMF confirmed that the Satan-2 will be able to carry 10 hypersonic strategic missiles. According to Yuri Borisov, the new ICBM's range will be greater than 11,000 km or 6835 miles.
Just to give you an idea, Moscow to New York is approximately 4660 miles apart, 1770 miles more and you will hit Denver. So the new Satan-2 has the capability of hitting Denver from Moscow if we were fired upon.
But that is not all. The distance that the missile can fly is one thing, the real danger is in the payload.
The Satan-2 Missile has the ability to carry up to 10 hypersonic nukes, which once they are released at the 11,000 Km / 6835 mile range, these hypersonic can then fly and maneuver another 3,000 (1800 Miles) to 5,000 Km (3100 miles). They have the ability to fly over 100 Km / 62 miles high and reach speeds in excess of Mach 10, which is ten times the speed of sound.
We know that the hypersonic missiles can fly this fast because it was confirmed in June 2015 with the hypersonic glider/missile that was called the Yu-71."
Paganism
Out of the Shadows: Wicca Grows in Austin and Beyond 05/12/16  Wicca/Paganism is the real default religion for a people without the true and living God in their culture. It seems that homosexuality is also an integral part of paganism. I can see the homosexual agenda merging with paganism because this is where it naturally belongs.
As America turns away from the Lord, He turns the society over to its base nature, which is paganism. I see the rise of the ungodly satan-worshiping modern music, along with tattooing, as part of a society turning to paganism.
On one side paganism is engulfing America, while on the other is Islam pressing it. The current trend toward atheism will be short-lived, since those that don't turn to Christ will end up as pagans. In the end there will be no atheists.
Revelation 9:20  And the rest of the men which were not killed by these plagues yet repented not of the works of their hands, that they should not worship devils, and idols of gold, and silver, and brass, and stone, and of wood: which neither can see, nor hear, nor walk:

"Wicca is a modern version of ancient pagan religions, created in England and brought to the United States in the 1960s. Its followers worship a goddess and a god, honor the Earth and practice ritual magic. They follow the Wiccan Rede, a statement of principles that stresses the importance of doing no harm.
"We believe that everything is part of the One," said Ed Fitch, 80, a Wiccan senior high priest and a member of Caldwell's meet-up group, one of several Wiccan or witches' groups in Austin. "Everything in the universe is linked to everything else in the universe."
Because Wicca is a highly decentralized religion with no central authority, it's hard to get a tally of its members. The American Religious Identification Survey, which periodically surveys 50,000 Americans, said the number of self-identified Wiccans increased to 342,000 in 2008, up from 134,000 in 2001. The 2008 figures are the most recent available.
Wicca's growth tracks the changing religious landscape in the U.S., as a growing number of people leave established religions and become either unaffiliated or switch to alternative religions. About 5.9 percent of Americans followed a non-Christian faith in 2014, up from 4.7 percent in 2007, according to the Pew Research Center,
"The number of people who have institutional affiliation are declining in general, so [Wicca] is part of a larger trend," said Jennifer Graber, an associate professor of religious studies at the University of Texas at Austin. "People are not aligning themselves in traditional religious ways."
World War 3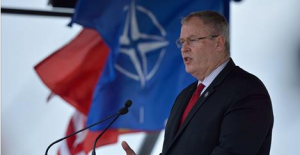 Russia Calls New U.S. Missile Defense System a 'Direct Threat' 05/12/16  Putin has said that this might a start a nuclear war! The man does not bluff and is strong. This situation is extremely dangerous.
Obama cuts and runs on EVERYTHING and is a weak as a kitten. Why then would he push the Russians and not back down? This is a very serious situation and creating tensions heading towards WW3!
If war is coming, which it is, our only hope is that it happens next year when Obama is gone and we have a real leader of the country and not a pretend President.
This situation is very dangerous. Obama has provoked the bear, when he is a kitten.
"As American and allied officials celebrated the opening of a long-awaited missile defense system in Europe with a ribbon cutting and a band, the reaction in Russia on Thursday suggested the system had raised the risks of a nuclear war.
Russian officials reiterated their position that the American-built system imperiled Russia's security. But the public discussion in Russia was darker, including online commentary of how a nuclear confrontation might play out in Europe, and the prospect that Romania, the system's host, might be reduced to "smoking ruins."
"We have been saying right from when this story started that our experts are convinced that the deployment of the ABM system poses a certain threat to the Russian Federation," the Kremlin spokesman, Dmitri S. Peskov, told reporters in a conference call.
"Measures are being taken to ensure the necessary level of security for Russia," he said. "The president himself, let me remind you, has repeatedly asked who the system will work against."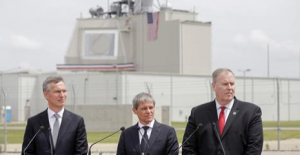 5 reasons why US antimissiles in Europe threaten Russia  Putin is real upset over this. I fully expect him to respond in a way that is going to challenge Obama, who is so weak that this could be a really nasty challenge.
The 5 reasons follow (Only four were listed):
ABM sites in Romania and Poland could be converted to fire Tomahawks
ABM sites will constantly monitor Russian airspace
ABM sites would counter Russian capabilities in a potential small-scale conflict
US-developed target missiles for ABM shield violate missile treaty
Hard Left in the Military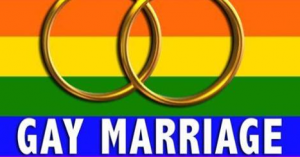 UK Military Bases Soon to Allow Gay Marriages 05/13/16  Recently I've been posting articles about the massive Russian build-up of its military, along with new super weapons.
When I read this article, I couldn't help but think about this massive Russian military pointed right at Europe and Great Britain, along with the never-ending descent of the UK into hell.
In addition, Muslims are flooding into the UK, and the massive Russian military is pointed right at it. Great Britain continues mocking God, and is right in His face about marriage!
Psalm 9:17 The wicked shall be turned into hell, and all the nations that forget God.

"The UK is pushing to fully implement same-sex marriage ceremonies on military bases, according to Christian Today.com.
Same-sex marriages are allowed to take place on military bases, but all 12 of the churches that provide chaplains for the bases are opposed to same-sex marriage, so none have taken place in the Army, Royal Navy, and Royal Air Force chapels.
Minister for Armed Forces Penny Mordaunt is seeking to change that. Mordaunt recently commissioned an effort aimed at getting Ministry of Defence sites registered for same-sex marriages.
"I have asked the chaplaincies of the three services to advise me on how Parliament's sanction of same sex-marriages may be fully implemented," stated Mordaunt.
The UK also must honor the Marriage Act 2013 which ""reflects the Government's commitment that no religious organisation or representative will be forced to conduct or participate in same sex marriages," so none of the chaplains serving on military bases can be forced to perform same-sex marriages."
Hard Left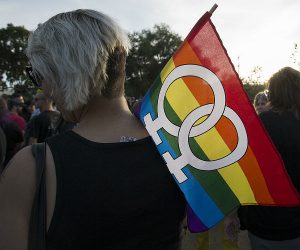 Wyoming Judge Faces Removal For Her Beliefs on Gay Marriage 05/131/6  Judge Ruth Neely is a true hero and puts to shame these cowardly preachers who refuse to stand for God's holy institution of marriage. Will the people of Wyoming rise up and stand with her?
How much further is God going to allow this mockery of His word to go? We are are full-speed-ahead on a collision course with the Holy God of Israel.
Proverbs 29:1  He, that being often reproved hardeneth his neck, shall suddenly be destroyed, and that without remedy.

"Wyoming's Commission on Judicial Conduct and Ethics aims to remove a small-town municipal judge from her judicial posts because of her stance against conducting same-sex marriages.
Municipal Judge Ruth Neely is asking the Wyoming Supreme Court to stop the commission from ending her 21-year career in the town of Pinedale, according to The Daily Signal.
The situation began in 2014 after Neely told a reporter that she wouldn't be able to perform same-sex marriages due to her religious views.
Wyoming's Democratic Party chairwoman Ana Cuprill forwarded her comment to the commission, saying she felt Neely's religious beliefs would influence her judgment if an LGBT person was involved in a case, and "that would be a liability in our town."
Neely is not authorized to perform marriages in her full-time municipal judgeship. In her part-time job in the Pinedale Court, she could be asked to do it, but has not been asked, according to the Daily Signal.
The Casper Star-Tribune reported that the commission said it wouldn't prosecute Neely if she resigned both her full-time and part-time judge jobs and never sought public office again, but Neely has refused."
Hard Left – Love Affair with Islam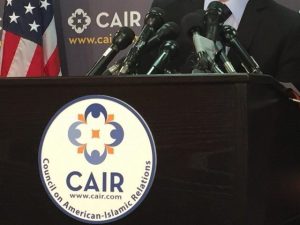 Report: Democrats Continue to Endorse CAIR, Despite Knowing Its Ties to Hamas 05/12/16  The Democrats both praise and condemn CAIR, and yet still support it.
There is something inside these Democrats that just draws them to Islam. I think it is because they hate both God and what America really is.
"According to U.S. Senator Charles Schumer, the Council on American-Islamic Relations (CAIR) is known "to have ties to terrorism," and cutting off contact with the Islamist group "should be government-wide policy."
Also according to Schumer, D-N.Y., CAIR is to be applauded "for its determination to continue to spread humanity around the world and to cultivate mutual understanding amongst Americans of all backgrounds and cultures … I know that the Council on American-Islamic Relations will continue to serve New York State and the nation for many years to come."
One of these assessments must be wrong. So which description does Senator Schumer believe?"
Islam – Caliphate
Sadiq Khan to Trump: I don't want exemption from your Muslim ban 05/11/16  We don't want Muslims in America that think it is OK to use violence against the United States, and that want America to come under Sharia law.
If Islam is so good, let them stay under Islam in Muslim countries. Trump is 100 percent correct about Muslims coming into America.
"London's Mayor Sadiq Khan on Tuesday slammed Donald Trump's "ignorant" view of Islam, after the Republican presidential contender suggested Khan could be exempted from a proposed temporary ban on Muslims entering the United States.
Last year Trump proposed "a total and complete" ban on foreign Muslims entering the U.S. "until our country's representatives can figure out what the hell is going on."
But Khan said "this isn't just about me — it's about my friends, my family and everyone who comes from a background similar to mine, anywhere in the world."
American Politics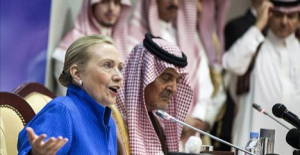 Hillary's Latest Scandal: She And Bill Siphoned $100 Mil From Mideast Leaders 05/13/16  We now know why decisions are made by the US in the Middle East – because of Clinton being bribed and all of the corruption.
Now you understand why the US government loves the Muslims, because they have been bribed! The Arabs have bribed their way into owning America.
God has turned us over to reprobates and criminals.
Romans 1:28  And even as they did not like to retain God in their knowledge, God gave them over to a reprobate mind, to do those things which are not convenient;
"Scandal: A new investigation reveals that Bill and Hillary Clinton took in at least $100 million from Middle East leaders. Can such a financially and ethically compromised candidate truly function as our nation's leader?
The investigation by the Daily Caller News Foundation has uncovered a disturbing pattern of the Clintons' raising money for the Clinton Foundation from regimes that have checkered records on human rights and that aren't always operating in the best interests of the U.S. By the way, the $100 million we mentioned above doesn't appear to include another $30 million given to the Clintons by two Mideast-based foundations and four billionaire Saudis.
All told, it's a lot of money.
"These regimes are buying access," Patrick Poole, a national security analyst who regularly writes for PJ Media, told the DCNF. "You've got the Saudis. You've got the Kuwaitis, Oman, Qatar and the UAE (United Arab Emirates). There are massive conflicts of interest. It's beyond comprehension."
Well, maybe not, given that Clinton, during her four-year tenure as secretary of state, used a clearly illegal private email server which is now under investigation by the FBI. Her open e-mail system likely was hacked by Chinese, Russian and perhaps other spy agencies, say cyberespionage experts. Such negligence would seem to disqualify her from ever holding a sensitive foreign policy post in the government again."
Micah 5:11-13  And I will cut off the cities of thy land, and throw down all thy strong holds:
And I will cut off witchcrafts out of thine hand; and thou shalt have no more soothsayers:
Thy graven images also will I cut off, and thy standing images out of the midst of thee; and thou shalt no more worship the work of thine hands.