Spicer: Embassy move a question of when, not if
Verse of the Day
Ezekiel 5:5   Thus saith the Lord GOD; This is Jerusalem: I have set it in the midst of the nations and countries that are round about her.
Commentary
I hope this statement is true. There is not going to be any peace deal with the PLO because they want Jerusalem, and Israel never will divide the city. In the end, it will all come down to Jerusalem, just like the prophets stated so many thousands of years ago. The Muslims' final war will be over Jerusalem. God is going to break the back of Islam over Jerusalem and end it as a viable religion. The end time prophetic religion will be paganism and not Islam. Islam's days are numbered.

May the Holy of Israel bless and protect you.
Psalm 122:6  Pray for the peace of Jerusalem: they shall prosper that love thee.
Jerusalem/ American Politics

Spicer: Embassy move a question of when, not if 06/03/17
"White House press secretary Sean Spicer on Friday stressed that President Donald Trump still intends to move the U.S. Embassy in Israel from Tel Aviv to Jerusalem.
Speaking to reporters at his daily press briefing, Spicer spoke of Trump's decision to sign the presidential waiver on the Jerusalem Embassy Act, delaying the Embassy move for six months.
"No one should consider this step in any way to be a retreat from the President's strong support for Israel and for the U.S.-Israeli relationship," he stressed.
"The President made this decision to maximize the chances of successfully negotiating a deal between Israel and the Palestinians," explained Spicer. "But as he repeatedly stated, his intention is to move the Embassy. The question is not if that move happens, but when."
Jerusalem
Poll: Vast majority of Israelis prefer sovereignty in Jerusalem over peace deal 06/03/17  Israelis are hardening in their support for Jerusalem. In the end, all events will lead to Jerusalem.
Zechariah 12:6  In that day will I make the governors of Judah like an hearth of fire among the wood, and like a torch of fire in a sheaf; and they shall devour all the people round about, on the right hand and on the left: and Jerusalem shall be inhabited again in her own place, even in Jerusalem.

"Israel Hayom survey finds public support for the two-state solution crumbles when Israelis learn deal would include partially forfeiting sovereignty in the capital • Only 5% say they would support a deal that ends Jewish control over the Western Wall.
While it is often reported that most Israelis favor the two-state solution for the Israeli-Palestinian conflict, once Jerusalem is added to the equation, an entirely different picture emerges. A survey held this week found that some 67% of Israelis would oppose a peace deal that would grant the Palestinians partial sovereignty over the Old City of Jerusalem, with 33% saying they would support it."
Israel
Hundreds of new West Bank homes said slated for approval 06/03/17  This is what causes the EU and the UN to melt down, but Israel is forging ahead with building on the covenant land. God's refers to Israel as "my land."
Joel 3:2  I will also gather all nations, and will bring them down into the valley of Jehoshaphat, and will plead with them there for my people and for my heritage Israel, whom they have scattered among the nations, and parted my land.

"The Civil Administration's High Planning Committee is set to meet next week to review and advance multiple construction projects in the West Bank which were put on hold for various reasons, including US President Donald Trump's visit to Israel last week.
The committee is to meet on Tuesday and Wednesday, the first time since Trump came to office in January. The various projects on its docket include advancing through different stages of planning as many as 2,600 homes. Of these, over 400 are expected to receive final approval for construction, including some outside the major settlement blocs."
Pedophilia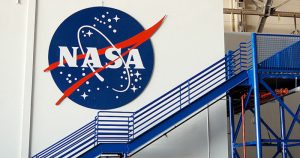 Obama Feds Refused to Prosecute NASA Intern Caught With Child Porn 06/03/17  The Feds refuse to prosecute but the state does! The reason the Feds refused was redacted from the report! Why this desire for child pornography? I believe that pedophiles are rampant in the federal government.
"On December 10, 2014, the RA coordinated with (redacted) Assistant United States Attorney (AUSA), US Attorney's Office (USAO), Northern District of California, San Jose, CA and briefed him on all aspects of this investigation," the report said.
"(Redacted) stated that his office formally declined to prosecute Hernaez based on (redacted)."
Hernaez allowed investigators to search his laptop, which "confirmed the presence of images and videos on the computer that appeared to depict naked underage children engaged in sexually explicit conduct."
Investigators subsequently informed Hernaez that "he did not have to at anything and he was free to leave." "I made a mistake. I will never do it again. I have child porn. Why am I not getting arrested," Hernaez asked investigators, confessing to downloading and viewing child pornography despite being aware doing so was illegal.
While the U.S. Attorney in Northern California refused to prosecute Hernaez, an assistant attorney in the office suggested investigators file charges through the Santa Clara District Attorney's Office.
Hernaez was subsequently arrested in his NASA office on January 14, 2015, pleaded guilty to possessing child pornography, and was sentenced to four months in a county prison, three years of probation, and ordered to pay over $1900 in fines and fees. He must also register as a sex offender."
American Politics/ ProLife
Planned Parenthood Annual Report: More Abortions, Fewer Health Services, More Gov't Funding 06/03/17  This is one well-oiled killing machine that would make the Nazis envious.
Numbers 35:33  So ye shall not pollute the land wherein ye are: for blood it defileth the land: and the land cannot be cleansed of the blood that is shed therein, but by the blood of him that shed it.

"Planned Parenthood's new report reveals that abortions, taxpayer funding, and profit have all gone up. Meanwhile its cancer screenings, basic breast exams, prenatal services, and even customers have decreased," Arina Grossu, the director of the Center for Human Dignity at the Family Research Council, said in a statement.
"Last year, America's largest abortion chain committed 328,348 abortions, over 4,300 more abortions than it committed in 2014-2015. Both its government funding ($554.6 million) and total revenue ($1.354 billion) in 2016 is the highest in its history," she continued. "It also made more than $77 million in profit, $19 million more than the year prior."
 Hard Left/ Islam
Muslim activist critical of Israel cheered at NY graduation 06/03/17  This shows the deep inroads the Muslims have made into the Hard Left universities. She even is tied with Black Lives Matter! She was allowed to speak under the guise of having differing ideas! They never would allow a real conservative or Christian to speak at the City University of New York. It is a Hard Left bastion. There would be a riot if a real Christian spoke the truth.
The Hard Left is getting in bed with Muslims, who in the end would kill them if they ever took over! God is sending Muslims in judgment against the Hard Left, and yet they love the Muslims!
2 Corinthians 4:4  In whom the god of this world hath blinded the minds of them which believe not, lest the light of the glorious gospel of Christ, who is the image of God, should shine unto them.

"Critics of Sarsour who don't like her views on Israel had spoken out against her being the keynote, but the school administration stood behind the decision, with the dean saying it was important to listen respectfully to differing ideas.
"Freedom of speech is only relevant when you are respectfully listening to ideas that challenge your own," Dean Ayman El-Mohandes said. "Otherwise, what's the point?"
Sarsour, one of the lead organizers of the Women's March on Washington, has been critical of Israel's policies in the West Bank and Gaza and supports the movement to boycott, divest from and sanction the country. She got her start as an activist defending the civil rights of American Muslims after the Sept. 11, 2001, attacks and, in recent years, protesting against surveillance of Muslim communities.
The choice of the Brooklyn-born, hijab-wearing Sarsour as speaker has sparked opposition from pro-Israel critics, including some who have spread false internet reports claiming she supports Islamic State militants and Sharia law.
In the city's Jewish community, both opposition to and support for Sarsour could be found. Much of the criticism came from Democratic state Assemblyman Dov Hikind, while a group of other Jewish leaders sent out an open letter speaking out against the targeting of Sarsour.
Sarsour also has put her activism toward other causes, including the Black Lives Matter movement, and she was one of four national chairs for the Women's March that led to massive turnouts in Washington, DC, and around the world."
Hard Left/ Christianity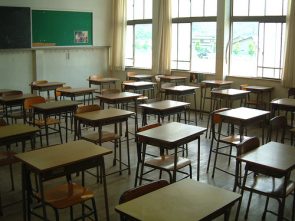 Judges Say Michigan Township Can Ban Christian School From Moving In 06/03/17   The courts always protect the building of mosques, always. The Justice Department always runs to defend the mosques, yet look at how the legal system comes against a church that wants to have a school! It is so clear that day-by-day the Hard Left wants to strip us of our rights and crush us, while at the same time they enjoy a love fest with Muslims!
Isaiah 5:20  Woe unto them that call evil good, and good evil; that put darkness for light, and light for darkness; that put bitter for sweet, and sweet for bitter!

"Despite the recommendations of the town's planning commission and consultants who approved the school's application, Genoa Township in July 2015 refused to give LCS a permit to operate its school at Brighton Church, effectively precluding the school from existing anywhere in the town.
The school argued in its lawsuit that the township's actions substantially burdened the school's ability to operate as a religious ministry. After arguments at the appeals court in April, the three judges of the Sixth Circuit concluded that the township's ban did not present a "substantial burden" on the free exercise of religion of Livingston Christian School.
Sasser added in the statement: "If a city wanted to ban a specific synagogue or mosque from moving into its city limits, the court held such a ban would not be a substantial burden on religious exercise. This is shocking and cannot be allowed to stand. Towns who use their zoning laws to keep religious schools and organizations out of their backyard violate federal law and the First Amendment."
Islam/ Christianity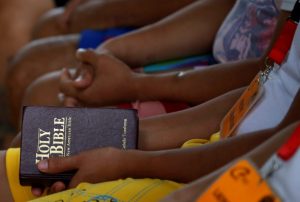 8 Filipino Christians Killed for Refusing to Recite Islamic Creed 06/03/17  ISIS now has spread to Asia, attacking and killing Christians in the Philippines. Look at how they target Christians, and this is exactly what Islamic caliphates have done since Muhammad, down through time until today. ISIS is just following Muhammad and the caliphates. When ISIS attacks in America, it will do the same.
Revelation 2:10  Fear none of those things which thou shalt suffer: behold, the devil shall cast some of you into prison, that ye may be tried; and ye shall have tribulation ten days: be thou faithful unto death, and I will give thee a crown of life.

"Eight Christians who were killed when an Islamic State-linked group stormed a Filipino city late last month were shot to death because of their refusal to recite the Islamic declaration of faith, government officials have reportedly said.
According to the Christian persecution monitoring website Morning Star News, eight Christians who were among the 19 killed when the IS-aligned Maute Group stormed the city of Marawi on May 23 were the first Christians killed during the insurgent uprising in the capital of Lanao del Sur Province on the Mindanao island. The city, which was once home to over 200,000 residents, has seen thousands of residents flee in recent weeks."
Islam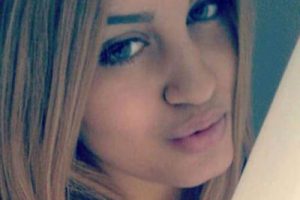 Sweden: 16 Sexually Assaulted Girls Called "Racists" "Islamophobes" for Complaining 06/03/17  Slowly but surely Europe is submitting to Islam. Look at how far Sweden has submitted to Islam because it is protecting the Muslims who molest their females! This is real Islam, to protect Muslim men who rape infidel women! The infidel women have no rights under Sharia law.
The strange thing is that no one is forcing the Swedes to submit to Islam, they are freely doing it on their own. This is because they are under the judgment of God for abortion, homosexuality and coming against God's plan for Israel.
Revelation 1:7  Behold, he cometh with clouds; and every eye shall see him, and they also which pierced him: and all kindreds of the earth shall wail because of him. Even so, Amen.

"Islam is not a race, but that is of no import. Of course, these girls, these victims, are "islamophobic" and "racist" because any criticism of Islam or Muslims is prohibited under Islamic law (sharia). You didn't think it would end with the Muhammad cartoons, did you? It began with the cartoons. Once the West submitted to that demand, it opened the floodgates to more demands, more sharia.
"Now I have been to another school where young girls tell them to be sexually assassinated by newly arrived boys both at school and outside school. They say they do not feel safe in the school corridors. They say they have left home after school. They say they do not go by bus themselves. They say they do not go back and forth to their soccer classes in the evenings themselves, explains an upset Joakim Lamotte in a video on his Facebook.
But when the girls tell teachers and rectors, this is dismissed as xenophobia.
Europe sacrificed their young girls when they went Islam. Without their young women and girls, the West on Europe has no future."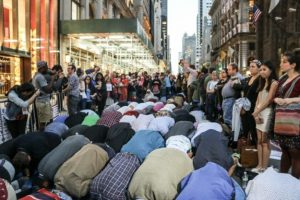 Muslims Take Over New York Street – Start Praying in Front of Trump Tower for Ramadan 06/03/17  The Muslims will continue to act like this until we stop them. We are under social attack by them, and they will push and push until they are stopped.
"Muslims continued on with their civilization Jihad as they took over the street in front of Trump Tower during 'Iftar' or 'breaking their Ramadan fast'.
There is no reason for this other than Muslims letting the infidels know that they here and working on their Islamic takeover.
Of course Hamas-linked, Linda Sarsour was also there spewing more lies about her intentions as a Muslim activist. She claims Trump is full of hatred and divisiveness which of course is untrue. The real hate and divisiveness comes from Islam and Sarsour knows it.
Muslim countries are the most bigoted places on earth. Several Muslim countries don't even allow Israeli Jews to enter, yet Sarsour acts like a victim. Saudi Arabia prohibits Christian churches and Jewish Synagogues from being built, so save us the crocodile tears, Sarsour."

Exodus 10:3  And Moses and Aaron came in unto Pharaoh, and said unto him, Thus saith the Lord God of the Hebrews, How long wilt thou refuse to humble thyself before me? let my people go, that they may serve me.