THE TREASONOUS SECESSION OF CLIMATE CONFEDERACY STATES
Verse of the Day
Proverbs 11:21  Though hand join in hand, the wicked shall not be unpunished: but the seed of the righteous shall be delivered.
Commentary
This article shows how the US is now on a course to divide, just like it did during the first Civil War. California and New York are leading the way in the division. They have created their own immigration policy and now are doing the same with climate change. The problem is that the vast number of Americans support the President's immigration policy and are against the Paris Accords.
At some point this is going to come to a head between Washington and the states like it did in 1861. Notice that once again it is the Democratic Governors who are leading the secession! The Democratic Party is again the center for all evil in America, just as it was with slavery.
May the Holy God of Israel bless and protect you.
Matthew 12:25 And Jesus knew their thoughts, and said unto them, Every kingdom divided against itself is brought to desolation; and every city or house divided against itself shall not stand:
Hard Left/ Anarchy – Civil War
THE TREASONOUS SECESSION OF CLIMATE CONFEDERACY STATES 06/11/17
"The Climate Alliance of California, New York, Washington, Vermont, Massachusetts, Connecticut, Oregon, Colorado, Hawaii, Virginia and Rhode Island looks a lot like the Confederacy's Montgomery Convention. Both serve as meeting points for a secessionist alliance of states to air their grievances against the Federal government over an issue in which they are out of step with the nation.
"We're a powerful state government. We have nine other states that agree with us," Brown boasted.
All the bragging and boasting about how much wealth and power the secessionist states of the climate confederacy represent sounds very familiar. But that wealth and power is based around small enclaves, the Bay Area and a few dozen blocks in Manhattan, which wield disproportionate influence.
Like the slaveowner class, leftist elites are letting the arrogance of their wealth lead them into treason. And as they look out from their mansions and skyscrapers, they should remember that the majority of working class people in California and New York will be far less enthusiastic about fighting a war to protect their dirty investments in solar energy plants and carbon credits funded by taxes seized from many of those same people in these left-wing slave states.
The declared intention of the Climate Alliance, in words appearing on the New York State government website, is to treasonously "convene U.S. states committed to upholding the Paris Climate Agreement".
States cannot and are not allowed to unilaterally choose to "uphold" a treaty rejected by the President. Their leaders are certainly not allowed to travel to enemy nations to inform foreign powers of their treasonous designs and to solicit their aid against the policies of the United States government."
Hard Left/ Homosexuality/ Transgendered/ Anarchy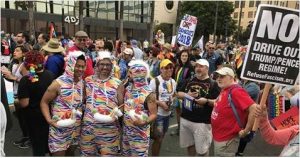 LA Pride #ResistMarch draws massive crowd to Hollywood in support of LGBTQ rights 06/12/17  I have been saying for a long time that the Hard Left would unite into a Nazi Brown Shirt type group, and I think this is the real start of it. It is just "natural" for them to link together in rebellion against God and America. They absolutely hate everything about America and the real truth of the Bible.
Remember, their minds only can destroy and not create. The Communists destroyed Russia and many other societies but look at the horrors of what they did! The Nazis destroyed the old order of Germany and look what replaced it! America is the same. The Hard Left wants to destroy America, but what are they going to replace it with?
The leaders like Obama and Soros know what they want to replace it with: a world government where everyone has no rights and is enslaved to them. There is no place in their New World Order for real Christians, and they have made this clear in what they are saying and doing. But, the masses in rebellion have no idea of what is in store, and like Lenin said about them, they are useful idiots!
Psalm 2:1-5  Why do the heathen rage, and the people imagine a vain thing? (2,3) The kings of the earth set themselves, and the rulers take counsel together, against the LORD, and against his anointed, saying, Let us break their bands asunder, and cast away their cords from us. (4) He that sitteth in the heavens shall laugh: the Lord shall have them in derision. (5) Then shall he speak unto them in his wrath, and vex them in his sore displeasure.

"Tens of thousands of people gathered in Hollywood Sunday morning for Resist March, a call for unity among communities across Los Angeles to defend the civil liberties of LGBTQ individuals and to remember the victims of the mass shooting last June at Pulse Nightclub in Orlando, Florida.
The march replaced the annual LA Pride parade in West Hollywood, an event that celebrates progress made within the LGBTQ community, with Sunday's gathering instead focusing on resisting President Donald Trump's policies on everything from immigration to travel bans to transgender youths in schools. Carrying signs saying "Resist Insist Persist" and "I Am Human," marchers filled Hollywood Boulevard by 8 a.m."
As America Has Done to Israel
Senate approves resolution on Jerusalem reunification 06/11/17  This is great news, that the Senate shows such overwhelming support for Israel. There is no other nation that would show such support.
Now, we need the President to see it is impossible to deal with the PLO and break from any "peace" deal. The US needs to be united behind the unity of Israel and Jerusalem.
Zechariah 1:14  So the angel that communed with me said unto me, Cry thou, saying, Thus saith the LORD of hosts; I am jealous for Jerusalem and for Zion with a great jealousy.

"The Senate on Monday unanimously passed a resolution marking the 50th anniversary of the reunification of Jerusalem during the 1967 Six Day War.
The resolution, which passed by a 90-0 vote, calls on President Donald Trump to "abide by" a 1995 law which stipulates that the U.S. Embassy in Israel would move from Tel Aviv to Jerusalem. It says that "Jerusalem should remain the undivided capital of Israel in which the rights of every ethnic and religious group are protected."
It adds that "Jerusalem is a holy city and the home for people of the Jewish, Muslim and Christian faiths" and advocates a two-state outcome based on direct negotiations between Israelis and Palestinian Arabs.
Senate Majority Leader Mitch McConnell did not mention the embassy in a Monday floor speech calling for support of the resolution, noted The Washington Examiner.
"In honor of this significant anniversary for our close ally, many Senators from both sides of the aisle are joining together in a resolution to mark the occasion today," McConnell said. "While we know that Israel continues to face a number of threats, bipartisan passage of this resolution will serve as yet another indication of the United States' commitment to standing by our Israeli friends," he added."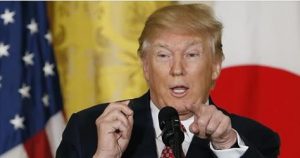 Trump administration: No condemnation of settlement construction 06/11/17  This is great news. What needs to happen is for the President to break with the PLO because there is no chance for peace with Israel. It is a waste of time and energy, when the PLO wants to destroy Israel.
Joel 3:2  I will also gather all nations, and will bring them down into the valley of Jehoshaphat, and will plead with them there for my people and for my heritage Israel, whom they have scattered among the nations, and parted my land.

"The Trump administration refrained from condemning Israel's approval for 2,600 new housing units in Judea and Samaria this week, signaling a significant policy shift in Washington.
While every administration over the past half a century, from Lyndon Johnson through Barack Obama, has chastised Israel for the construction of civilian housing units in Judea and Samaria, the Trump White House made no comment as the first housing permits issued since the January 20th inauguration were approved.
Reporters took note of the administration's silence on the issue during a State Department press conference Thursday."
American Politics/ Islam – Sharia/ Hard Left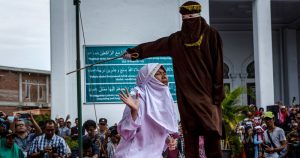 Left Condemns Anti-Sharia Protests, But Not Islamic Terrorism" 06/12/17  This is the best example yet of the Hard Left running to protect Muslims and Sharia law! The anti-Sharia protest FORCED the issue out into the open and the reprobates sprinted to protect Islam, even with female genital mutilation a topic!
Look how the Lord is melding the Hard Left and Islam together for judgment! This is so clear to see. They hate us but they love Islam. We need more events like this to keep up the pressure on the Hard Left and the Muslims. I know of no other country that has held a nationwide event like this.
There still is courage in the American people. I did not see any pastors leading churches at these events nor speaking out against Sharia law. There are so few pastors that have courage and the boldness of the Holy Spirit. God is doing his work despite the pastors, but, like I said, there still is plenty of courage in the American people. We need to build on this event and gain momentum that can carry into the political arena.
Proverbs 12:19  The lip of truth shall be established for ever: but a lying tongue is but for a moment.

"Leftist groups and the media are swiftly demonizing Saturday's nationwide anti-Sharia protests as "hate speech" and "bigotry."
The nationwide demonstration that took place in 28 cities, called "March Against Sharia – March for Human Rights," is organized by ACT for America, a Virginia-based nonprofit group which aims to raise awareness of the human rights abuses committed under Sharia law.
"Our nation is built on the freedom of religion – a pillar of our democracy – which we must always respect, protect, and honor," reads a statement on ACT for America's website. "However, many aspects of Sharia law run contrary to basic human rights and are completely incompatible with our laws and our democratic values."
The statement is puzzling considering that it's Sharia law that permits committing honor killings, genital mutilations, wife beating, draconian apostasy laws, demonization of homosexuals and child marriage. All of which are completely contrary to American and constitutional values.
Liberals who claim to wave the banner of feminism but who also support Sharia, like Linda Sarsour, are hypocrites, says Scott Presler, one of the event's organizers.
"The left will try to make this about hate, saying this is anti-Muslim. No, who is affected by FGM [female genital mutilation] more than Muslim women? We are working for human rights and to protect Muslim women everywhere," Presler said."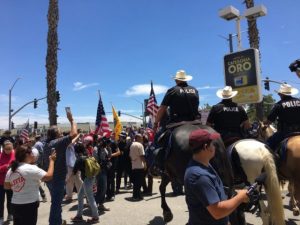 Large Anti-Sharia Rallies at San Bernardino Terror Site 06/12/17  This is a really good start. There are many groups that can unite in one front against the Hard Left. I can see this group, NRA, pro-life, pro-family, immigration groups and many others joining together to defend ourselves against the Hard Left violence. This unity could happen much sooner than you think. It really depends upon the Hard Left and their actions.
Proverbs 17:11  An evil man seeketh only rebellion: therefore a cruel messenger shall be sent against him.

"On Saturday, hundreds gathered to protest against Islam's sharia law at the site of the December 2015 terror attack in San Bernardino, California, and elsewhere throughout the state.
Protest rallies sponsored by ACT for America — Bridgette Gabriel's anti-jihadist group — were held nationwide.
As the Los Angeles Times noted, a diverse group of over 500 demonstrators gathered at the Inland Regional Center in San Bernardino to protest what they described as the spread of sharia law in the United States.
They were met by smaller groups of counter-demonstrators, many from so-called "Antifa" groups. San Bernardino Police Officers handled security without any major incidents, except a few scuffles on the Anitfa side.
The San Bernardino protest was organized by Latinos for Trump co-founders Marco Gutierrez and Denise Ruiz."
American Politics/ History
Democrats' Hoodwinking of Blacks 06/13/17  How are the Demoncrats able to escape from their sordid past with slavery? Every evil they blame America for was conducted by their ancestors!
They are just as evil today, with killing babies in the womb and destroying marriage between a man and woman. Look at the major cities that are all under Democratic control and the condition of black people! In 150 years nothing has changed with the Democrats!
Revelation 5:9  And they sung a new song, saying, Thou art worthy to take the book, and to open the seals thereof: for thou wast slain, and hast redeemed us to God by thy blood out of every kindred, and tongue, and people, and nation;

"What was the party of Orval Faubus, the Arkansas governor who blocked the desegregation of Little Rock schools and defied the U.S. Supreme Court's unanimous 1954 Brown v. Board of Education decision? What was the party of Theophilus Eugene Connor, known as Bull Connor, who, as city commissioner, set vicious dogs, fire hoses and billy clubs on black civil rights demonstrators in Birmingham, Alabama? Connor said: "You can never whip these birds if you don't keep you and them separate. I found that out in Birmingham. You've got to keep your white and black separate." If you answered that Faubus and Connor were Democrats, go to the head of the class. By the way, it was Republican President Dwight D. Eisenhower who sent troops to ensure that black students could attend Little Rock's Central High School.
What was the political party of Alabama Gov. George Wallace, who, during the 1960s civil rights movement, declared that he stood for "segregation now, segregation tomorrow and segregation forever" and blocked black students from entering the University of Alabama?
A few years later, the only serious congressional opposition to the landmark Civil Rights Act of 1964 came from Democrats. Eighty percent of Republicans in the House of Representatives supported the bill. Less than 70 percent of Democrats did. Democratic senators, led by ex-Klansman Robert Byrd's 14-hour filibuster, kept the bill tied up for 75 days, until Republicans mustered enough votes to break the filibuster."
World War 3/ North Korea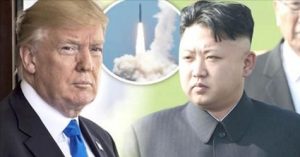 North Korea v USA LIVE updates: Kim Jong-un 'close to nuclear missile test' 06/13/17  The clock still is ticking towards the confrontation with NK. I would be very surprised if we reached the end of the year and war did not break out.
Revelation 22:20  He which testifieth these things saith, Surely I come quickly. Amen. Even so, come, Lord Jesus.

"NORH KOREA is set to launch fresh missile tests, with experts claiming that  is close to developing a a successful intercontinental nuclear ballistic missile (ICBM) capable of reaching the US. Here is the latest news and live updates on North Korea.
North Korea could launch a missile test every two weeks for the rest of the year, according to new analysis.
Kim Jong-un is "only one step away" from developing a nuclear-tipped intercontinental ballistic missile (ICBM), a US expert has said.
Donald Trump's head of missile defence has said that he is "greatly concerned" by Korea's weapons programme."
ProLife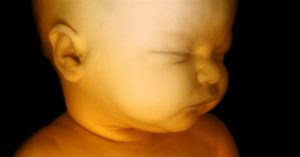 Texas Passes Law Banning Dismemberment Abortions 06/11/17  What a national disgrace that a law needs to be passed to stop the dismemberment of babies in the womb. The killing of children brought the wrath of God on ancient Israel.
Psalm 106:37-38  Yea, they sacrificed their sons and their daughters unto devils, And shed innocent blood, even the blood of their sons and of their daughters, whom they sacrificed unto the idols of Canaan: and the land was polluted with blood.

"Texas Gov. Greg Abbott has signed a bill into law which bans dismemberment abortions in the state.
The Christian Post reports that the state's House and Senate passed the bill last month before it went to Abbott for approval. Texas is now the eighth state to ban dismemberment abortion, which is the gruesome procedure of tearing an unborn child limb from limb from the mother's womb.
"A person may not intentionally perform a dismemberment abortion unless the dismemberment abortion is necessary in a medical emergency," reads the new law, known as Senate Bill 8.
Pro-life groups praised Abbott's signing of the law. "By signing SB 8, including the Dismemberment Abortion Ban Amendment, into law Governor Abbott has confirmed the most significant Pro-Life victory of the 85th Session of the Texas Legislature," stated Texas Right to Life."
Health and Nutrition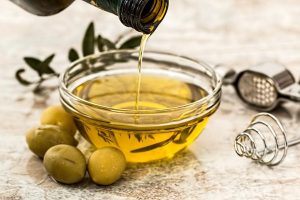 Olive oil nutrient found to HALT brain cancer cells in their tracks 06/11/17
3 John 1:2 Beloved, I wish above all things that thou mayest prosper and be in health, even as thy soul prospereth.

"The research team determined that an important nutrient in olive oil, called oleic acid, might help prevent brain cancer by stopping a certain cancer-causing protein from interfering with miR-7 production; miR-7 is a cell molecule that suppresses brain tumor formation.
"While we cannot yet say that olive oil in the diet helps prevent brain cancer, our findings do suggest that oleic acid can support the production of tumour-suppressing molecules in cells grown in the lab," said Dr. Gracjan Michlewski of the University of Edinburgh. "Further studies could help determine the role that olive oil might have in brain health." [RELATED: Find out how olive oil boosts bone health.]
This study comes in the wake of other studies which have proven olive oil's cancer-fighting properties. The Mediterranean diet, in which olive oil features strongly, is generally associated with reduced cancer risk, and it would seem that this healing oil plays a large part in this."

1 Kings 16:19-21  For his sins which he sinned in doing evil in the sight of the Lord, in walking in the way of Jeroboam, and in his sin which he did, to make Israel to sin.
Now the rest of the acts of Zimri, and his treason that he wrought, are they not written in the book of the chronicles of the kings of Israel?
Then were the people of Israel divided into two parts: half of the people followed Tibni the son of Ginath, to make him king; and half followed Omri.