Turkey Launches Major US-Backed Ground and Air Incursion Inside Syria
Verse of the Day
Isaiah 17:1 The burden of Damascus. Behold, Damascus is taken away from being a city, and it shall be a ruinous heap.
Commentary
Turkey just invaded Syria with almost no government or news source reporting on it! This is incredible because for the longest time, Erdogan has wanted to take over Syria as part of the reconstruction of the Ottoman Empire. Turkey is Sunni while Syria/Iran are Shiites. This could lead to the all-out Sunni-Shiite civil war that has to come. Russia backs the Shiites while the US backs Turkey. This is complicated and convoluted and getting more complex by the day!
All of this is heading toward the total destruction of Damascus and the fulfillment of Isaiah 17, as well as to Jerusalem and the destruction of Islam.
May the Holy God of Israel bless and protect you.
Proverbs 18:10 The name of the LORD is a strong tower: the righteous runneth into it, and is safe.
The Coming Middle East War
Turkey Launches Major U.S.-Backed Ground and Air Incursion Inside Syria 08/24/16  This is really significant as Turkey has invaded Syria and Russia is there along with Iranian forces. Will Turkey leave? Remember Turkey wants to takeover Syria.
"Turkish special forces, aided by American military advisers, U.S. drones and Turkish artillery units, moved into northern Syria before dawn as part of the coordinated campaign to push Islamic State out of a strategic town on the Euphrates River, officials said.
Turkish jets bombed Islamic State forces inside Syria, according to Turkey's state-run Anadolu news agency, in what are believed to be the first airstrikes by Turkey inside Syria since November, when Turkish pilots shot down a Russian warplane that briefly strayed into Turkish airspace. Turkish tanks also moved into Syria as the offensive gathered momentum early Wednesday, the news agency said.
Meanwhile, hundreds of Turkish-backed Syrian rebels were massed at the border, poised to retake Jarabulus, one of Islamic State's last remaining gateways used by the group to ferry reinforcements and supplies from Turkey into its de facto capital in Raqqa."
Syrian Kurds rebuff retreat demand as Turkey threatens to intervene 08/25/16  If you want to know what is happening with Turkey invading Syria, this article explains it. Turkey does not care about ISIS but rather the Kurds. ISIS not a real threat to Turkey but the Kurds are.
The situation in Syria is so complicated that it makes my head swim! Syria is a trigger for WW3 and everything needs to be watched closely.
"Turkey sees the YPG as a terror group bent on carving out an autonomous region in Syria.
Xelil claimed that the YPG is the real target of the Turkish military operation, rather than IS.
"The Turkish intervention in Jarablus is a hostile intervention. Its main goal, more than ISIS, is the Kurds," he said using another acronym for the Islamic State group.
Ankara's hostility to the YPG puts it at loggerheads with its NATO ally, the United States, which works with the group on the ground in the fight against IS."
The Coming Middle East War/ Iran
Retired Iranian General: We Created Shia Army To Destroy Israel By 2039 08/25/16  Whenever the Iranian army attacks Israel, it will be the end of Iran.
See my teaching about Elam: Elam/Iran in the Latter-Days
"A retired Islamic Revolutionary Guard Corps (IRGC) general, who was deployed to Syria as a senior Iranian commander of Shia troops, said in an interview last week that Iran's ultimate goal in forming a Shia army is to destroy Israel by 2039.
Brig. Gen. Mohammad Ali Falaki, who is serving with the IRGC's Afghan Fatemiyoun Division, said that the Fatemiyoun's establishment facilitated "the formation of a Shia liberation army whose commander is Hajj Qassam Soleimani," the head of the Revolutionary Guard's elite Quds Force, the Long War Journal reported.
The army's chief goal is to eliminate Israel, Falaki said.
"Forming the first nucleus of the liberation army has the objective that, God willing, we will not have anything called Israel in 23 years," he said, adding that Iranian-led troops have already been deployed on Israel's border."
World War 3
High alert: Russia tests army's readiness in massive snap exercise in west & south 08/25/16  More war games by Russia right when there is tremendous tension with the Ukraine!
"Russian Army units as well as the Air Force, Airborne Troops and the Navy's Northern Fleet have been put on high alert as part of a large-scale snap exercise which the Defense Ministry says will check troops' readiness to tackle emerging crises.
"According to the decision of the Commander-in-Chief of the Armed Forces [President Vladimir Putin], a regular snap exercise begins today," Defense Minister Sergey Shoigu said at a briefing with top military commanders on Thursday.
"Troops in the Southern Military District, some units of the Western and Central Military Districts, as well as the Northern Fleet, the Air Force and the Airborne Troops, are to be put on full alert starting from 7.00am [local time]," the minister added.
The exercise will last until August 31, Shoigu said, ordering the deputy defense minister – who is in charge of military-to-military cooperation – to inform foreign defense attachés of the war games."
Hard Left/ Israel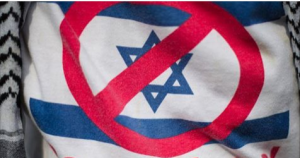 Are Jews who refuse to renounce Israel being excluded from "progressive" groups? 08/24/16  The liberal Jews are going to learn very quickly that the Hard Left mind hates Israel and the Jews. When they are unified about hating and wanting to destroy Israel, the reprobates will then target the Jews.
The American liberal Jews are playing with fire and have no idea what monsters they are dealing with. Will the Jews deny Israel and stay in these God hating groups? We will soon find out.
Obadiah 1:15  For the day of the LORD is near upon all the heathen: as thou hast done (to Israel), it shall be done unto thee: thy reward shall return upon thine own head.

"Hard left activists are trying to exclude Jews who do not renounce Israel from "progressive" organizations.
Last year, Rabbi Susan Talve, a longtime activist on race issues in the St. Louis area was told that her advocacy for Israel was incompatible with the objectives of Black Lives Matter: "Solidarity from Ferguson to Palestine has become a central tenet of the movement" she was informed, because "Israeli and U.S. state oppression are deeply interconnected." Similarly, a student who attended a Black Lives Matter rally at Northwestern University last year was told "you support Israel, so you cannot also support us."
Recently, that seems to be the response of many of the hard left activists who dominate so-called "progressive" social justice movements.
Over the past several years, progressive Jews, and progressive supporters of Israel have had to come to terms with the reality that those who do not reject Israel and accept Boycott Divestment Sanctions ("BDS") and its unique brand of bigotry are no longer welcome in some progressive circles. And while both Democratic and Republican parties have embraced the importance of the U.S. alliance with Israel, that dynamic is under threat more so than at any point in my lifetime."
American Politics
EXCLUSIVE: Jews are 'adept at working the American political system' aided by 'the memory of the Holocaust' – extraordinary claim made by journal where Huma Abedin was assistant editor" 08/24/16  This has been known for years about Huma but the information was suppressed. Congresswoman Bachmann tried to bring this out, but the likes of Senators McCain and Graham shouted her down! Washington is corrupted by the Arab oil money, and we are really seeing this clearly.

The entire corrupted political establishment has to go. God is so good to uncover this for us to see the ugly can of worms in Washington! Huma is a Saudi plant to work with Clinton, and I think Hillary knew this and didn't care. The Saudis probably paid millions for Hillary to hire her!
"Huma Abedin, Hillary's top aide, was named as assistant editor on the masthead at the Journal of Minority Muslim Affairs for 12 years
Her mother is still editor-in-chief of the publication
In 1999 an article in it claimed that Jews are 'adept at working the American political system of presidential democracy',
Muslims are excluded because of 'handicaps, rebuffs, and dirty tricks' it said
It also claimed that many Americans have a 'distorted and negative view' of Islam, Muslims and Arabs
After 9/11 Abedin's mother wrote an editorial suggesting that the U.S. bore responsibility for the attack"
Hard Left
Good Lord! Cop says Red Cross told him not to pray with flood victims 08/25/16  We can't give funds to the Red Cross because it is a Hard Left reprobate organization that hates God. How dare they say that you can't pray and have a Bible!
Please give to other organizations but NOT this one. This is Hard Left in action, removing God and marginalizing believers.
"A law enforcement officer said he was asked to leave a Red Cross shelter in Lafayette, Louisiana after he prayed with several flood victims.
Clay Higgins, a reserve city marshal and a local legend, dropped by after work to minister to evacuees at the Heymann Performing Arts Center on Aug. 19.
"I was not proselytizing," he told me. "I was just there to thank volunteers and offer prayers and encouragement."
Higgins, who is also running for Congress, was dressed in uniform and was holding a Bible.
At some point during the visit a volunteer approached Higgins and mentioned there was a problem.
"He said the Red Cross had an issue with me being there," Higgins said. "So I asked him what the problem was. He looked down at my Bible and he gestured and said, 'They have a problem with that.'"
Higgins said he was escorted to a Red Cross supervisor who asked him to leave.
"I was told that the Red Cross does not allow spiritual counseling in their shelters," he said. "The supervisor told me the Red Cross is not a religious-based organization and they don't allow religious interaction with the residents."
During the conversation, a flood victim asked Higgins to pray. The captain was obliged but had to do so outside the Red Cross shelter."
Hard Left/ Transgendered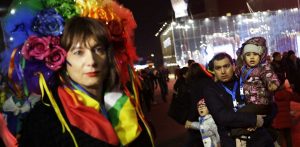 The Left's Transgender Propaganda Push Targets Your Children 08/24/16  The march toward wiping out any of God's original design of men and women continues, and naturally children are being targeted. If you can indoctrinate kids early enough, you have set their minds for life.
Proverbs 22:6  Train up a child in the way he should go: and when he is old, he will not depart from it.

"The government must rule your mind and the minds of your children.
That's the new take from federal and local governments across America, insisting that you and your children pretend that boys who believe they are girls are actually girls. The latest insane iteration: the chief communications officer for public schools in a Maryland county has now announced that teachers should not tell parents if their little girls are bedding down next to little boys who think they're girls on overnight trips…
This is pure insanity. But it's approved by the federal government, which wants to cram down transgender myths on little boys and girls everywhere. The Obama administration has now determined that every public school locker room in America must be opened to boys who think they're girls, regardless of the privacy of the girls – all in the name of Title IX of the Civil Rights Act, which was designed to protect women. A federal judge this week said this was ridiculous, but that won't stop the left.
The next step: calling it child abuse if parents insist that their children are actually the sex with which they were born. The government will step in and begin seizing those children in the name of their supposed mental health, even though a huge majority of children who think they're the opposite sex grow out of it, and even though science conclusively demonstrates that people cannot "switch" sex. As a new study points out, "The hypothesis that gender identity is an innate, fixed property of human beings that is independent of biological sex – that a person might be 'a man trapped in a woman's body' or 'a woman trapped in a man's body' – is not supported by scientific evidence."
Islam
MUSLIM STABS 2 IN VIRGINIA WHILE SHOUTING "ALLAHU AKBAR" 08/25/16  There was very little in the news about this and now it's gone. The attacker was yelling "Allahu Akbar" but it seems they don't know the reason for the attack! I want to keep you up to date about Muslim attacks in America.
"A man stabbed two people Saturday in what Roanoke County Police say is a random attack.
A man and woman told police they were attacked at The Pines Apartments just before 8 p.m. as they entered the apartment building. Both were seriously hurt and taken to the hospital.
Police have charged Wasil Farooqui, 20, of Roanoke County in connection to the stabbing. He has been charged with two counts of aggravated malicious wounding. He is being held without bond at the Western Virginia Regional Jail.
Investigators believe that this was a random attack, and Farooqui had no connection to the two victims."
Psalm 119:165  Great peace have they which love thy law: and nothing shall offend them.