American arrested in Philippines for producing international online pedophile ring films
Verse of the Day
Luke 17:2 It were better for him that a millstone were hanged about his neck, and he cast into the sea, than that he should offend one of these little ones.

Commentary by Georgann Ryan

Yet another disgusting story about the international elite who love to use children as depraved sexual objects, and of those who are used by them to gratify their lusts. But this story at least has a ring of justice to it, because this pedophile videographer was caught and is being prosecuted. No, he isn't a high-level, prominent purchaser, merely a low-level procurer, once again. But it is progress, nonetheless, and for that we thank God.
In the video embedded below of his arrest, Deakin asks for his Bible, "…the only f—ing thing I have from America; please don't lose it." This line alone raises some real issues because it either is hope that God is reaching through the depravity or else evidence that the reprobate nature of anyone involved heavily in this has hardened them completely to God and his Word. Why on earth would he ask for his Bible, just as such pernicious activity is being exposed? It's something that should make us all ask questions about how evil becomes so entrenched where there is light available.
We need earnest prayer, both for the rescue of the victims and for justice to prevail. This is one of the most despicable crimes there is because it targets the innocent and helpless, and the knowledge that many of the elite who govern our nations or run major industries around the world are involved heavily ought to be enough for a massive outcry of citizens in every nation.
As Christians, it is our duty to do everything we can for these innocent victims whose lives are shattered by despair and hopelessness, as they are used and abused in the most vile ways. Most are too young to understand why this is occurring or how to escape from the horror that surrounds them. It is our responsibility as people of faith to intervene, both through fervent prayer and through actions, like supporting those fearless workers who expose this and go undercover to rescue the victims, assisting both financially and in every other possible manner.
May the Holy God of Israel bless and protect you.
Psalm 82:3  Defend the poor and fatherless: do justice to the afflicted and needy.
Pedophilia
Filthy mattresses, toddlers' shoes and dog collars: Inside the squalid Philippines home of 'sweating US predator who filmed the sexual abuse of children for international online pedophile ring' 05/09/17  This pedophile lived in the Philippines and exploited poor children. There now seems to be a steady stream of pedophiles being arrested, resulting in rings being busted up. I thank the Lord for every victory over the pedophiles!
"Vile images have emerged from inside the home of an American man suspected of exploiting Filipino children David Timothy Deakin, 53, was arrested following a police raid at his home in the Philippines last month Children's underwear, cameras, bondage cuffs and fetish ropes seen throughout two-bedroom townhouse Authorities reviewing about 30 hard drives and numerous computers to find suspected buyers and victims
The 53-year-old suspect, originally from Peoria, Illinois, has been in the Philippines for the past 17 years."
Hard Left
Thousands Flee Chicago for Safer Areas of the Country as America's Third-Largest City Becomes a Gang-Infested Wasteland 05/11/17 
Chicago has been under Democratic control for generations, so if their policies worked, it should be almost heaven on earth. Yet like Baltimore and Detroit, we are seeing another major city collapse under the godless control of the Hard Left.
There are hardcore gangsters, with MS13 type gangs proliferating, and now the crimes by illegal aliens! Chicago just may go the way of Detroit with the rich and middle class fleeing, leaving the city bankrupt with no one to pay the taxes.
Chicago doesn't want the Lord; remember the uproar over Chic-fil-a trying to open a store there? The mayor and others went crazy because of the company's stand for marriage between a man and woman! Now look at the state of this city. They don't want the Lord in Chicago, well it appears they are going to get a full dose of satan.
Deuteronomy 30:19  I call heaven and earth to record this day against you, that I have set before you life and death, blessing and cursing: therefore choose life, that both thou and thy seed may live:

"Did you know that the number of murders increased by almost 60 percent in the city of Chicago last year? And as you will see below, this year gang violence in the Windy City has risen to a new level of viciousness.
A staggering 9.5 million people live in the Chicago metropolitan area, and it was once known primarily for great pizza, bitter cold and some of the best sports fans on the entire planet. But now the No. 1 thing that comes to mind for many when they think about the city of Chicago is gang violence. As it becomes clear that things are not going to turn around any time soon, thousands of residents are leaving the city for safer areas of the nation. In fact, Cook County lost more people than any other county in America last year by a very wide margin.
When your murder rate goes up by double digits in a single year, you've got a problem. But when it goes up by close to 60 percent, you have got a catastrophe on your hands:"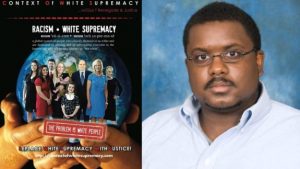 Black Professor at Texas A&M University: When Is It OK to Kill Whites? (VIDEO) 05/11/17
Make sure that you listen to the interview because Texas A&M refuses to fire him! You can see clearly what happens when the Lord gives people over to a reprobate mind! These college administrators are cowards at heart. We're quickly heading into very dangerous waters.
Proverbs 28:1  The wicked flee when no man pursueth: but the righteous are bold as a lion.

"Dr. Tommy Curry is a black associate professor at Texas A&M University. Curry specializes in 'Critical Race Theory', and serves as Executive Director of Philosophy Born of Struggle.
Dr. Curry does a brief interview with a podcast called 'Context of White Supremacy' where he discusses when it is appropriate to kill white people.
Curry: "In order to be equal, in order to be liberated, some white people might have to die"
Curry also rattled off about the 2nd Amendment being about whites using guns to intimidate blacks (I guess black on black violence doesn't exist according to him). He also spoke about anti-black forces killing blacks including children (again he fails to mention black on black crime)."
Hard Left/ Islam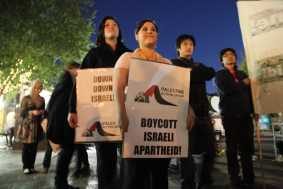 Unions Offer Fertile Ground for Islamofascist Beliefs 05/11/17  Notice that wherever the Hard Left rises to the top,  whatever organization is involved hates America and Israel. Now, they love Iran, and soon I guess it will be North Korea also. There minds really are darkened.
The left seems to be gaining a following of what Lenin called, "Useful idiots." It now appears that America is full of them.
Romans 1:22  Professing themselves to be wise, they became fools,

"Contrast his views on Syria with his opinion of Israel. Iosbaker told PressTV, an Islamic Republic of Iran front, that Israel is a "racist" and "terrorist regime." Although supported by "US imperialism…Israel is living on borrowed time and stolen land." And, in 2016, "Israel's occupation of Palestine has led to a third heroic Intifada." (Intifada is an Arabic word meaning tremor or "shaking off" as with dirt. Figuratively, it means an uprising, particularly the violence by Islamist Palestinians against Israel.)
Widespread anti-Israel activism
The anti-Israel Iosbaker is not alone in the American labor movement, as indicated by the website of Labor for Palestine (LFP), a group that "endorses the 2005 Palestinian-led Boycott, Divestment and Sanctions (BDS) picket line." LFP's December 1, 2004, founding statement declared that "Israel's war on the Palestinian people reflects imperial domination throughout the Middle East," which the "Palestinian people have courageously resisted." (For more on the BDS movement, see "Progressivism's New Hate on Campus," Organization Trends, January 2016.)"
New World Order – World Government/ Islam/ As France Has Done to Israel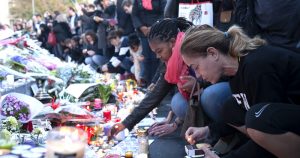 Polish MP: "French No Longer Have Strength to Fight For France" 05/11/17  This is a very good article showing the depth of France in the New World Order. I believe that France's recent election was its last chance to save itself from the EU and Islam. France's fate now is sealed with no way out. It is either a slow submission to Islam, or a bloody civil war against the NWO and the Muslims. France is empty spiritually: there is nothing inside the French people, so Islam is filling the void. France as we knew it is dead.
This nation continually interfered with God's prophetic plan for Israel and aided Israel's enemies, so now God has turned them over to the Muslims for destruction. The Muslims are really good at destroying societies, and there is no doubt that they are going to do a great job on France, and especially Paris.
France targeted Jerusalem, so Paris is now going to get special treatment by the Muslims. Paris will be Paristan. The following verse is great for Frances' epitaph:
Psalm 9:17  The wicked shall be turned into hell, and all the nations that forget God.

"A Polish parliamentarian has accused the French of being Godless and surrendering to globalist domination in the wake of France's presidential election and their selection of former Rothschild banker, Emmanuel Macron, to lead the collapsing nation.
"The French no longer have the strength to fight for France," wrote Polish MP, Krystyna Pawłowicz, in a post on social media. "Compared to them, the Poles are mighty in spirit, channeling the full power of Polish patriots."
"We are discouraged, the French are dying… without God, without faith in Mary."
Macron has already threatened Poland with retribution if they do not bow to the demands of the EU.
"When the rights and values of the European Union are not respected, I want sanctions to be taken," he told the media last week. "In the three months after I'm elected, there will be a decision on Poland."
"You cannot have a European Union which argues over every single decimal place on the issue of budgets with each country, and which, when you have an EU member which acts like Poland or Hungary on issues linked to universities and learning, or refugees, or fundamental values, decides to do nothing."
American Politics – Pennsylvania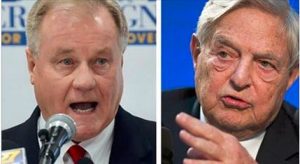 'I Have A Message For You': PA Gov Candidate Slams George Soros 05/09/17  I don't know much about Scott Walker, but if wants to take on George Soros, I'm voting for him!!
"Pennsylvania State Sen. Scott Wagner (R-York) fired back at liberal billionaire George Soros after a group the activist funds allegedly sent a "tracker" to his private event.
Wagner, the Republican primary front-runner to challenge Gov. Tom Wolf (D-Pa.) next year, was speaking at an exclusive central Pennsylvania country club when he noticed an unfamiliar man in the back of the room with a camera.
After asking the man to leave, Wagner told the crowd "you're about to see your senator in action" and walked over and temporarily confiscated the man's recording device.
In a video posted to Facebook, Wagner said Soros was a million-dollar donor to the group that allegedly sent the tracker to his event.
"Mr. Soros, I have a message for you," Wagner, also a waste management company executive, said. "I'm not going to back down from you or your bullies."
Earthquakes
Major seismic events — M6.8 (M7.0) in West Pacific + Hanford WA Nuclear emergency 05/11/17  I think that Dutch Sinse is fantastic with his earthquake analysis. I don't post him too much anymore because his updates are so long-running, at over an hour. When he has something really important I will post it.
This is interesting because of what he said about the Hanford Washington Nuclear emergency.
Psalm 10:7-9  His mouth is full of cursing and deceit and fraud: under his tongue is mischief and vanity. He sitteth in the lurking places of the villages: in the secret places doth he murder the innocent: his eyes are privily set against the poor. He lieth in wait secretly as a lion in his den: he lieth in wait to catch the poor: he doth catch the poor, when he draweth him into his net.