American society headed toward a breaking point
Verse of the Day
Proverbs 10:25  As the whirlwind passeth, so is the wicked no more: but the righteous is an everlasting foundation.
Commentary
This is a great article showing how the Hard Left is creating a national crisis in America. They are taking the fight to us. They hate America and love our enemies, and in fact, they are enemies of America.
I believe that they want a clash where a number of their people are killed and wounded. They will make them martyrs and they then can use this incident to incite violence and a revolution.
In their minds, we are Fascist, white racists, etc. which means they are free from any discourse with us. Their minds are closed which means a physical confrontation is the only solution. The key now is to watch for them provoking the police, resulting in a number of them being killed. They will then use this incident to launch their revolution. This is unfolding right before your eyes.
May the Holy God of Israel bless and protect you.
Proverbs 14:34 Righteousness exalteth a nation: but sin is a reproach to any people.
Hard Left
American society headed toward a breaking point 02/26/17

"If business people such as Under Armour CEO Kevin Plank must apologize for their conservative views for fear of losing business, this is not liberalism and certainly not pluralism. This is tyranny.
A little over a week ago, Bill O'Reilly of The O'Reilly Factor on Fox News slammed the twisted reporting of the deportation of illegal immigrants who were convicted felons, showing how the media portrayed them as innocent "maids, moms, and shopkeepers." He said that this exemplifies how the media coverage of President Trump is beyond biased; it is "blatant dishonesty." Mr. O'Reilly, whose program is "routinely the highest-rated show of the three major US 24-hour cable news television channels," concluded the item declaring, "There is a radical element [the radical left] in this country that wants to destroy it. If this continues, there will be a breaking point."
As harsh as this threat sounds, judging by the relentless attempts of the Democrats to sabotage Trump's efforts to man key positions, the media's slew of warped and made up stories purporting to prove the president's incompetence, through the army of on-the-ground agitators that Obama's Organizing for Action has dispatched in order to disrupt every town-hall meeting in the country and create the pretense that the nation is with the Democrats, it seems that there is indeed a war against the president on multiple fronts."
Hard Left/ Islam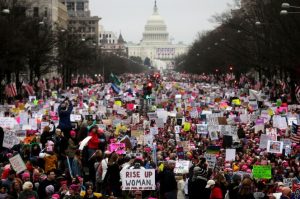 Terrorists Planning Next Anti-Trump Militant Women's March 02/26/17  It now is clear that the greater the rebellious spirit, the higher it goes into leadership of the Hard Left!
A convicted Palestinian terrorist is leading the next woman's march on Washington! The first was led by a Sharia law-promoting Palestinian who also promoted the Hijab, and the reprobates went for it! A female speaker at this meeting was a convicted murdered and rapist; yes, a woman convicted of rape. She used a weapon to sodomize a man before she killed him!
Look at the element being drawn to the Hard Left movement! I also think that a large percentage are drugged. Some are on cocaine, heroin, marijuana while others are mind numbed on legal drugs such as Prozac.
Romans 8:7  Because the carnal mind is enmity against God: for it is not subject to the law of God, neither indeed can be.

"Here's the left's next great idea for bringing down President Trump: another women's march. Which means another public instance of Trump haters shouting slogans to one another and mistaking it for constructive politics. What progressives need to defeat Trump is outreach, but all they have is outrage.
On March 8, organizers seem to be aiming for a different vibe than the librarians-in-pussy-hats element that made the first women's march after Trump's inauguration so adorable.
Instead of milling around Washington, organizers have in mind a "general strike" called the Day without a Woman. In a manifesto published in The Guardian on Feb. 6, the brains behind the movement are calling for a "new wave of militant feminist struggle." That's right: militant, not peaceful.
The document was co-authored by, among others, Rasmea Yousef Odeh, a convicted terrorist. Odeh, a Palestinian, was convicted in Israel in 1970 for her part in two terrorist bombings, one of which killed two students while they were shopping for groceries. She spent 10 years in prison for her crimes.
She then managed to become a US citizen in 2004 by lying about her past (great detective work, INS: Next time, use Google) but was subsequently convicted, in 2014, of immigration fraud for the falsehoods. However, she won the right to a new trial (set for this spring) by claiming she had been suffering from PTSD at the time she lied on her application. Oh, and in her time as a citizen, she worked for a while as an ObamaCare navigator."
Israel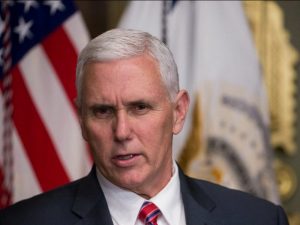 Pence: World Will Know America Stands with Israel 02/26/17  America might need the blessings of the Lord in the coming battle with the Hard Left reprobates. I would expect this battle to get really hot starting the first week of May.
Genesis 12:3  And I will bless them that bless thee, and curse him that curseth thee: and in thee shall all families of the earth be blessed.

"Vice President Mike Pence assured the Republican Jewish Coalition that he and President Donald Trump will work tirelessly on foreign and domestic issues important to the group, such as enacting business-friendly policies at home and supporting Israel abroad.
"If the world knows nothing else, the world will know this: America stands with Israel," Pence told the group Friday night. The Republican administration is "assessing" whether to move the U.S. Embassy to Jerusalem, he said, and has put Iran "on notice."
The Coming Middle East War/ Israel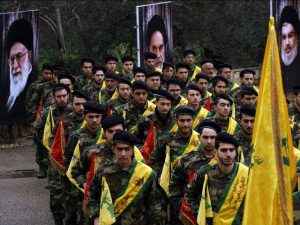 Palestinian Terror Chief Calls for Iran to Join 'All-Out War' Against Israel, Jordan 02/26/17  One can sense how Hezbollah and Iran just can't wait for war with Israel. According to the Bible, that war is coming and when it ends, Israel is left standing. Iran will survive the war only to be destroyed in the next one found in Ezekiel 38-39. Hezbollah and Lebanon do not survive the war.
I believe that God is going to use Israel and Jerusalem to break the back of Islam, and it will not be a dominant religion during the end times. Islam is about to meet its doom at Jerusalem.
Zechariah 12:9  And it shall come to pass in that day, that I will seek to destroy all the nations that come against Jerusalem.

"The leader of a Palestinian terrorist group in Lebanon called for an "all-out war" with Israel and Jordan in which Iranian soldiers would fight to "liberate Palestine."
"I want to see the revolutionary fighters from [Iran] in the Galilee," Ahmad Jibril, leader of the Popular Front for the Liberation of Palestine-General Command, told Hezbollah's Al-Mayadeen TV in an interview translated by watchdog group the Middle East Media Research Institute (MEMRI) on Friday.
Jibril said "an axis of resistance" should be formed against Israel that would include Syria, Iraq, Iran and Hezbollah. The aim of the resistance would be to fight for "the liberation of Palestine from the Mediterranean Sea to the Jordan River."
After defeating Israel, he said, "we will enter Jordan, whether King Abdullah likes it or not."
He added that "The war with this enemy will be an all-out war … in the Golan, in South Lebanon, in the Galilee … [and] will be waged from Rosh Hanikra to Aqaba." "Hezbollah is getting ready for it, and so are we," he added."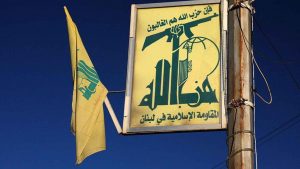 ISRAEL PREPARES AS IRAN AND HEZBOLLAH RATCHET UP THE RHETORIC 02/25/17  It is just a matter of time until the war starts. Israel will be left standing.
"According to Arab media sources, the Israeli Air Force launched a series of strikes against military targets within Syria in the early morning hours of Wednesday. The attacks, which reportedly targeted a Hezbollah weapons convoy, occurred near Damascus. According to at least one report, a busload of Hezbollah terrorists was hit, though this was not confirmed.
Israel has neither confirmed nor denied its involvement. The muted Israeli response is consistent with Israel's policy of acting resolutely to preserve its interests while keeping unnecessary rhetoric and gratuitous bravado under wraps. Unfortunately, the same cannot be said for Israel's enemies who have struck an extremely belligerent tone in recent weeks, even more so than usual.
On Tuesday, Iran's supreme leader, Ayatollah Ali Khamenei referred to Israel as a "cancerous tumor" and encouraged Palestinians to revolt until achieving the goal of "complete liberation of Palestine." Earlier in the week, an unnamed but high-level Syrian official told a Kuwaiti media outlet that Syria "will be partners with Hezbollah in any future war against Israel."
Not to be outdone, Lebanon's President Michel Aoun, a corrupt political lackey who is almost certainly on Hezbollah's (or the Islamic Republic's) payroll voiced strong support for Hezbollah and its acquisition of sophisticated weapons in violation of United Nations Security Council resolution 1701. He also threatened Israel with an "appropriate response" if Israel violated Lebanese sovereignty."
Islam – France/ Hard Left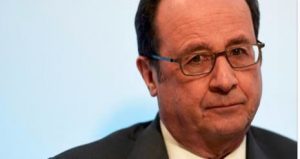 France's Hollande fires back at Trump over Paris comments 02/26/17  President Trump told the French the truth about what is happening to their nation, especially Paris. The Hard Left does not want to hear it, even with such destruction staring right at them. They are going to defend the Muslims to the bitter end.
Hollande brought up the subject of guns in America. Notice how the terrorists in France seemed to have no trouble obtaining AK-47s to carry out their attacks! The French people can't own guns but the terrorists can get them! Maybe the French need more gun control!
"French President Francois Hollande fired back at Donald Trump on Saturday after the U.S. president remarked in a speech that a friend thought "Paris is no longer Paris" after attacks by Islamist militants.
Hollande said Trump should show support for U.S. allies.
"There is terrorism and we must fight it together. I think that it is never good to show the smallest defiance toward an allied country. I wouldn't do it with the United States and I'm urging the U.S. president not to do it with France," Hollande said.
"I won't make comparisons but here, people don't have access to guns. Here, you don't have people with guns opening fire on the crowd simply for the satisfaction of causing drama and tragedy," Hollande said, responding to questions during a visit at the Paris Agric fair."
Health and Nutrition
Soaring antibiotic resistance fuels steep rise in use of 'last hope' drugs 02/25/17  The rise of superbugs is accelerating. You need to take care of yourself, and there are some great online sites about natural antibiotics. You need to know this and get ready to treat yourself and others. This is just about at critical mass.
God has forewarned that this is coming.
Luke 21:11 And great earthquakes shall be in divers places, and famines, and pestilences; and fearful sights and great signs shall there be from heaven

"The term superbug refers to an infection which has become resistant to the antibiotics usually used to treat it. Some superbugs have become resistant to virtually all antibiotics, and genes and enzymes have now developed which can turn bacteria found naturally in our gut into resistant superbugs.
Chief medical officer Dame Sally Davies has said that the threat posed by antibiotics ranks alongside terrorism and could mean a simple cut or infection could prove fatal.
A group of antibiotics known as carbapenems are currently used as a last ditch treatment for superbugs which aren't affected by other medicines.
This family of bugs, known as carbapenem-resistant Enterobacteriaceae (CRE), includes evolved versions of common bacteria such as E.Coli and Klebsiella. Epidemiologists have called CRE 'the nightmare bacteria' because 40 to 50 per cent of people who suffer a bloodstream infection from them die.
When a patient gets a CRE infection, colistin is one of few options doctors have left that has a chance of working."
Christianity/ Homosexuality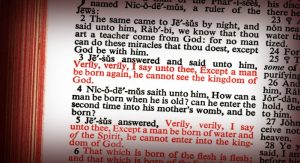 Judge Rules Illinois Law Banning Help for Homosexual Youth Doesn't Apply to Pastors 02/26/17  It seems odd when we win like this; it shows just how far the system is given over to evil. The Left would love to stop the preaching and teaching about sin. They love it and will do all they can to protect and promote sin. To them, the more vile the better.
Romans 6:23 For the wages of sin is death; but the gift of God is eternal life through Jesus Christ our Lord.

"A federal judge appointed to the bench by then-President Bill Clinton has ruled that an Illinois law banning mental health providers from providing help for homosexual youth to overcome temptation does not apply to pastors.
In August 2015, Gov. Bruce Rauner signed into law the "Youth Mental Health Protection Act," which makes it illegal for any "marriage and family therapist" or "professional counselor" to provide "sexual orientation change efforts" to youth under the age of 18.
"Being lesbian, gay, or bisexual is not a disease, disorder, illness, deficiency, or shortcoming," the Act reads in part. "Under no circumstances shall a mental health provider engage in sexual orientation change efforts with a person under the age of 18."
It also bans therapists and counselors involved in a "trade or commerce" from engaging in "any deception, fraud … in offering conversion therapy services in a manner that represents homosexuality as a mental disease, disorder or illness."
As a result, five clergy members who provide counseling as a part of their pastoral roles, filed suit out of concern that the law could be applied to their work as they do teach that homosexual behavior, like all sin, is a human "disorder"—an outflowing of man's nature, born unregenerate."
World War 3/ North Korea Watch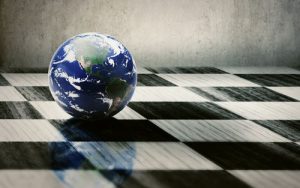 Profound 'Destabilizing Forces At Work' in N. Korea & Russia 02/26/17  This article keeps you on the cutting edge of what is happening with Russia and North Korea.
"As of this writing a tremendous number of things are happening in North Korea and Russia. Although these are not events that seem momentous, they are quite profound when taken into consideration with the grand scheme: the worldwide plot to form a state of global governance. These behind-the-scenes maneuverings are not in the forefront of the news; however, they are having effects within the nations mentioned and influencing their current actions."
Earthquakes, Volcanoes
Earthquake Update + Forecast — Major seismic unrest brewing BE PREPARED 02/26/17  Dutch is warning about a potential massive earthquake in the Western Pacific. Recently there were several large earthquakes and he called them all. This one has the potential of high 8 to 9 magnitude.
The good information starts at the 40 minute mark.
Deuteronomy 30:19 I call heaven and earth to record this day against you, that I have set before you life and death, blessing and cursing: therefore choose life, that both thou and thy seed may live: