'Brexit is proof that Trump will be the next president'
Verse of the Day
Hebrews 12:25-26 See that ye refuse not him that speaketh. For if they escaped not who refused him that spake on earth, much more shall not we escape, if we turn away from him that speaketh from heaven: Whose voice then shook the earth: but now he hath promised, saying, Yet once more I shake not the earth only, but also heaven.
Commentary
There is a huge shaking from the Lord going on in the world in the economic realm and among the governments. I believe that what just happened with Great Britain is going to start unraveling the world as we know it, and head us into WW3. The shaking that happened was like a political earthquake that is going to forever change the world. The time of judgment for the Europeans has arrived. The Lord has sent the Muslims as judgment into Europe and now he is about to breakup the European Union and send the entire continent into chaos. They just might strip Europe of its wealth as he brings these nations to their knees.
The Europeans have killed untold numbers of babies, and without ceasing promoted the homosexual agenda, as well as tirelessly trying to divide both Israel and Jerusalem. The time of God's grace appears to be over, while the judgment is at the door. There is no turning back because the die is cast and the clock is ticking for judgment both in Europe and throughout the world.
America might be be next in line, since the church is playing religious games instead of acting like God's spiritual battleaxe while God's judgments are falling all around us!
May the Holy God bless and protect you.
Revelation 22:20 He which testifieth these things saith, Surely I come quickly. Amen. Even so, come, Lord Jesus. 
New World Order – World Government/ American Politics
'Brexit is proof that Trump will be the next president': 'Anti-immigration' message and shift to the Right that led to UK's seismic break with Europe draws parallels with rise of The Donald 06/24/16  If you have followed my posts for a while, you will see that I have stated over and over that there will be no New World Order until after WW3. What just happened with Great Britain goes along what I have been saying.
The breakup occurring in the EU, war in Europe with Russia, and war with the Muslims will set the stage for the NWO – One World Government. WW 3 is NOT Armageddon, but people are going to think it is. The war will be so massive that the people are going to beg for a NWO to put things back together and make them feel safe.
Based on what just happened, I think that events leading to WW3 are now on the fast track.
Grow close to the Lord and work for him because time is fast running out.
Daniel 12:3  And they that be wise shall shine as the brightness of the firmament; and they that turn many to righteousness as the stars for ever and ever.

"As Donald Trump flew in to Scotland today after the UK's seismic break with the European Union, parallels have been drawn with the anti-immigration message that led to Brexit and his rise to presumptive Republican presidential candidate.
Many have pointed out the similarities between Britain's decision to leave the EU and Trump's campaign – and believe it is an indication of how Americans will vote on November 8, which could see Trump in the White House.
The Donald's arrival in the UK will be seen by many as a meeting of minds – two worlds colliding with shared views including a disgruntled electorate; lost national pride; isolationism; and the issue of immigration.
However, he may not get the desired reception in Scotland: while voters in England and Wales swung the result for Leave, Scots voted overwhelmingly for remaining part of the EU.
And today, he promised close ties between the U.S. and UK if he becomes President, saying: 'A Trump Administration pledges to strengthen our ties with a free and independent Britain, deepening our bonds in commerce, culture and mutual defense'.
'Brexit is further proof that Donald J Trump will be the next President of the United States,' wrote Broderick Greer on Twitter."
Financial Armageddon
World Markets Roiled by Brexit as Stocks, Pound Drop; Gold Soars 06/24/16  
Wow, the world economy is already weak and unstable, and now this! Could this be the big blow to send the world economy into the abyss? I don't know, but this is a different world than it was this time yesterday.
The thought of the EU breaking up and Trump becoming president could really hit the stock markets and world economy. We are now into uncharted waters and rough seas!
James 5:1-2  Go to now, ye rich men, weep and howl for your miseries that shall come upon you. Your riches are corrupted, and your garments are motheaten.

"Global markets buckled as Britain's vote to leave the European Union drove the pound to the lowest in more than 30 years and wiped about $3 trillion from stock market values while sparking demand for haven assets from U.S. Treasuries to gold.
MSCI's global stock index plunged 4.8 percent in the biggest slide since August 2011. The Dow Jones Industrial Average sank more than 600 points, or 3.7 percent, to erase gains for the year, while European stocks slid 7 percent in its worst day since 2008. Volume in U.S. trading topped 13 billion shares, the most this year.
The yen briefly strengthened past 100 per dollar. Treasury yields had their biggest drop in more than four years and gold rallied above $1,300 an ounce. Volatility surged, with the CBOE's measure of anxiety jumping 43 percent."
Hard Left/ Islam
Muslim former FBI agent who refused to wiretap fellow Muslims now Homeland Security Adviser 06/25/16  Notice how Obama promotes an Islam-lover over the protection of America! Obama loves Islam and the Muslims more than America. I have proved this over and over on this site.
It is hard to believe that the president could be a fifth column or something like a Manchurian Candidate, but he certainly appears to be one or the other. He can't say the words Muslim terrorism or jihad, but he can appoint Hafiz as an advisor!
"Back in 2002, Gamal Abdel-Hafiz was in the FBI, and refused to conduct a secret recording of a Muslim suspect. He said: "a Muslim doesn't record another Muslim."
This was quite controversial at the time, and there were calls for him to be fired. But now the foxes own the henhouse, and he is advising the President on how to deal with the terror threat. That explains a great deal.
Abdel-Hafiz should have been fired in 2002, immediately after demonstrating that his allegiance to Islam was greater than his allegiance to the United States. Instead, he is now in a greater position of influence than ever.
"Homeland Security Adviser Demands National Gun Registry," by Patrick Poole, PJ Media, June 20, 2016:
Following the terror attack in Orlando, the dominant media/political narrative turned to gun control and now-discredited claims of the suspect's mental illness (claims which included gay-baiting).
Now, one controversial former FBI agent — and current consultant to the Obama administration on "countering violent extremism" (CVE) — is suggesting a national gun registry be created. Such a registry would target millions of law-abiding American citizens.
Gamal Abdel-Hafiz, born in Cairo, immigrated to the U.S. in 1990. He recently retired from the FBI after 22 turbulent years at the bureau. Following the Orlando attack, Abdel-Hafiz explained his rationale for creating a national gun registry:
A former FBI counter-terrorism agent says lawmakers could make mass murders less likely. "What we need to do is keep the ownership of guns known to the government, so we know who has what," said security consultant Gamal Abdel-Hafiz. "And I know a lot of people are against that."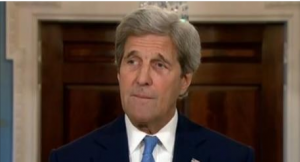 Kerry: 'Zero Evidence' Refugees Making It Through US Screening Pose Greater Risk Than Other Groups 06/21/16  ISIS has declared they are using the refugees to slip in their agents, and they already have done this in Europe! The CIA, along with other federal agencies, just warned about how dangerous this is! Kerry and Obama are really God's judgment on America.
Isaiah 3:4  And I will give children to be their princes, and babes shall rule over them.

"Secretary of State John Kerry said Monday evening there was "zero evidence" that refugee applicants who go through the rigorous screening involved in the U.S. refugee admission program pose a greater security threat than members of any other group.
Speaking at the interfaith iftar (Ramadan fast-breaking meal) in Sterling, Va. coinciding with World Refugee Day, Kerry also warned that what he called "bigoted and hateful rhetoric" about Muslims helps those "who propagate the lie that America is at war with Islam."
"There is absolutely no evidence, my friends, zero evidence, that refugees who make it through this arduous process, pose any greater threat to our society than the members of any other group," he said. "And it is important for people to know that."
GUNS, ISLAM AND ORLANDO 06/22/16  This is a hard-hitting video showing what Obama is doing to protect Islam, and what Islam really is.
Proverbs 8:36  But he that sinneth against me wrongeth his own soul: all they that hate me love death.
Islam – Jihad
Islamist Cop Killer's Facebook Livestream: 'Kill Police… Politicians…Journalists… Rappers… Kill Them in The Name of Allah' 06/21/16  There are plenty like him here in America. It is chilling to see what a cold, bloody killer this man is and he is doing it all in the name of allah.
It does not take many like him to paralyze a society.
"The Facebook live stream video shot by Islamist killer Larossi Abballa who murdered two French police officers and then indulged in a rant against the West has been released in edited form by the media arm of Islamic State.
In the video, taken after Mr. Abballa had stabbed senior French police officer Jean-Baptiste Salvaing and cut the throat of his wife and fellow police member Jessica Salvaing, Abballa calls on fellow Muslims to attack the West.
Shortly after he finished live streaming his rant to Facebook, Abballa was himself killed by French special operations officers as they stormed the house, discovering the body of Mrs. Salvaing, and their unharmed child. In a section of the live stream cut from the video by Islamic State propagandists, Abballa wonders aloud what he should do with the child now he's killed both of the parents.
Speaking to the camera, Mr. Abballa opened his tirade by declaring loyalty to Islamic State and its Caliph, the brutal dictator who leads Islamic State and is a prime target of Western air strikes. Abballa said: "In the name of Allah I pray on the prophet who has sent mercy to humanity. I pledge allegiance to Abu Bakir al-Baghdadi, may god save him".
Ranting on the poor state of modern Islam, which Abballa accuses of having become too comfortable with the Western world, he continues: "My Islamic nation, how did this happen? How did we get here?"
World War 3/ North Korea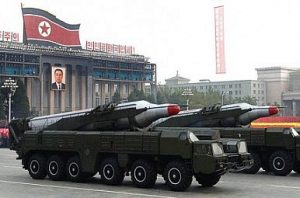 North Korea's Musudan Missile Test Actually Succeeded. What Now? 06/23/16  Look what has happened in the last week. Serious war rhetoric from NATO, Russia, China and now this action by NK.
Keep in mind that Kim Jong-un's goal in life is to destroy America. He is striving for a missile and a nuclear weapon that can destroy the US bases in Asia and reach America.
With the wicked state of America before the Lord, Kim Jong-un could be used as God's "rod of judgment against America." Where are God's people and pastors interceding before the Lord?
2 Chronicles 7:13-14  If I shut up heaven that there be no rain, or if I command the locusts to devour the land, or if I send pestilence among my people; If my people, which are called by my name, shall humble themselves, and pray, and seek my face, and turn from their wicked ways; then will I hear from heaven, and will forgive their sin, and will heal their land.

"Indeed, early on Thursday, a day after the Musudan test launches, North Korean leader Kim Jong-un was reported to have said that the test was a full success and, critically, underlined that Pyongyang now had attained "the sure capability to attack" U.S. targets in the "Pacific operation theater," most likely referring to Guam but also other regional U.S. bases.
The definition of success in missile testing can be somewhat subjective; North Korea gets to decide the parameters it was looking to accomplish and it looks like Kim Jong-un is satisfied with the 1,000 kilometer apogee and the 400 kilometer range accomplishments. (Obvious failed tests meanwhile are easy to spot, particularly when a missile blows itself and its launcher up on or immediately after launch.)
Kim Jong-un's Thursday statement also helps explain why we've seen a particularly unusual spate of Musudan testing this spring. North Korea watchers have speculated that the repeated and rushed testing could have been due to Kim Jong-un needing to demonstrate, in line with his byungjin ambitions (more on that here), that he possessed a credible strike platform capable of hitting the U.S. territory of Guam.
North Korea's KN-08 and new KN-14 intercontinental ballistic missiles, which may be capable of striking most of the continental United States if developed successfully, remain in development and have yet to be test-fired.
Jeffrey Lewis, a North Korea watcher and nonproliferation expert at the James Martin Center for Nonproliferation Studies, notes that "If we do nothing, this ends in a successful flight test of the Musudan-based KN-08 (ICBM)."
This test should be a reminder for policymakers in the United States and certainly in the region that North Korea continues to make steady progress on a range of platforms that bring Kim Jong-un closer to realizing the nuclear leg of byungjin, threatening regional peace and security."
Hard Left/ Christianity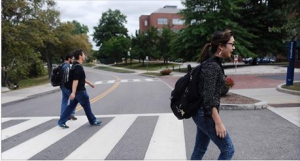 Democrats, LGBT activists' sinister plan to crack down on Christian schools 06/24/16  The religious freedoms we enjoyed in America are fast coming to an end. It is happening right before your eyes, and yet the church seems powerless against this onslaught!
This is the process the Nazis used against the Jews. It is very evident that the Hard Left is using the homosexuals as the vanguard to destroy Christianity.
WHERE ARE THE PASTORS WARNING THE BELIEVERS AND CALLING ON THE LORD?!!!
Very soon believers will not be able to live in California and many other states. You are hated because they hate the Lord and everything about Him. Our weapon is prayer and calling for an outpouring of the Holy Spirit to arrest this outpouring of hell upon the nation. The Jews in Germany could not believe that the Nazis would destroy them, and the American church is just as blind. It is happening right before your eyes and what is the church doing?
If this continues at the current pace of deterioration, the believers are soon going to be forced out of California. The state wants to destroy you because you believe in the Lord. Coming after the colleges is just one step toward this destruction. God is waiting for his people to cry out to Him. If there is no turning to the Lord very soon, the nation is finished.
1 John 3:13  Marvel not, my brethren, if the world hate you.

"If California Democrats have their way, Christian colleges and universities will no longer be allowed to require students attend chapel services or require them to profess a relationship with Jesus Christ.
Senate Bill 1146 would close a loophole that lawmakers say allows Christian universities to discriminate against students based on their gender identity, gender expression or sexual orientation.
"All students deserve to feel safe in institutions of higher education, regardless of whether they are public or private," said Senator Ricardo Lara, the author of the legislation. "California has established strong protections for the LGBTQ community and private universities should not be able to use faith as an excuse to discriminate and avoid complying with state laws."
The legislation has already passed the Senate and is expected to clear hurdles in the Assembly. Thus far, Lara has refused to compromise with the state's Christian colleges and universities. "No university should have a license to discriminate," he said in a statement.
If the loophole is closed, it would only exempt schools that prepare students for pastoral ministry. "It discriminates against religious colleges, said John Jackson, the president of William Jessup University. "If we don't play ball with state — the state will attempt to drive us out of existence."
Fires/ California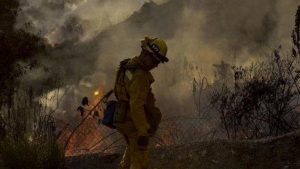 New fires erupt in California as heat wave sears the West 06/20/16  Remember, Obama declared June as Gay Pride Month, and these fires just might burn for the rest of June. Could this be part of the final judgment on California? We soon will find out.
"New wildfires erupted Monday near Los Angeles and chased people from their suburban homes as an intense heatwave stretching from the West Coast to New Mexico blistered the region.
Towering columns of smoke rose from the San Gabriel Mountains as two fires a few miles apart devoured brush on steep slopes above foothill suburbs.
Police in the city of Azusa and parts of Duarte ordered hundreds of homes evacuated. Others were under voluntary evacuations.
Officials had warned of extreme fire danger in the region as the heat peaked. Temperatures surpassed 100 degrees across much of Southern California well before noon, while some desert cities sizzled in the 120s.
Elsewhere, crews made progress against a nearly week-old blaze in rugged coastal mountains west of Santa Barbara. Overnight winds pushed flames into previously burned areas, allowing firefighters to boost containment to more than 50 percent.
About 270 homes and other buildings still were threatened by the blaze, which has charred more than 12 square miles since Wednesday.
Another wildfire was growing near Potrero, a small desert town close to the Mexico border. It surged to nearly 3 square miles amid triple-digit temperatures and forced the evacuation of about 75 people from the ranching community about 40 miles southeast of San Diego."
Earthquakes and Volcanoes
Global Earthquake Forecast — West Coast Watch + Pacific Unrest this week 06/23/16  This is Dutch Sinese's weekly earthquake update. He is the best and gives a clear picture of what is happening and what is coming.
"This forecast covers the next 7 days of expected earthquake activity in the Pacific, North – Central – South America, Asia, Europe, and the Mideast.
We are expecting to see M5.0 activity return to the Southwest United States, and M4.0 to M5.0 activity to strike the Northwest coast of the United States (possibly as far South as the Northern California coast near Eureka).
The M5.0 threat exists from Los Angeles near the pumping operations all the way East to South Nevada / Northwest Arizona.
The earthquake swarm at Salton Sea should cause an ADDITIONAL larger earthquake to the South in Baja California , Gulf of California at least 1 magnitude larger than the largest recent event .. the largest recent earthquake at Salton Sea volcano was a M3.9 occurring one day ago on June 22, 2016.
The craton edge should move as well, this means midwestern states including Colorado, Utah, Texas, Oklahoma, and Kansas will see another round of supposedly "rare" earthquakes. These once rare earthquakes are now becoming commonplace as the fracking operations in each state are the new "weak points" where the seismic pressure is finding a place to release on its way Eastward across the craton."
End-Time Witness for the Lord Jesus – Time is Running Out!

As events in the Middle East with Israel are exploding right before our eyes, now is the time to use God's prophetic scriptures to win souls to Jesus. World events are opening hearts to God. It is now easy to use God's prophetic word to share the gospel. Please do not miss this opportunity to witness for the Lord.
We offer the Prophecy Packet  free of charge. If you want one, email Dave at: [email protected]  Make sure to give your name and mailing address.
The packet contains The Last Trumpet Newspaper, 666 Surveillance System brochure, Jesus Came to Heal the Brokenhearted brochure, prophecy timeline chart, CD about the Last Trumpet and a CD titled: Sinners in the Hands of an Angry God.
If you are involved in a prison ministry, we will provide a copy of the book When Jesus Sets You Free.
God is opening doors for the Prophecy Packet all over the world. The request for our information is now staggering and we thank the Lord for this. Most of the foreign contacts are very poor and cannot afford to pay. If we do not send the material free, then it will never be sent. Sending the Prophecy Packet free to Pakistan is what opened this tremendous door.
To continue to send the material, we need your help. It cost $65.00 to send a box overseas. Please consider sponsoring one box a month on a regular basis.
God is opening Pakistan and many other countries. NOW is the time to act. If we get the material in their hands, they use it!
Daniel 12:3 And they that be wise shall shine as the brightness of the firmament; and they that turn many to righteousness as the stars for ever and ever.