How American Soldiers Used Pig's Blood To Fight Muslim Terrorism
         Verse of the Day
John 18:37 Pilate therefore said unto him, Art thou a king then? Jesus answered, Thou sayest that I am a king. To this end was I born, and for this cause came I into the world, that I should bear witness unto the truth. Every one that is of the truth heareth my voice.
Commentary
I posted just a few articles to keep you up to date. The one about the American army using pig blood against the Muslims in the Philippines is very interesting. I also posted a distributing article about Marco Rubio and a connection with homosexuality. The road to World War 3 is still full speed ahead.
May the Holy God of Israel bless and protect you.
2Timothy 4:8 Henceforth there is laid up for me a crown of righteousness, which the Lord, the righteous judge, shall give me at that day: and not to me only, but unto all them also that love his appearing.
Islam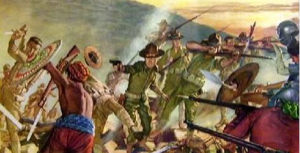 HOW AMERICAN SOLDIERS USED PIG'S BLOOD AND CORPSES TO FIGHT MUSLIM TERRORISM  Recently the media attacked Trump for saying that General Pershing used pig corpses to suppress Muslims during the Philippine uprising. The media denounced this all as false. I knew it was true from studying history. The British used the same tactic in India against Muslim terrorists. This interesting article proves that the US military did in fact use pigs against the Muslim terrorists. It is 100 years later and once again the US is at war with the Muslims!
"General Pershing however wrote in his autobiography that, "These Juramentado attacks were materially reduced in number by a practice that the Mohamedans held in abhorrence. The bodies were publicly buried in the same grave with a dead pig. It was not pleasant to have to take such measures, but the prospect of going to hell instead of heaven sometimes deterred the would-be assassins."

We can be certain then that the practice of burying Muslim terrorists with pigs was indeed real and fairly widespread. Was pig's blood also used on Muslim terrorists as a deterrent to prevent attacks?

The Scientific American described just such an event. In a hard look at the area, it wrote of a place where, "Polygamy is universally practiced and slavery exists very extensively. Horse stealing is punishable by death, murder by a fine of fifty dollars. The religion is Mohamedan."

A Muslim terrorist, the magazine wrote, "will suddenly declare himself 'Juramentado', that is inspired by Mohammed to be a destroyer of Christians. He forthwith shaves his head and eyebrows and goes forth to fulfill his mission."

The Scientific American described how a Muslim terrorist who had disemboweled an American soldier was made an example of. "A grave was dug without the walls of the city. Into this the murderer was unceremoniously dropped. A pig was then suspended by his hind legs above the grave and the throat of the animal cut. Soon the body lay immersed in gore… a guard stood sentry over the grave until dusk when the pig was buried side by side with the Juramentado."
American Politics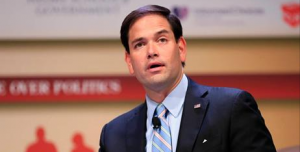 Will Marco Rubio Become the Second "Gay" President?  I have known for a while that there was a link between Rubio and homosexuality. What pushed me over the edge to post this article was that his number two campaign manager is a huge supporter of homosexual marriage. He signed a brief submitted to the Supreme Court supporting homosexual marriage!
If you are going to support Rubio, I think that you should know all of this about him.
Malachi 3:18 Then shall ye return, and discern between the righteous and the wicked, between him that serveth God and him that serveth him not.
"As the Republican field of 2016 Presidential candidates narrows, Marco Rubio has gained the Establishment mantle. Smooth-talking and good looking, a family man with 4 children who frequently speaks about his devout Christian faith and conservative values, he appeals to a large number of voters.

But is he really what he seems? Like Barack Obama, Rubio is a first term Senator, with experience only in his state legislature. Yet voters flocked to Obama based on his promises of hope and change, after he gave acceptable, mainstream answers on same-sex marriage to Rick Warren at the Candidates' Forum. Both men have claimed to be Christians and devoted family men."
(Continued)
World War 3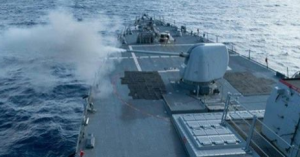 U.S. Navy Plans More Military Exercises of 'Greater Complexity' in South China Sea  Watch for all the Pacific nations to coalesce around the US against China. I think that you will see this happen very fast as China is getting very aggressive and dangerous. It is difficult for me to imagine the US in an all-out war with China and Obama as the Commander: frightening.
"We'll be doing them more and we'll be doing them with greater complexity in the future," Admiral Harris told legislators, adding what has become America's mantra on the South China Sea: "We'll fly, sail and operate wherever international law allows." He accused China of "clearly militarizing" the sea, despite claims by the Chinese government that it is the United States, in operating in the region at all, that is escalating military tensions in the area. "China's intent to militarize the South China Sea is as certain as a traffic jam in DC," Harris joked.

Harris echoed statements he made in early February, when he asserted that, "as we continue down the path of freedom of navigations, you will see more of them, and you will see them increasing in complexity and scope in areas of challenge." The Chinese government claims most of the South China Sea, a claim supported by no relevant international law and disputed by most neighbors in the region: Taiwan, Brunei, Malaysia, Vietnam, and the Philippines."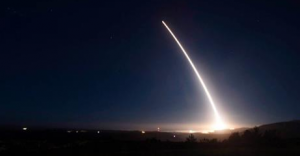 US flexes muscle, tests ICBM off California coast  These missiles are good for only one thing: to deliver nuclear weapons. Is this a warning to North Korea, China and Russia about the coming WW3?
"An unarmed Minuteman 3 nuclear missile was shot into the California night sky Thursday amid tensions with North Korea and Russia.

The missile was fired at 11:01 p.m. off the California coastline and was carrying a payload of test instruments. It was aimed toward the waters of the Kwajalein Atoll, an island chain about 2,500 miles southwest of Honolulu.

Col. Craig Ramsey, commander of the 576th Flight test Squadron, said the re-entry vehicle that carries the missile's payload reached its target 30 minutes after the launch.

This was the second missile test the Air Force conducted this month in a series designed to confirm the reliability of the Cold War-era missile and all its components. The Minuteman 3, first deployed in 1970, has long exceeded its original 10-year lifespan. It is so old that vital parts are no longer in production."
Financial Armageddon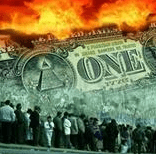 Global finance officials promise to shore up sagging growth  They can try what they want but the $trillions in debt can't be overcome. They are already into negative interest rates, so the end is very close.
"Finance officials of the world's biggest economies promised Saturday to use "all tools" to shore up sagging global growth and to avoid devaluing their currencies to boost exports, but made no pledges of joint action.
Finance ministers and central bankers of the Group of 20 rich and developing countries tried to reassure jittery financial markets that the global economy is healthy, though they acknowledged in a statement that they "need to do more" to boost growth.

The declaration following a two-day meeting promised "growth-friendly" tax and spending policies. The governments pledged to press ahead with previously promised reforms aimed at making their economies more efficient and productive.

"We agreed to use all tools – monetary, fiscal and structural – to boost growth," China's finance minister, Lou Jiwei, said at a news conference."
Prophecy Preaching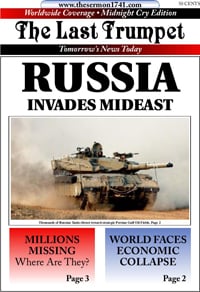 Prophecy Update From 1917 (Audio) 02/21/16 This is a sermon by David Hauser. Dave works with me in the ministry, and he produced The Last Trumpet. He has great insight into Bible prophecy, so I highly recommend that you listen.
I will regularly post his sermons.
Be an End-Time Witness for the Lord Jesus!
As events in the Middle East with Israel are exploding right before our eyes, now is the time to use God's prophetic scriptures to win souls to Jesus. World events are opening hearts to God. It is now easy to use God's prophetic word to share the gospel. Please do not miss this opportunity to witness for the Lord.
I offer the Prophecy Packet free of charge. If you want one, email Dave at: [email protected]  Make sure to give your name and mailing address.
Matthew 24:30  And then shall appear the sign of the Son of man in heaven: and then shall all the tribes of the earth mourn, and they shall see the Son of man coming in the clouds of heaven with power and great glory.