Islam: Sounds like silence (Video) Must watch
          Verse of the Day
Proverbs 8:36 But he that sinneth against me wrongeth his own soul: all they that hate me love death.
Commentary
The video about Islam is a must see, since in less than four minutes it lays out just how violent Islam is. I watched it a few times.
May the Holy God of Israel bless and protect you.
John 14:27 Peace I leave with you, my peace I give unto you: not as the world giveth, give I unto you. Let not your heart be troubled, neither let it be afraid.
Islam
Islam: Sounds like silence (Video) 01/18/16  This is an incredible video putting Simon and Garfunkel's song "Sounds of Silence" to an Islamic parody. There is a rough word or two in it, and the very end is difficult to watch, but it is loaded with truth.
American Politics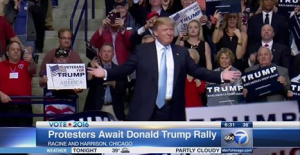 Donald Trump cancels UIC rally amid security concerns 03/11/16  I have warned how dangerous the Hard Left is, and how something would happen to galvanize the reprobate minds. They will become the "Brownshirts" of the Hard Left in America. The riots and stopping of Trump's meeting might be the spark to do this.
They live in a delusion which is destroying the nation and they hate the truth. It is easy to see great bloodshed coming this summer, as the nation could divide up into a civil war. Remember, last June was the Supreme Court homosexual ruling and America is on borrowed time with the Lord.
Chicago is the murder capital of the nation and look what just happened in this city! This city has been a Hard Left stronghold for generations and look what it is breeding!
Isaiah 1:4  Ah sinful nation, a people laden with iniquity, a seed of evildoers, children that are corrupters: they have forsaken the LORD, they have provoked the Holy One of Israel unto anger, they are gone away backward.
(5) Why should ye be stricken any more? ye will revolt more and more: the whole head is sick, and the whole heart faint.
(6) From the sole of the foot even unto the head there is no soundness in it; but wounds, and bruises, and putrifying sores: they have not been closed, neither bound up, neither mollified with ointment.
(7) Your country is desolate, your cities are burned with fire: your land, strangers devour it in your presence, and it is desolate, as overthrown by strangers.
"In a statement from UIC Police Chief Kevin Booker, he said: "The University of Illinois at Chicago worked with all appropriate agencies to address the security concerns associated with an event of this nature including the Secret Service, Chicago Police Department and Illinois State Police as well as campaign and protest organizers.

The vast majority of attendees at today's events exercised their Constitutional rights of free speech and free assembly peacefully. The abrupt announcement of the cancellation of the event created challenges in managing an orderly exit from the Pavilion, which nonetheless, was accomplished with no injuries or arrests.

The 10,000 seat Pavilion was nearly filled when the rally was canceled. As the crowd waited for the event to begin, it became apparent that it included at least hundreds of protesters. Activist Jedidiah Brown told me he and other infiltrators were on a mission to disrupt Trump's speech as often as possible.

"How does a man who speaks a message that's going to take America backwards become the possible frontrunner of an entire party that represents American values?" Brown asked.

The crowd of protesters outside the area swelled to at least 1,000 people. Some attendees said they had signed up for tickets, but those tickets were never collected so anyone could have gotten into the event. Protesters surrounded the Pavilion, heckling attendees as they left."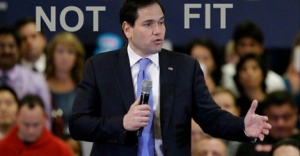 Trump: "I think Islam hates us"; Rubio: 'You can't say that' 03/12/16  What is very good about this article is that it contains a list of Suras from the Koran showing that allah hates the unbelievers. I suggest that you keep this list for future reference.
The Muslims are acting on these Suras all throughout Islam, so why not against America.
"Donald Trump said Wednesday that he thinks "Islam hates us" and said it's "hard to separate" the religion from radical offshoots.

"There's an unbelievable hatred of us," Trump told CNN's Anderson Cooper.

When Cooper asked if hate was "in Islam itself," Trump said: "You're going to have to figure that out, OK? "It's radical, but it's very hard to define; it's very hard to separate because you don't know who's who," Trump said when asked if there was a war between the West and radical Islam.

Trump, who has previously called for a temporary ban on non-U.S. Muslims entering the country, said Wednesday, "We can't allow people coming into this country who have this hatred of the United States."

Trump didn't cower or flip flop when asked about it Thursday:

Jake Tapper: Mr. Trump, let me start with you. Last night you told CNN, quote, "Islam hates us." Did you mean all 1.6 billion Muslims?

Donald Trump: I mean a lot of them. I mean a lot of them.

Jake Tapper: Do you want to clarify the comment at all?

Donald Trump: Well, I've been watching the debate today and we're talking about radical Islamic terrorism or radical Islam. But I will tell you, there's something going on that maybe you don't know about, or maybe a lot of other people don't know about but there's tremendous hatred and I will stick with exactly what I said to Anderson Cooper."
As America Has Done to Israel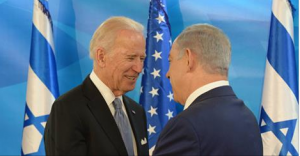 Will Obama Try to Blackmail Israel? 03/11/16  Obama is so evil that he is liable to do anything. I fully expect him to come against Israel since he supports the Muslim Brotherhood, so he is no friend of Israel. Netanyahu is will not let Obama bully Israel because this is life and death to Israel.
Obama is a failed president in every area except the homosexual agenda. He has succeed in that area to the determent of America. Everything else this man touched was a failure.
"President Obama is looking at the fires he lit in the Middle East and North Africa, and desperately hoping to salvage something, anything, from the conflagration before he leaves office. Israel will be pushed to provide at least one "victory."

Iran has come closer to nuclear weapons competence in the past eight years. And Obama's abandonment of dissidents and pro-democracy advocates in Cuba, Venezuela, China, Turkey and Iran paves the way for waves of repression and bloodshed around the world.

It is estimated that more than 17,000 civilians were killed in Iraq in 2014, four times as many as 2012, after the U.S. withdrew its combat forces. This is a far cry from 2011, when Obama announced the U.S. was leaving a "sovereign, stable and self-reliant Iraq."

He needs to find a "success." Cue the Middle East "peace process."
As Sweden Has Done to Israel
Women are warned not to go out alone at night in Swedish town after multiple sex attacks by 'foreigners' 03/12/16  Sweden does not want Jews and are trying to destroy Israel, so the Lord has sent them lots of Muslims. Now they are beginning to feel the curse that has descended over Sweden. This is just the beginning because Sweden shows no sign of letting up on Israel. God is really tightening the judgment around this country until it becomes a living hell.
"Women in a town in northern Sweden have been warned not to walk alone at night in the wake of a spike in violent assaults and attempted rapes.

Police in Östersund made the unusual move to ask women not to go out unaccompanied after dark, after reports of eight brutal attacks, some by 'men of foreign appearance', in just over two weeks.

Speaking at a press conference on Monday, police said they 'have never seen anything like it in Östersund', a small town in the north of Sweden with a population of just 45,000.

It is extremely unusual for Swedish authorities to make such warnings, and it has not been well received in Sweden, a country proud of its progress in gender equality and women's rights.

All incidents have taken place in Östersund since the 20th of February, and involved outdoor attacks where the perpetrators have been unknown to their female victims."
Israel and the Middle East War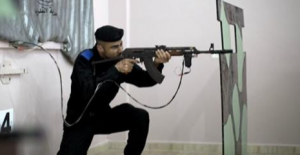 Report: 50 Gaza Militias Possess 1m Weapons 03/12/16  This is the best article I've read about the makeup of the terrorists in Gaza. It is loaded with good information showing the magnitude of the terrorist army. I believe that Hamas's next war with Israel will be its last, and none of the terrorists will survive.
Obadiah 1:18  And the house of Jacob shall be a fire, and the house of Joseph a flame, and the house of Esau for stubble, and they shall kindle in them, and devour them; and there shall not be any remaining of the house of Esau; for the LORD hath spoken it.
"No less than 50 armed militias are currently operating in the Gaza Strip, possessing around one million weapons of various kinds, an Egyptian newspaper claimed on Thursday.

According to an investigative report in the Seventh Day daily newspaper, the leading militia is Hamas' military wing, the Azz a-Din al-Qassam brigades, which is 18,000-24,000 troops strong.

The militia is divided into numerous units: infantry, an armored unit trained to fight Israeli tanks, an engineering unit in charge of the network of tunnels and air defense systems that rely on Soviet-made machine guns and missiles, an artillery unit in charge of manufacturing rockets, and two special missions units trained to infiltrate Israel and abduct prisoners.

The paper said that Hamas's Azz a-Din al-Qassam sets the tone for some of the other armed groups.

In addition, Gaza is home to Islamic Jihad's Al-Quds Brigades, with 8,000-14,000 members, and the military wings of the Popular Front for the Liberation of Palestine and the Democratic Front for the Liberation of Palestine, boasting some 3,000 men each. Militants belonging to Fatah's Al-Aqsa Brigades and affiliated groups number in the thousands."
World War 3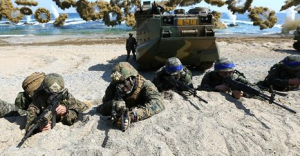 North Korea says its military is ready to pre-emptively attack and "liberate" the South in its latest outburst against the annual joint military drills by the United States and South Korea 03/12/16  The leader of NK is evil beyond measure, so anything can happen. I do know if he has miniaturized a nuclear warhead for one of his missiles, but if so, he will launch it against the US or one of our bases in Asia. This situation is very tense because he has nuclear weapons and will use them.
"North Korea said Saturday its military is ready to pre-emptively attack and "liberate" the South in its latest outburst against the annual joint military drills by the United States and South Korea.

In a statement carried through state media, the General Staff of the North's Korean People's Army said its frontline units are prepared to strike first if they see signs that American and South Korean troops involved in the drills were attempting to invade the North.

The KPA said it will counter the drills by the United States and South Korea it says are aimed at advancing into Pyongyang with plans to "liberate the whole of South Korea including Seoul" and also that it is capable of executing "ultra-precision blitzkrieg" strikes against enemy targets.

At the start of the drills on Monday, the North warned of an indiscriminate "pre-emptive nuclear strike of justice" on Washington and Seoul.

In response to North's statement, South Korea's Joint Chiefs of Staff called for North Korea to stop its threats and "rash behavior" and warned that a provocation from the North would result in the destruction of its highest leadership."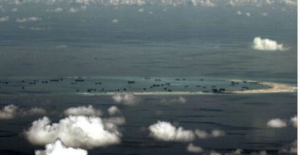 Intelligence Chief: China Will Have 'Substantial Military Power' in South China Sea by 2017 03/12/16  There is now no doubt that China is racing toward preparation for WW3.  There is also no doubt in my mind that China is going to win and end the US as an Asian military power. The army that China will amass numbers 200,000,000 when it marches to Armageddon!
This is all part of God's judgment on America for the sinful rebellion the nation is now in.
Revelation 9:14  Saying to the sixth angel which had the trumpet, Loose the four angels which are bound in the great river Euphrates. (15) And the four angels were loosed, which were prepared for an hour, and a day, and a month, and a year, for to slay the third part of men. (16) And the number of the army of the horsemen were two hundred thousand thousand: (200,000,000) and I heard the number of them.
"Director of National Intelligence James Clapper warned in a letter to Sen. John McCain (R-AZ) this week that he expects China to boast "substantial offensive military power" in the illegally-occupied territories of the South China Sea by the end of this year or the beginning of 2017.

The news comes as China announces a plan to soon begin offering civilian flights to Woody Island in the Spratly Island archipelago of the South China Sea, a contested territory also claimed by the Philippines and Vietnam.

"Based on the pace and scope of construction at these outposts, China will be able to deploy a range of offensive and defensive military capabilities and support increased PLAN and CCG presence beginning in 2016," Clapper said in his letter.

Clapper's letter is a response to an inquiry on behalf of the U.S. Senate Armed Services Committee, published this week by the U.S. Naval Institute. "Once these facilities are completed by the end of 2016 or early 2017, China will have significant capacity to quickly project substantial offensive military power to the region," he added.

Clpper suggested China may ultimately reclaim up to 1,000 more acres of territory than those that belong to China uncontestedly.

China has begun militarizing artificial islands created on reefs in both the Spratly and Paracel Islands this year. On Woody Island in particular, China has stored multiple fighter jets and surface-to-air missiles. In the Paracel Islands, claimed by Vietnam, China has begun construction on an advanced radar system."
John 5:25  Verily, verily, I say unto you, The hour is coming, and now is, when the dead shall hear the voice of the Son of God: and they that hear shall live.