More Natural Disasters: Earthquake Threats, Oppressive Heat, Fires and Record Floods
 Verse of the Day
 Leviticus 18:24-25 Defile not ye yourselves in any of these things: for in all these the nations are defiled which I cast out before you: And the land is defiled: therefore I do visit the iniquity thereof upon it, and the land itself vomiteth out her inhabitants.

Commentary
There seems to be disaster upon disaster shaking America. Massive fires, heat and drought in the West with warnings of mega earthquakes in the West and Midwest. Now record flooding in West Virginia, along with a tornado outbreak. This is all occurring during "Gay Pride Month" as proclaimed by Obama.
I have the feeling that America is going to see disaster upon disaster as the nation goes deeper into rebellion against God's Word and advances the homosexual agenda. America seems in open and complete rebellion against the Lord; therefore, we will suffer the judgment.
Please read the following verse from Hosea and notice how this sounds just like America today. Is God getting ready to spew the Americans off the land because of the wickedness of the people?
Where is the church while this spiritual battle is raging?
May the Holy God of Israel bless and protect you.
Hosea 4:1-3 Hear the word of the LORD, ye children of Israel: for the LORD hath a controversy with the inhabitants of the land, because there is no truth, nor mercy, nor knowledge of God in the land. By swearing, and lying, and killing, and stealing, and committing adultery, they break out, and blood toucheth blood. Therefore shall the land mourn, and every one that dwelleth therein shall languish, with the beasts of the field, and with the fowls of heaven; yea, the fishes of the sea also shall be taken away.
Earthquakes – Volcanoes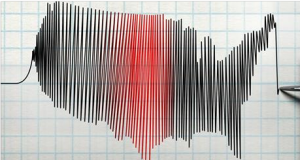 Is Middle America Due For a Huge Earthquake? 06/25/16  Notice the constant drumbeat of mega-quakes coming to America! The reports keep coming about the Northwest, California and now the New Madrid fault line in the Middle of the country!
If it does break, I believe it will be connected with some sinful national event that will easily demonstrate a connection between the two events.
"In 2009, the Mid-America Earthquake Center at the University of Illinois released a report simulating the fallout from another 1811-1812-style earthquake in a region that today includes Memphis, St. Louis, Nashville, and a Mississippi River lined with industry, people, and levees. The language used to describe the resulting destruction in the study was surprisingly intemperate.
"All hell will break loose," the study's lead author Amr Elnashai pronounced. The report's nightmare vision is best quoted in full:
Nearly 715,000 buildings are damaged in the eight-state study region. About 42,000 search and rescue personnel working in 1,500 teams are required to respond to the earthquakes. Damage to critical infrastructure (essential facilities, transportation, and utility lifelines) is substantial in the 140 impacted counties near the rupture zone, including 3,500 damaged bridges and nearly 425,000 breaks and leaks to both local and interstate pipelines. Approximately 2.6 million households are without power after the earthquake. Nearly 86,000 injuries and fatalities result from damage to infrastructure. Nearly 130 hospitals are damaged and most are located in the impacted counties near the rupture zone. There is extensive damage and substantial travel delays in both Memphis, Tennessee, and St. Louis, Missouri, thus hampering search and rescue as well as evacuation. Moreover roughly 15 major bridges are unusable. Three days after the earthquake, 7.2 million people are still displaced and 2 million people seek temporary shelter. Direct economic losses for the eight states total nearly $300 billion, while indirect losses may be at least twice this amount."
Fires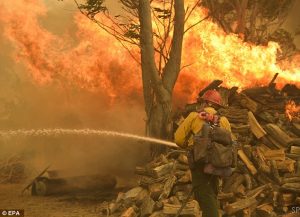 'It's one of the most devastating I've ever seen': California wildfire kills an elderly couple, destroys 80 homes, threatens 1,500 more and triggers evacuation 06/24/16  Although the massive fires continue to burn in California and the West, there is little coverage in US media. The Europeans still are reporting on it.
The fires might let up at the end of the month since Obama declared June as "Gay Pride Month."
"A deadly wildfire that roared through dry brush and trees in the mountains of central California gave residents little time to flee as flames burned dozens of homes to the ground, propane tanks exploded, and smoke obscured the path to safety.
An elderly couple trying to flee from the flames were overcome with smoke outside of their house and killed, Kern County Sheriff Donny Youngblood said.
Their bodies were found Friday near Lake Isabella, a popular recreation area east of Bakersfield that was ravaged by wind-whipped flames, said Phil Neufeld, a county fire spokesman.
At least 80 houses were destroyed in the southern Sierra Nevada as the fire burned out of control across nearly 47 square miles, leveling neighborhoods and forcing thousands of people to flee from fast-moving flames."
Floods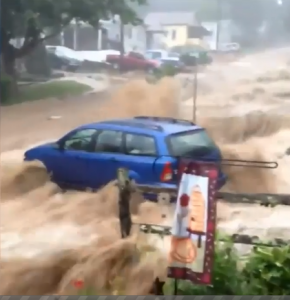 West Virginia Flooding Kills 24; Federal Disaster Declared 06/26/16 Yet another record disaster during "Gay Pride Month."
At least 24 people have died and a federal disaster has been declared in West Virginia after heavy rains flooded several towns, prompting search and rescue operations. Both Virginia and West Virginia have declared states of emergency due to the devastating event that has been described as "complete chaos." "Roads destroyed, bridges out, homes burned down, washed off foundations," said Greenbrier County Sheriff Jan Cahill. "Multiple sections of highway just missing. Pavement just peeled off like a banana. I've never seen anything like that."

 West Virginia climatologist Kevin Law told USA Today that

this is the third-deadliest flooding event

on record for the state. A November 1985 flood that killed 38 ranked second-worst, and the 1972 Buffalo Creek flood that killed 125 was the worst in state history, the report also said.

Gov. Tomblin expanded a state of emergency to 44 counties as heavy rain continued into the evening, WSAZ.com reported. Tomblin also authorized the deployment of the West Virginia National Guard to assist local emergency responders. Some areas of the state are "probably looking at flooding that's going to be the worst in 100 years," said the governor's communications director Chris Stadelman."
Hard Left/ Transgendered
New Obamacare Rule Prohibits 'Sexual Stereotyping' – People Can Be 'Male, Female, Neither, or a Combination of Male and Female' 06/25/15  Because the church stopped being real and refuses to cry out to the Lord, America is now getting a full dose of the Hard Left delusions.
These deluded people are determined to force their agenda on the rest of us because there is NO or very little resistance to them.
God has turned the nation over to a reprobate mind because the church failed to be the church.
There is now a tsunami of sin all around us, and it is going to get worse until the nation is destroyed by God's judgment or they come after us like the Nazis did for the Jews.
2 Chronicles 7:13-14 If I shut up heaven that there be no rain, or if I command the locusts to devour the land, or if I send pestilence among my people; If my people, which are called by my name, shall humble themselves, and pray, and seek my face, and turn from their wicked ways; then will I hear from heaven, and will forgive their sin, and will heal their land.

"Health and Human Services Secretary Sylvia Burwell cited a new rule added to the Obamacare law to prevent discrimination, including "sexual stereotyping," as one of the Obama administration's successes in advancing homosexual rights.
"We took a major step just last month in the final rule of Section 1557 of the Affordable Care Act," Burwell said at an event on June 9 at the agency in Washington, D.C., to mark Gay Pride Month.
The new final rule – which goes into effect on July 18 and was issued by HHS's Office of Civil Rights – addresses three types of discrimination – those based on disabilities, persons with limited English proficiency, and discrimination "based on sex."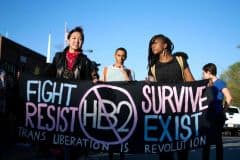 NC School District Decides: Students Can Pick Their 'Preferred Identity,' Bathroom and Locker Room 06/25/16  American men where are you? Are you AWOL in this battle? Hey, pastors in NC, where are you? The devil is stealing the nation and most of you are AWOL.
Are we going to allow wives, daughters and granddaughters to be subjected to perverts? Do we care about girls in high school being subjected to deluded or perverted boys exposing themselves?  Is there any fight left in the American males? Maybe the females need to step up if the men won't.
2 Timothy 3:1-5  This know also, that in the last days perilous times shall come. (2-5) For men shall be lovers of their own selves, covetous, boasters, proud, blasphemers, disobedient to parents, unthankful, unholy, Without natural affection, trucebreakers, false accusers, incontinent, fierce, despisers of those that are good, Traitors, heady, highminded, lovers of pleasures more than lovers of God; Having a form of godliness, but denying the power thereof: from such turn away.

"Charlotte-Mecklenburg Schools in North Carolina have decided when the new academic year starts in August, students can pick their "preferred identity" and use the restrooms and locker rooms accordingly, the Charlotte Observer reported on Monday.
"Charlotte-Mecklenburg Schools sent a message to all principals Monday: When school opens in August, transgender students will be called by the name and pronoun they choose," the article stated. "That chosen gender identity will be honored in restrooms, locker rooms, yearbooks and graduation ceremonies, according to a new regulation released Monday."
"This is about courage, understanding and compassion," Superintendent Ann Clark said at a press conference held after school officials held a "training" session on transgender students. The "training" video was provided by the Charlotte Observer.
"These are our children," Clark said. "These are the community's children."
Hard Left/ Islam

Explosive new twist in Idaho sex assault case 06/25/16  Attorney General Lynch said the same thing a few months back. They are going after the First Amendment to try and silence anyone who stands against Muslims. I hope that the people of Idaho stand against the feds!
Remember the lies of Obama and Holder with Michael Brown, Freddie Grey and others which inflamed (mostly) blacks to riot! When the feds do it, it's OK! What hypocrites and liars.

I think the US Attorney is bluffing but we will see.
"The Obama-appointed U.S. attorney for Idaho has taken the highly unusual step of intervening in a local criminal case involving an alleged sexual assault by juvenile Muslim migrants and threatened the community and media with federal prosecution if they "spread false information or inflammatory statements about the perpetrators."

The following is a news release issued late Friday from the office of United States Attorney Wendy J. Olson.

"BOISE – The United States Attorney's Office extends its support to the five-year-old victim of assault, and her family, at the Fawnbrook Apartments in Twin Falls.

"The United States Attorney's Office further encourages community members in Twin Falls and throughout Idaho to remain calm and supportive, to pay close attention to the facts that have been released by law enforcement and the prosecuting attorney, and to avoid spreading false rumors and inaccuracies.

"Grant Loebs is an experienced prosecutor, and Chief Craig Kingsbury is an experienced law enforcement officer. They are moving fairly and thoughtfully in this case," said Wendy J. Olson, U.S. Attorney for Idaho. "As Mr. Loebs and Chief Kingsbury informed the public, the subjects in this case are juveniles, ages 14, 10 and 7. The criminal justice system, whether at the state or federal level, requires that juveniles be afforded a specific process with significant restrictions on the information that can be released. The fact that the subjects are juveniles in no way lessens the harm to or impact on the victim and her family."

Olson continued, saying:

"The spread of false information or inflammatory or threatening statements about the perpetrators or the crime itself reduces public safety and may violate federal law. We have seen time and again that the spread of falsehoods about refugees divides our communities. I urge all citizens and residents to allow Mr. Loebs and Chief Kingsbury and their teams to do their jobs."
World War 3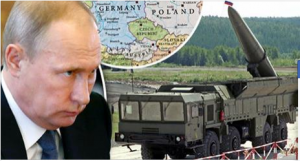 Russia to deploy NUCLEAR-capable ballistic missiles in the heart of EUROPE? 06/24/16  This article keeps you on the cutting edge of events leading to WW3. Putin is not bluffing when he talks about using nuclear weapons against NATO.
"RUSSIA plans to station advanced nuclear-capable missiles deep inside Europe – putting vast swathes of the continent in the crosshairs of Moscow's short-range ballistic missile programme.
Kremlin insiders say the Russian enclave of Kaliningrad – on the Baltic Sea wedged between Poland and Lithuania – will host the Iskander missile – dubbed the Stone by Nato.
Crimea, which was annexed from the Ukraine in 2014, could also host a second Iskander missile base, Russian defence sources claim.
Russia has been accused of blatant acts of aggression in eastern Europe and the Baltics, with land grabs, military exercises and close fly-bys of its fighter jets.
The move is in defiance of a US-backed Nato missile shield that was erected in Romania last month, with a second planned for Poland in 2018.
With a range of roughly 300 miles, the Iskander missile could hit targets as far away as eastern Germany, the entire Baltic region and Poland, as well as parts of Sweden."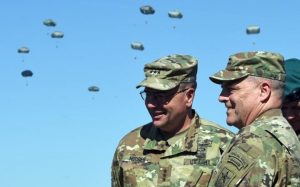 Nato can't protect Baltics from Russia, says US general 06/24/16  This article will keep you on the cutting edge to WW3 in Europe.
"Nato would not be able to defend the Baltic states against a Russian invasion, one of the most senior US generals in Europe has warned.
Lt-Gen Frederick "Ben" Hodges, commander of the US army in Europe, said Russia could capture the capitals of Latvia, Lithuania and Estonia in as little as 36 hours.
"Russia could conquer the Baltic states quicker than we could get there to defend them," Gen Hodges said.
Nato does not have enough forces in place to protect the alliance's eastern flank, the general said in an interview with Germany's Zeit newspaper.
Gen Hodges has been outspoken over the need for Nato to remain united in the face of Russian aggression, and has called for the alliance to bolster its defences in Europe.
In an interview with the Telegraph last year he warned that the West faces a "real threat" from Vladimir Putin.
His latest intervention comes after Nato countries held the largest war games in Eastern Europe since the end of the Cold War.
Some 31,000 troops from 24 countries, including 1,000 from the UK, took part in Operation Anaconda in Poland earlier this month."
World War 3/ Israel
Israel Gets First F-35s 06/25/16  It appears that the Lord is getting Israel ready for WW3.
Jeremiah 51:19-20  The portion of Jacob is not like them; for he is the former of all things: and Israel is the rod of his inheritance: the LORD of hosts is his name. Thou art my battle axe and weapons of war: for with thee will I break in pieces the nations, and with thee will I destroy kingdoms;

"The F-35A Lightning II, a next generation American fighter jet with the most advanced capabilities in the world, is finally on its way to Israel, the first country outside of the U.S. to have them.
Israel's new Defense Minister Avigdor Lieberman watched Wednesday as the first plane of an order of 33 rolled off the Lockheed Martin assembly line in Fort Worth, Texas.
The first two planes, which cost about $110-120 million each, will be delivered in December, with the remainder coming through the end of 2019, according to a spokesperson for Lockheed Martin.
Israel has nicknamed the plane "Adir," which means mighty or glorious in Hebrew."
World War 3/ North Korea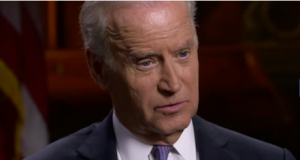 Joe Biden to China: Curb North Korea or Japan Can Go Nuclear 'Virtually Overnight' 06/24/16  It appears that Japan is ready to go nuclear as WW3 grows closer!
"Vice President Joe Biden warned China that the Japanese government may acquire nuclear weapons "virtually overnight" if the threat from North Korea becomes too grave, urging Beijing to do more to curb Pyongyang's belligerence.
The Vice President's comments echo those of presumptive Republican presidential nominee Donald Trump, who warned that Japan and South Korea acquiring nuclear weapons "is going to happen anyway" in controversial remarks issued in March. Japanese government officials and media responded to Trump's comments much more severely than they have to Biden's.
"What happens if Japan, who could tomorrow, could go nuclear tomorrow? They have the capacity to do it virtually overnight," Biden told PBS host Charlie Rose in an interview broadcast Monday.
He explained that he made this warning to Chinese President Xi Jinping personally while discussing the deployment of a Terminal High Altitude Area Defense (THAAD) system in South Korea to protect from a North Korean attack, a move that China has condemned vocally."

Deuteronomy 28:47-49  Because thou servedst not the Lord thy God with joyfulness, and with gladness of heart, for the abundance of all things;
Therefore shalt thou serve thine enemies which the Lord shall send against thee, in hunger, and in thirst, and in nakedness, and in want of all things: and he shall put a yoke of iron upon thy neck, until he have destroyed thee. The Lord shall bring a nation against thee from far, from the end of the earth, as swift as the eagle flieth; a nation whose tongue thou shalt not understand;