NYPD Reveals CHILD-SEX RING in Hillary Clinton Campaign & DNC involving Members of Congress + More!
Verse of the Day
2 Kings 9:22  And it came to pass, when Joram saw Jehu, that he said, Is it peace, Jehu? And he answered, What peace, so long as the whoredoms of thy mother Jezebel and her witchcrafts are so many?
Commentary
There are several very troubling articles and videos in this post about the information coming out through Wikileaks and the New York Police Department's investigation of Anthony Weiner and the Clinton Foundation. This is over-the-top stuff that will turn your stomach and make you weep. What it does to the heart of God we know well, as the blood of the innocent cry out to him. Make sure you watch the Infowars video on "Podesta Caught Throwing Hot Tub Parties with Children," below, because it will give you a good idea of how deep this runs and what's at stake.

Tomorrow is the election, so we all should spend today on our knees, crying out to God for mercy upon our nation. There is a serious attempt underway to steal the election and give Hillary and her cronies even more power, and if she is elected, the result will be turning the country completely over to satanic influence. Pray, as you've never prayed before, that the plans of the wicked fail and that we're given a reprieve through the election of Trump.
While he may not be perfect, he isn't involved in this satanic agenda and he is a strong supporter of pro-life, of Israel, and of our classic Judeo-Christian values. The choice before us never has been so clear. And then vote – whatever flaws our system may have and however hard those behind the scenes are working to predetermine the outcome, if there is a massive vote against Hillary, and Trump carries each state in a landslide  it will be very hard for them to prevail with their schemes. In the end God is sovereign – but we must do our part as well.
May the Holy God of Israel bless and protect you.
Deuteronomy 21:9  So shalt thou put away the guilt of innocent blood from among you, when thou shalt do that which is right in the sight of the Lord.
American Politics/ Pedophilia
NYPD Reveals CHILD-SEX RING in Hillary Clinton Campaign & DNC involving Members of Congress + Fed. Judges; Evidence of Bribery, Money-Laundering, Depraved-Indifference Murder and more!  This article alleges that Hillary is a pedophile. She and Bill are so corrupt that it is easy to believe anything about them. All of this information about her is supposed to be coming from the NYPD, who got it from Anthony Weiner's seized computer. The seized computer is what forced the FBI into action.
Numbers 32:23  But if ye will not do so, behold, ye have sinned against the LORD: and be sure your sin will find you out.

"New York Police Department detectives working an alleged underage sexting case against former Congressman Anthony Weiner turned over a laptop he shared with wife Huma Abedin to the FBI with enough evidence "to put Hillary (Clinton) and her crew away for life," NYPD sources tells SuperStation95. Congressman Weiner's laptop contained 662,871 emails of which 11,112 belonged to his wife, Huma Abedin.
Quite a number of the Huma Abedin emails involve "pay-to-play" wherein a person or company or foreign government which wanted something from Clinton while she was Secretary of State, would make a "donation" to either the Clinton Foundation (CF) or to the Clinton Global Initiative (CGI) in order to get what was wanted. Flat-out Bribery! These emails prove that Huma Abedin was the individual Hillary USED to communicate with foreign leaders or governments about inside information or to make deals."
American Politics./ Paganism/ New World Order – World Government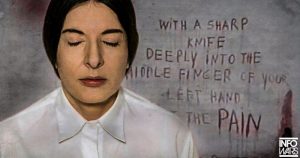 Bombshell: Hillary Clinton's Satanic Network Exposed 11/04/16 
Ezekiel 9:4  And the LORD said unto him, Go through the midst of the city, through the midst of Jerusalem, and set a mark upon the foreheads of the men that sigh and that cry for all the abominations that be done in the midst thereof.

"Hillary Clinton's ties to satanic rituals and the occult have been well-documented for decades.
Clinton insider Larry Nichols told Infowars that Hillary Clinton used to attend a "witch's church" in Los Angeles during Bill's presidency.
And a source claimed many FBI agents consider Clinton to be "the Antichrist personified."
Also, DC insider Doug Hagmann broke the news that the NYPD found a blackmail sex network on Anthony Weiner's computer.
Furthermore, the latest bombshell to come from WikiLeaks connects Clinton campaign head John Podesta to top occultist Marina Abramovic.
Infowars reporter Paul Joseph Watson breaks down the "spirit cooking" ritual…"
American Politics/ Paganism/ Pedophilia
Podesta Caught Throwing Hot Tub Parties With Children 11/04/16  This is set your hair on fire stuff about satanism controlling the Democratic Party. God is showing us the pure evil that controlling America. Wikileaks is releasing more and more. We never can submit to the Clintons. I never will submit to Hillary Clinton and the Hard Left, never.

We know now the monster that controls America. You must pray all weekend that the Holy God of Israel will break this evil and free America from it. God loves us and wants to free us. If Clinton wins, you will be subjected to what the Jews were under the Nazis.

When you read the following verses, you will see they were worshiping paganism just like Clinton and her cohorts now are doing.
Ezekiel 8:16-18  And he brought me into the inner court of the LORD'S house, and, behold, at the door of the temple of the LORD, between the porch and the altar, were about five and twenty men, with their backs toward the temple of the LORD, and their faces toward the east; and they worshipped the sun toward the east. Then he said unto me, Hast thou seen this, O son of man? Is it a light thing to the house of Judah that they commit the abominations which they commit here? for they have filled the land with violence, and have returned to provoke me to anger: and, lo, they put the branch to their nose. Therefore will I also deal in fury: mine eye shall not spare, neither will I have pity: and though they cry in mine ears with a loud voice, yet will I not hear them.

For more on Aleister Crowley, who is referred to in the video, see our last blog post, "Wikileaks: Clinton Campaign Chairman Podesta Practices Aleister Crowley Black Magic"
Hard Left in the Military
Obama: 'It's Because of You That a Marine Can Serve His Country Without Hiding the Husband He Loves' 11/03/16  What a legacy for Obama that he successfully sodomized the military!
Jude 1:7  Even as Sodom and Gomorrha, and the cities about them in like manner, giving themselves over to fornication, and going after strange flesh, are set forth for an example, suffering the vengeance of eternal fire.

"Speaking at the University of North Carolina this afternoon, President Barack Obama told voters it was because of them that millions of people had health care who did not have it before and Marines could enter publicly into same-sex marriages.
"It is because of you that millions of people have health care today that didn't have it before," Obama said. "It is because of you that millions of young people are going to college that couldn't afford it before. It's because of you that a Marine can serve his country without hiding the husband he loves. It is because of you that more young immigrants came out of the shadows and are serving our country."
Hard Left/ Islam
Europe's New Blasphemy Courts 11/04/16  There is no doubt that if Hillary becomes president, this is coming to America. This is a move to exalt Islam over Europe. If you watch Europe, you can see what is coming to America.
"Europe is currently seeing the reintroduction of blasphemy laws through both the front and back doors, initiated in a country which once prided itself on being among the first in the world to throw off clerical intrusion into politics.
By prosecuting Wilders, the courts in Holland are effectively ruling that there is only one correct answer to the question Wilders asked. They are saying that if someone asks you whether you would like more Moroccans or fewer, people must always answer "more," or he will be committing a crime.
At no point would it occur to me that anyone saying he did not want an endless flow of, say, British people coming into the Netherlands should be prosecuted. Nor would he be.
The long-term implications for Dutch democracy of criminalising a majority opinion are catastrophic. But the trial of Wilders is also a nakedly political move.
The Dutch courts are behaving like a religious court. They are trying to regulate public expression and opinion when it comes to the followers of one religion. In so doing they obviously aspire to keep the peace in the short term, but they cannot possibly realise what trouble they are storing up for our future."
Prophecy/ Science
We're about to see a record-breaking supermoon – the biggest in nearly 70 years The closest full moon in the 21st century 11/03/16  What is very interesting is that the last time this happened was January 1948, the year Israel became a nation.
"If you only see one astronomical event this year, make it the November supermoon, when the Moon will be the closest to Earth it's been since January 1948.
During the event, which will happen on the eve of November 14, the Moon will appear up to 14 percent bigger and 30 percent brighter than an average full moon. This is the closest the Moon will get to Earth until 25 November 2034, so you really don't want to miss this one."
Israel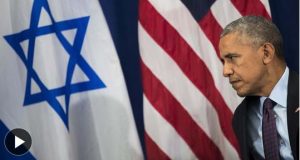 Obama's Israel Surprise? 11/01/16  It really is possible that he might try and go to the United Nations tp try and force Israel. The danger is if Hillary wins she would follow up, but if Trump wins he would reverse Obama.
"The Middle East has few bright spots these days, but one is the budding rapprochement between Israel and its Sunni Arab neighbors, including Saudi Arabia and the United Arab Emirates, thanks to shared threats from Iran and Islamic State. Now the Obama Administration may have plans to wreck even that.
Israeli diplomats gird for the possibility that President Obama may try to force a diplomatic resolution for Israel and the Palestinians at the United Nations. The White House has been unusually tight-lipped about what, if anything, it might have in mind. But our sources say the White House has asked the State Department to develop an options menu for the President's final weeks.
One possibility would be to sponsor, or at least allow, a U.N. Security Council resolution condemning Israeli settlement construction, perhaps alongside new IRS regulations revoking the tax-exempt status of people or entities involved in settlement building. The Administration vetoed such a resolution in 2011 on grounds that it "risks hardening the position of both sides," which remains true."
Rio's evangelical new mayor to celebrate victory in Israel 11/04/16  This is truly amazing that Rio's mayor is a real believer and supporter of Israel! Brazil had turned against Israel and the nation was cursed and suffered greatly.
Maybe this action will bring blessing to Brazil?
"The mayor-elect of Rio de Janeiro, a prominent evangelical leader, reportedly will be going to Israel to celebrate his victory.
Get The Times of Israel's Daily Edition by emailand never miss our top stories Free Sign up!
Marcelo Crivella, who was elected Sunday, will meet Prime Minister Benjamin Netanyahu and Jerusalem Mayor Nir Barkat next week, several Brazilian media outlets reported, citing the mayor-elect himself as the source. However, the information has not been confirmed by Israeli officials.
"Marcelo Crivella, who has been to Israel nearly 35 times, is a great friend of the Jewish community and the State of Israel," Israel's Rio-based honorary consul Osias Wurman, a former president of Rio's Jewish federation, told JTA. "I hope he will strengthen a lot of the cooperation between Rio and the State of Israel, in particular in the areas of security, culture and technology."
World War 3
Urgent Update WW3 NATO intercepts 4 groups of Russian Nuclear Bombers over Europe 11/03/16  
Nahum 3:3-4  The horseman lifteth up both the bright sword and the glittering spear: and there is a multitude of slain, and a great number of carcases; and there is none end of their corpses; they stumble upon their corpses:
Because of the multitude of the whoredoms of the wellfavoured harlot, the mistress of witchcrafts, that selleth nations through her whoredoms, and families through her witchcrafts.