Obama Blames 'Talk Radio,' 'Domestic Propagandists' for Rise of State-Sponsored 'Fake News'
                   Verse of the Day
 Leviticus 25:10 And ye shall hallow the fiftieth year, and proclaim liberty throughout all the land unto all the inhabitants thereof: it shall be a jubilee unto you;
Commentary
Obama is showing just how dangerous he is to the American people. The Hard Left now knows that to control the American people, they have to control all of the media.
These are ruthless people, who will do anything to advance their godless agenda. Obama is sending the word out for the Hard Left mindless drones to attack the free media which is not under their control! This is right out of the Nazi Germany and the Soviet Union play books. It is here right in front of our eyes.
They are not going away and will do everything they can to bring down Trump and America. As Trump drains the swamp, they will become more desperate and dangerous. What a time this is to live and see these events unfold! Please don't run from the battle but run to it.
May the Holy God of Israel bless and protect you.
2Corinthians 3:17 Now the Lord is that Spirit: and where the Spirit of the Lord is, there is liberty.
Hard Left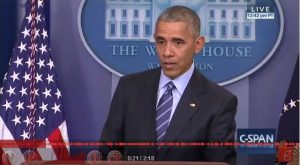 Obama Blames 'Talk Radio,' 'Domestic Propagandists' for Rise of State-Sponsored 'Fake News' 12/16/16 
Proverbs 29:2  When the righteous are in authority, the people rejoice: but when the wicked beareth rule, the people mourn

"President Obama blamed talk radio and other "domestic propagandists" for the rise of "fake news," including fictional news items published by state-sponsored actors.
"If fake news that's being released by some foreign government is almost identical to reports that are being issued through partisan news venues, then it's not surprising that that foreign propaganda will have a greater effect," Obama said. "It doesn't seem that farfetched compared to some of the other stuff folks are hearing from domestic propagandists."
"To the extent that our political dialogue is such that everything is under suspicion, everybody's corrupt and everybody is doing things for partisan reasons and all of our institutions are, you know full of malevolent actors and if that's the story that is being put out there, then when a foreign government introduces that same argument, the facts are made up, voters who have been listening to that stuff for years, who have been getting that stuff every day from talk radio or other venues, they're going to believe it."
To remedy foreign influence in America's elections, Obama called for taking a stricter line with our internal political discourse."
Israel/ Jerusalem
Trump's Ambassador to Israel references 'embassy in Israel's eternal capital, Jerusalem' 12/16/16  All I can say is WOW!!! We go from Obama to Trump, who appoints an Israeli ambassador that believes Jerusalem is the eternal capital of Israel! This is stunning, and God is going to use America in a big way with his prophetic plan for Israel and the end times.
Psalm 102:16  When the LORD shall build up Zion, he shall appear in his glory.

"US President-elect Donald Trump will nominate David Friedman, his long-time attorney and a campaign adviser on Jewish world issues, as US ambassador to Israel, the transition team said in a statement on Thursday.
The US embassy has for decades been located in Tel Aviv. Trump had pledged during the presidential campaign to move it to Jerusalem.
During the campaign, Trump made it clear he would support Israel in a number of critical areas, including moving the American embassy to Jerusalem, all but enshrining the city as Israel's capital over international objections, and not applying pressure on Israel for talks with the Palestinians. As an adviser to the GOP nominee, Friedman counseled a more conservative Israel policy. He frequently condemned the Palestinian Authority for its role in inciting terrorist attacks against Israeli civilians and questioned America's role in pushing a two-state solution on the Israeli government.
Friedman believes that Israel is a natural ally in Trump's coming fight against Islamic extremism, and throughout the campaign, repeatedly touted his candidate as a stable and reliable ally of the Jewish state.
Friedman, who specializes in litigation and bankruptcy law, said he would work tirelessly to "strengthen the unbreakable bond between our two countries and advance the cause of peace within the region, and look forward to doing this from the US embassy in Israel's eternal capital, Jerusalem."
The Coming Middle East War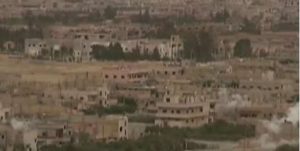 ISIS has three surface-to-air missile launchers in Syria, US officials say 12/16/16  It is fascinating to follow all of the twists and turns about what is happening in the Middle East. It appears that Assad has won and ISIS and the other groups have lost, but then news like this appears.
"ISIS has taken possession of three Russian surface-to-air missile launchers outside of Palmyra, Syria after retaking the ancient city last weekend, two U.S. defense officials told Fox News Thursday.
The officials said the SA-3 launchers contain four missiles each. The 60s-era Soviet missile launcher has a maximum range of 15 miles and can strike aircraft flying at over 60,000 feet in the air. It was not immediately clear whether ISIS knew how to use the military technology."
Fall of Aleppo Puts Iran on Cusp of 'Shi'ite Crescent' of Influence 12/15/16  Iran has two goals in the Middle East. This nation wants to dominate the Sunnis and take control of Islam. It also wants to destroy Israel and capture Jerusalem. The Iranians want to bring their army on Israel's border. Right now with ISIS retreating in Iraq and Assad winning in Syria, the stage is being set for an open highway for Iran to move against Israel.
Israel has said many times, that it will not allow the Iranian army to move into Syria. A move by Iran towards Israel will trigger an all-out war in the Middle East.What is strange in this scenario is that the Sunnis might join Israel in a war against the Shiite Muslims!
"For the first time, Tehran could exert authority over a vast sweep of the Middle East extending through Iraq and Syria into Lebanon – an arc of influence that Sunni Arab powers, particularly Saudi Arabia, have been warning about for years.
"We know the Iranians are very patient," said Hilal Khashan, a professor of political studies at the American University of Beirut. "They do not expect immediate rewards. So they persevered and they are reaping the fruits of their patience."
Christian Apostasy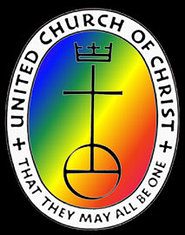 The United Church of Christ: Knowingly Silent on Terrorism – The "Just Peace Church" that Defends Mass Murderers 12/15/16  This "church" is a perfect example of what happens when a "church" turns from God and his word. They are now the enemy of God since they love the Muslims and are trying everything they can to destroy Israel.
In their spirit, they are one with the Muslims, and that is why they want to destroy Israel! It is so clear that God has turned this denomination over to a reprobate mind for judgment. The UCC is also 100 percent behind the homosexual agenda.
"An organization affiliated to the United Church of Christ (UCC), the UCC Palestine Israel Network (UCCPIN) published a guide to Israel-Palestine affairs in August and again in September 2016. Titled "Promoting a Just Peace in Palestine-Israel", and sub-headed "A Guide for United Church of Christ Faith Leaders", this toxic document is a desperately one-sided, inaccurate, and counter-factual exercise in futile politics.
In its introduction, the UCC, knowing full well that Israel has not occupied Gaza since 2005, still speaks of "the Israeli military occupation of the Occupied Palestinian Territories: the West Bank, East Jerusalem and Gaza."
The UCC boasts that it is "a just peace church", but instead of supporting peace and justice, it defends mass murderers. It complains about the defensive actions of the Jews and is knowingly silent about the horrors wrought by Palestinian wars and terrorism. It treats Palestinian actions as mere responses to Israeli aggression — a total reversal of historical fact.
Is the UCC unaware that Council for American Islamic Relations (CAIR) is far from being a feel-good interfaith movement for peace and warm relations? It is, in fact, notorious for its close ties to Islamic terrorism. Even ten years ago, its true character was well known. Has no-one in the UCC the wit or decency to repudiate this unsuitable connection? Or to raise the fact that many Muslims across the Middle East have been killing, expelling, and humiliating Christians for a very long time, but especially in recent decades?"
History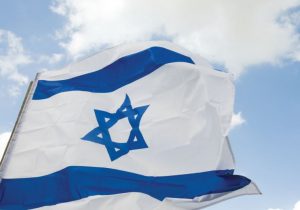 How Israel can trace its flag's roots to Boston 12/16/16  I had no idea of this fact. If I did, it would be included in my book, "As America Has Done to Israel." If I ever revise the book, I will include this information.
America was used by God in a mighty way for his prophetic plan with Israel, and this is yet another example.
If you want to know the American connection to modern Israel, please read my book: "As America Has Done to Israel."
This article was so good, that I've posted it in its entirety.
Psalm 102:15  So the heathen shall fear the name of the LORD, and all the kings of the earth thy glory.

"If a blue-and-white flag with a Star of David and two horizontal stripes were to hang proudly outside a Jewish organization in Boston, it would hardly be news.
Unless, of course, if that happened in 1891 — nearly 60 years before the founding of the State of Israel.
The flag that today is synonymous with the Jewish state has a uniquely American history, reveals new research by Jonathan Sarna, professor of American Jewish history at Brandeis University in suburban Boston.
Scholars previously knew about the existence of the Boston flag, but Sarna's research — which was presented Monday during a meeting in Jerusalem between Israeli Prime Minister Benjamin Netanyahu and Massachusetts Gov. Charlie Baker — illuminated additional points in the flag's history that helped show its connection to the modern Israeli flag.
The flag was created in 1891 by Rabbi Jacob Baruch Askowith, a Lithuanian immigrant who settled in Boston, for a local Jewish organization, B'nai Zion. It bore striking similarities to today's Israeli flag — except for the fact that the Star of David in the middle contained the word "Maccabee" in Hebrew letters, referring to the famed Jewish warrior family that defended Jerusalem against the Greeks.
A year later the "flag of Judah," as it was then called, was paraded in the streets of Boston at an event celebrating the 400th anniversary of Christopher Columbus's arrival in America. The only difference: "Maccabee" had been replaced with another Hebrew word, "Zion."
From there, the "flag of Judah" started to gain traction.
The flag — minus the Hebrew words in the middle — made its way to the Second Zionist Congress in Basel, Switzerland, in 1898, Sarna found.
At the Third Zionist Congress a year later, a different flag was displayed — one created by Theodor Herzl that featured a lion and seven stars. But Askowith's flag had already captured the attention of American Jews.
In 1904, it was flown along with the flags of the rest of the world at the World's Fair in St. Louis, solidifying its status for American Jews as "an emblem of the unified Jewish people," Sarna told JTA.
"That was absolutely a turning point — it was the first time that a Zionist flag was flown along with all the other flags of other countries," he said. "It was a huge deal that the flag was recognized, and because it was recognized and got so much attention, I think that that became the flag that American Jews knew."
So when time came to pick a flag in 1948 for the newly established State of Israel, American Zionists would not budge, rejecting some 164 other flag proposals. Ultimately they got their way, and today the flag recognized as representing Israel worldwide looks an awful lot like the flag that hung outside Boston's B'nai Zion building in 1891.
"Every so often, vivid colors that create the rich tapestry of Israel-US history and relations are illuminated — and this is one of those moments," Sarna said Monday in a statement. "To think that 57 years before the founding of the modern state of Israel, Americans in Boston were proudly parading a flag so closely reminiscent to the present-day version is extraordinary, and is further indicative of the impassioned and prominent role that American Jews, even in the 1800s, had in shaping the future State of Israel."
Miscellaneous/ Bible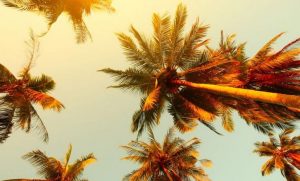 Palm sprouted from 2000 year old seed now bears fruit in Israel! 12/15/16  This is an outstanding article about an ancient tree that now is bearing fruit, but it is much more. This article contains a wonderful Biblical teaching about the Palm Tree. I think that you will really enjoy this and be blessed.
Psalm 92:12-13  The righteous shall flourish like the palm tree: he shall grow like a cedar in Lebanon. Those that be planted in the house of the LORD shall flourish in the courts of our God.

"There is some remarkable news in Israel about a palm tree that has done exactly that! In the 1960s, archaeologists found an ancient jar containing palm seeds that were 2000 years old.
They sat in someone's draw[er] for decades, until in 2005, they were planted, and lo and behold, they sprouted! Astonishingly, a palm tree was successfully grown from these seeds from Biblical times. What is even more amazing is that this year, the male palm tree (named Methuselah, now ten years old) and has successfully pollinated a female palm tree, which has produced dates! This miraculous palm tree really has borne fruit in old age!
There are countless palm trees in every direction in Israel, and there is wonderful Biblical significance to the tree, which we can remember every time we see them, or taste its fruit."
World War 3 – China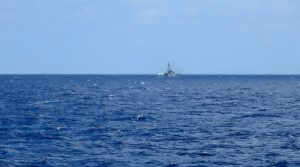 Beijing seizes US underwater drone in South China Sea 12/16/16  This is an article showing just how bold the Chinese are getting to challenge the US in the Pacific. The Chinese have no respect for Obama or the US military.
"A Chinese navy warship seized an underwater drone deployed by an American oceanographic vessel in international waters.
The mission of the survey ship, USS Bowditch, had been sampling and data collection of surface, midwater and ocean floor measurements.
The Bowditch was sailing about 100 miles off the port at Subic Bay when the incident happened. The survey ship had stopped to pick up two underwater drones when a Chinese naval ship that had been shadowing the Bowditch put a small boat into the water. The small boast came up alongside and the Chinese crew took one of the drones.
The United States is calling for the return of the drone, which was seized in the South China Sea on Thursday, according to Reuters.
Bowditch received no answer from the Chinese on the radio when it said the drones American property, according to US defense officials. The survey ship was about to retrieve the drone before it was captured.
US oceanographic research vessels are often followed by the Chinese on the assumption they are spying."
China should plan to take Taiwan by force after Trump call, state media says 12/15/16  China is now out of control when it comes to international affairs. It just claimed the South China Sea for itself and is threatening any nation that does not go along with it! Now it is threatening Taiwan. China must believe that it is militarily strong enough to start WW3 in the Pacific.
Revelation 22:20  He which testifieth these things saith, Surely I come quickly. Amen. Even so, come, Lord Jesus.

"China should plan to take Taiwan by force and make swift preparations for a military incursion, a Communist party-controlled newspaper has said, after US president-elect Donald Trump broke decades of diplomatic protocol in the region.
Before he even assumes the presidency, Trump has called into question the longstanding US foreign policy of maintaining formal relations with Beijing instead of Taiwan, which China considers a breakaway province. He also spoke directly with Taiwan's president, the first such contact since 1979. Both moves have infuriated China.
In response, the Global Times, a state-run tabloid that sometimes reflects views from within the Communist party, said on Thursday that China should rebalance its stance towards Taiwan to "make the use of force as a main option and carefully prepare for it".
Health and Nutrition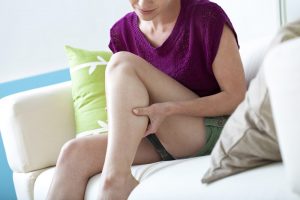 New research finds achieving healthy vitamin D levels helps relieve symptoms of chronic widespread pain 12/15/16  This article has important information about Vitamin D3 and your health.
"A recent study published in the International Journal of Rheumatic Diseases discovered that vitamin D replacement therapy improved musculoskeletal symptoms, depression and quality of life among patients with chronic widespread pain.
Chronic widespread pain (CWP) is defined as pain persisting for at least three months. It differs from localized pain by both its distribution throughout the body and by the heightened pain intensity. CWP affects physical and psychological health; patients with CWP are more likely to experience depression, anxiety and a lower quality of life. CWP is very common, affecting approximately one in five people. However, its severity and symptoms greatly vary.
The most severe form of CWP is formally known as fibromyalgia. Fibromyalgia has different qualifications for diagnosis, one of which is the possession of at least 11 tender points. Tender points are areas that are much more sensitive than others, causing pain when touched."

2 Peter 2:1  But there were false prophets also among the people, even as there shall be false teachers among you, who privily shall bring in damnable heresies, even denying the Lord that bought them, and bring upon themselves swift destruction.